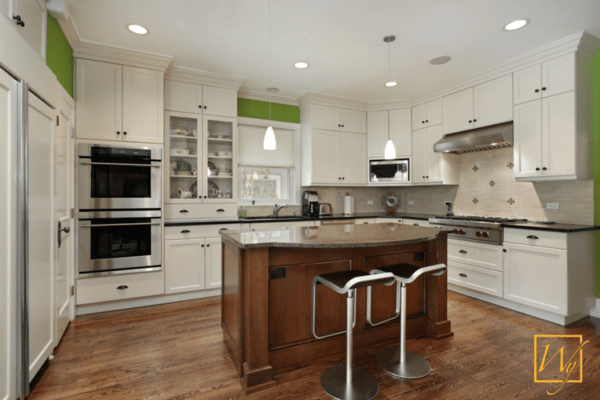 A friend has invited you over for a dinner party. As you walk into her home, you politely remove your shoes and leave them at the front door. Then you proceed to walk barefoot through the entryway into the kitchen, where she's cooking dinner for you and a few other guests. Although it's chilly outside, you immediately take note of the warm tile flooring as you first step into the kitchen.
Your host invites you to take a seat at the island while she finishes cooking. After you sit down and start up some friendly conversation, you rest your arms on the countertop only to realize that it is also heated!
As you relax and let the warmth sink in, you wonder how much your friend must have spent to attain this kind of luxury.
The cost of radiant heating
Electric radiant heated floors are actually quite affordable. In fact, it costs well under $1,000 to heat this 108-square-foot kitchen (see floor plan). Because permanent fixtures like countertops, appliances and an island take up much of the space in the room, there is only about 50 square feet of flooring to heat. A 1.5- by 33-foot TempZone™ Flex Roll covers 49.5 square feet and costs only $544.50. That equates to just $11 per square foot!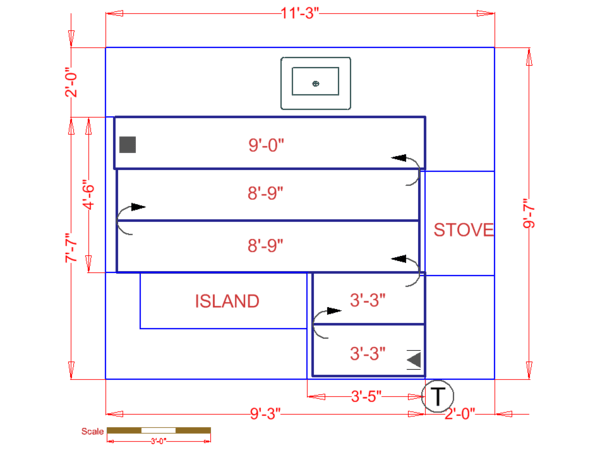 To add a SmartStat™ thermostat to the room, it costs another $169. That brings the total to $713.50.
However, the cost to operate the room is even lower. To heat this small kitchen for eight hours a day, it costs about a quarter — 26 cents to be exact. That's based on WarmlyYours' Energy Use Calculator, factoring in a national average of 10 cents per kilowatt-hour.
Finally, installing countertop heating in a kitchen starts at $499. Our FeelsWarm® standard countertop heater includes an ultra-low-profile heating mat, programmable control and power supply. These heaters are available in popular sizes as well as custom sizes to fit your exact countertop measurements. Both options offer a low operating cost of about 10 cents per day to run 24/7. Plus, they conveniently plug into a standard outlet, feature an adjustable temperature, and are virtually invisible.
To equip this kitchen with heated floors and countertops, it would cost approximately $1,212.50. That's less than it costs to buy a stainless-steel French door refrigerator!
How to get a quote
To find out how much it would cost to add in-floor heating to your kitchen — or any other room in your home — check out WarmlyYours' Instant Quote tool online. This tool will tell you what product you need and how much it will cost. It also gives you the option to upload a drawing or image of your room's floor plan so that our sales team can provide you with a customized installation plan. This plan shows you exactly where the electric floor heating will be located and how it will be laid out for optimal functionality.
For more information, please visit www.warmlyyours.com.
*FeelsWarm® technology is a registered trademark of Heated Stone Products, patent pending.
Links:
Instant Quote: www.warmlyyours.com/my_projects/new
Energy Use Calculator: www.warmlyyours.com/floor-heating/cost-calculator
Heat Loss Calculator: www.warmlyyours.com/floor-heating/heatloss-calculator
Related Articles:
Budget-friendly radiant heating in our nation's capital
www.warmlyyours.com/posts/bathroom-remodeling--Budget-friendly-radiant-heating-in-our-nation-s-capital-1127

How In-Floor Heating Can Revolutionize Your Morning Routine
www.warmlyyours.com/posts/bedroom-re...
Radiant Floor Heating in the City of Angels
www.warmlyyours.com/posts/bathroom-remodelin...
How to Reach Your Bathroom's Maximum Potential on a Budget
www.warmlyyours.com/posts/bathroom-remodeling--How-to-Reach-Your-Bathroom-s-Maximum-Potential-on-a-Budget-1120
Radiant Heating in the City That Never Sleeps
www.warmlyyours.com/posts/floor-heating--Radiant-Heating-in-the-City-That-Never-Sleeps-1115
Like this post? Subscribe for regular updates
Make sure you don't miss out on the latest news in radiant heating by subscribing to our blog. We'll send you an email with links to the newest posts from WarmlyYours.
We won't share your information and you can unsubscribe at any time with a single click.
---
Did you find this post helpful?
Let us know by giving it some applause.
---
---