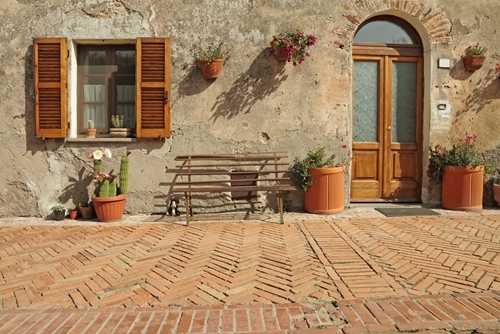 Michigan homeowner Alli Michelle and her husband wanted to keep their home simple, but with a look that would stand out as unique among many houses in their neighborhood that tended to look alike. They wanted comfort without sacrificing style.
"We love simple design, but we also want a home that feels lived-in," she told Houzz.com.
What the Michelles were really looking for was character, a quality that seems to be abundant in older period homes, but elusive in modern dwellings. But just as upscale conveniences can be introduced into any home style, creating one-of-a-kind room designs can be accomplished by any homeowner who invests some time, energy and imagination in their decorating.
Practical Matters
The couple began with a new paint job throughout their small home. They wanted to keep the walls neutral, but that doesn't mean there aren't spurts of color. For instance, in the kitchen, a bright green and white striped fabric is used for a window covering.
The home has an abundance of natural light, which was accentuated with a selection of simple white, airy curtains. Dressing windows only in shades is another way to keep them simple without sacrificing privacy.
Better Homes and Gardens recommended lighting dim corners with small accent lights to create a soft glow. If there's an awkward area of a room that homeowners don't know how to decorate, it can be transformed. A small game table can fill an empty space and two windows at right angles to each other may be just the spot for a reading nook.
Other practical matters include maintaining the energy efficiency of one's home, while addressing air quality and heating. Radiant floor heating systems do all three by eliminating baseboards and air ducts, which can spread allergens throughout a home. In addition to the warm floors that result, heat is radiated uniformly throughout the space.
Vintage Vignettes
One of the best ways to create a unique home is to combine well-loved furniture with stylish new items. Michelle, who has a decorating blog called Hooray, blended a selection of modern and vintage furnishings that gave her rooms a cottage style that's warm and cozy.
A large rattan basket topped by cushions that she made provides additional seating in her living room. The nightstand in the guest room is a small stool topped by a few books, a glass jar filled with sprigs of greenery and a simple wood-framed mirror hanging above it.
Homeowners can give each room in their homes some character by taking inspiration from Michelle's idea to create a series of vignettes throughout her house. They provide a way to display collectibles, family photos and other accessories in specific locations so the house retains the theme of simplicity.
Like this post? Subscribe for regular updates
Make sure you don't miss out on the latest news in radiant heating by subscribing to our blog. We'll send you an email with links to the newest posts from WarmlyYours.
We won't share your information and you can unsubscribe at any time with a single click.
---
Did you find this post helpful?
Let us know by giving it some applause.
---
---