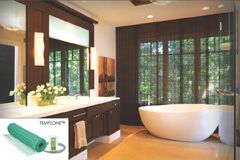 Bathrooms. A place that gets much use throughout the day, and often times, very little aesthetic attention. Consider your bathroom … is your bathroom more like a sanctuary or an outhouse? Is it a plain, utilitarian-style room or is it a spa retreat? What if I told you that you could turn your bathroom into a chamber of solitude that offered spa-like luxuries and amenities without leaving the comfort of your house or spending thousands of dollars?
Sound nice? Well, home remodelers and interior designers, alike; affirm that making the investment to transform their bathrooms from drab to fab is a smart move. In fact, it was featured in a recent article, 10 Trends for Smart Home Renovations, and confirms that luxurious bathroom renovations are the latest trend.
In the article, the seventh smart home renovation trend tells us that many people are installing things like, new countertops and dual sinks in their bathrooms, along with heated floors and towel warmers. Heated floors and towel warmers! We can help with that! While a second sink and a stylish and modern countertop are great items to have in a bathroom, adding a product from our line of accessible and affordable radiant heat comfort products, like heated floors and towel warmers, delivers an irreplaceable sense of well being for the homeowner.
Our luxury comfort product line includes must-have bathroom amenities such as mirror defoggers, heated floors, and towel warmers – features normally found only in 5-star hotels and opulent spas. And, WarmlyYours makes them available to anyone looking to increase value, style, and all-around extravagance without breaking the bank.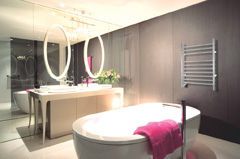 With a variety of sleek styles, price points, and finishes, our towel warmer designer lines fit within any budget or style. You'll have the choice of our hardwired or plug-in models and, once again, installation is a breeze with our hidden wiring mounts and single stud installation. Simply flip the on/off switch a few hours before you pop in the shower and your towels will be nice and toasty when you're ready to dry off.

Just like the article mentioned – one of the top choices for a bathroom remodel is a heated floor. Lucky for you, we're having a sale on them right now; up to 25% off! If you want your entire bathroom floor heated then go with our TempZone™ or Environ II™ electric floor heating systems before you lay down that floor. And, if you're looking to just heat one area of the floor and spend less, then take advantage of our ValueMat™ that can be placed anywhere you want, perhaps the standing area in front of the sink or the entryway, the choice is yours. Nothing adds warmth to a bathroom like actual warmth under your feet; especially in the one place you are sure to be barefoot a majority of the time. Did we mention installation is a snap?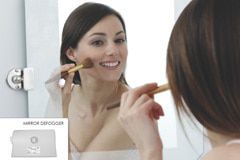 Our mirror defoggers are another ideal luxury in a spa bathroom. They effectively prevent moisture from forming on your mirror during bathing or showering, and can be wired directly to your vanity lighting. Find out more about our luxury products like the mirror defogger by browsing through product section of our site. We already know our customers are smart; let us help you channel that intelligence into your home renovation.
Like this post? Subscribe for regular updates
Make sure you don't miss out on the latest news in radiant heating by subscribing to our blog. We'll send you an email with links to the newest posts from WarmlyYours.
We won't share your information and you can unsubscribe at any time with a single click.
---
Did you find this post helpful?
Let us know by giving it some applause.
---
---