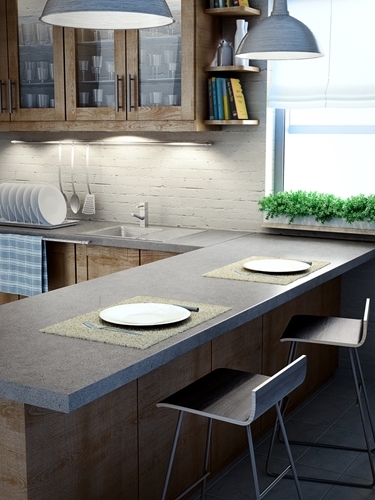 Spring is a time of new beginnings, and the season is also ideal for making changes to the home. 
Many homeowners plan their projects over the winter and wait for the weather to improve in the spring before beginning their renovations. An abundance of late winter home shows occurring throughout the country also makes planning easier than ever. Additionally, the popularity of home improvement television shows can help property owners decide what to do.
"With [TV channels like] HGTV and DIY, people get to see new and wonderful materials in a finished room so they're not as afraid to incorporate them into their homes," design consultant Dawn Williams told AngiesList.com.
Renovation experts say there are several types of projects that are especially common in American homes these days.
Energy efficiency
Regardless of the size of the project, many homeowners are incorporating more efficient products into their visions. 
"From low-VOC paints and adhesives to more energy-efficient windows and furnaces, these trends are here to stay," explained remodeling expert Charlie Griffey on AngiesList.com. 
Many of the products being used in today's spaces help individuals save money and the environment. For instance, radiant floor heating installed in any room not only improves the comfort of the space, but improves a home's overall efficiency as well. Unlike traditional heating systems, radiant heat does not use ducts, so there is no energy lost that way.
In addition, infloor heating  allows for more uniform heat distribution. It also keeps the warmth lower in the room, where the people are, instead of up near the ceiling. 
Removing walls
Open concept living remains a popular choice for many people embarking upon a renovation project. Many homeowners choose to knock down walls in order to improve the flow of their spaces and improve light. 
"You almost feel like you have a new house and it gives you more opportunities," designer Tony Slade told AngiesList.com.
Removing walls is most common on the main floor of a home, between the kitchen and any adjoining rooms.
Updated bathrooms
According to The Journal Sentinel, common bathroom renovations include installing heated bathroom flooring, custom tile and stonework, custom vanities and cabinetry, large showers and big windows to let in more natural sunlight.
In addition to adding beauty and style to a bathroom, many bath renovation projects are focusing on improving the safety of the room for aging homeowners. 
While executing any kind of home improvement can be time-consuming, experts say the amount and quality of a homeowner's planning can make or break the project.
"You can save time, money and stress by planning ahead," window and door expert Kathy Krafka Harkema told The Journal Sentinel. "Seek out expert advice, research product options and schedule home remodeling projects now, while you have the time to plan it and get on the schedule of contractors."
Like this post? Subscribe for regular updates
Make sure you don't miss out on the latest news in radiant heating by subscribing to our blog. We'll send you an email with links to the newest posts from WarmlyYours.
We won't share your information and you can unsubscribe at any time with a single click.
---
Did you find this post helpful?
Let us know by giving it some applause.
---
---