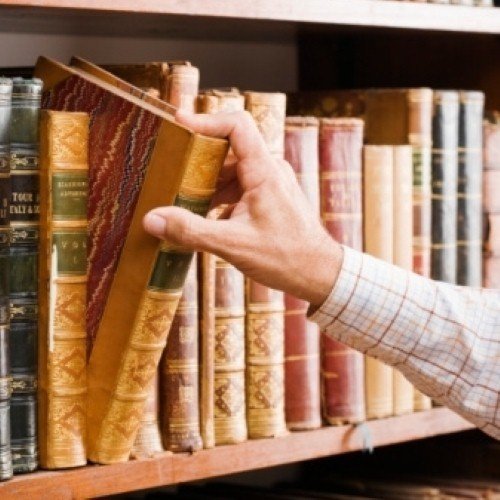 Sometimes, a home library shouldn't just be a quiet and relaxing place to kick back with a favorite novel. Now that the season for outdoor fetes and cookouts is over, celebrate the autumn with a fantastic party in your home library. You don't have to show off your recessed shelving, vast book collection or excellent interior design taste - but it couldn't hurt.
If the idea of a library theme party appeals to you, why not make a few décor and design changes to give your home library a facelift?
1. Take the office out of the library. First of all, remove anything too "home office" from your home library. You'll want to go for a stylish and bookish room, rather than anything that reminds guests (or you!) of weekday obligations and pending deadlines. Take the computer, calculators, filing cabinets and potentially even the desk out. It'll give you more space for seating!
2. Rethink your heating method. Now that the weather's turned cooler, you'll probably be keeping your windows closed. A fireplace could lend a lot of ambiance, but it's not quite the kind of cold that warrants cranking up the central heat. Why not rethink your heating entirely with radiant floor heating? This energy-efficient method fits under your floor and heats the room using minimal electricity and natural convection currents. Unobtrusive, eco-friendly and perfect for a party!
3. Make an unusually vibrant paint choice. We've all been in plenty of public and college libraries where dark greens and heavy wood hues are the main color scheme. Imbue your home library with something a little more vibrant than either of those - a dusky orange or golden yellow are more than just seasonally appropriate, they're a stylish step in the right direction.
4. Mix up some great cocktails. Many writers featured on your shelves were surely masters of great cocktails. Look to Salinger for a few martini ideas, whereas Raymond Chandler will deliver on the gimlet.
5. Play a game of literary "Who Am I?" In this game, players write out the name of a favorite and famous literary character, then flip their cards over and slide them to the left. Players pick up the cards they've been handed - without looking at the name - and place them against their forehead, so that "who they are" is visible to everyone but them. Go in a circle trading yes or no questions until everyone's guessed exactly who they are!
---
Tell us About your Project
Our team of Radiant Experts is ready to help! Just tell us a little about yourself and your project to get started.
---
Did you find this post helpful?
Let us know by giving it some applause.
---
---