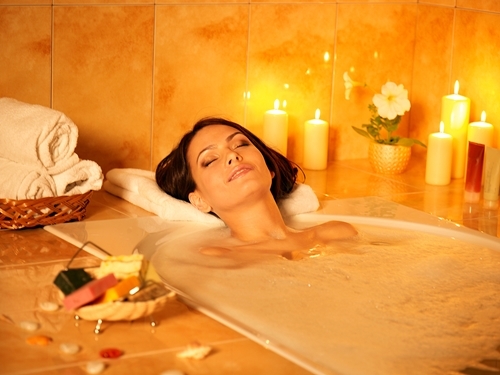 A hectic, busy life is common for many of us. According to the U.S. Bureau of Labor Statistics, the average American works nearly nine hours each day.
Additionally, American workers are often seen by those in other countries as overworked and vacation-deprived. In fact, a recent survey conducted by Good Technology revealed more than 80 percent of workers continue working after they have left the office.  All of this extra time spent answering emails, returning calls and preparing for time at the office results in nearly an entire extra day of work each week for many people. 
Intense work schedules, busy family lives and increased commitments really make the saying "there's no place like home" ring truer than ever. Many people strive to make their homes the most relaxing, calming places possible. 
Making your home a retreat
Some do this by creating spa-like bathrooms complete with luxury decor, upscale plumbing fixtures, heated towel racks and calming colors for relaxing and unwinding. 
Others renovate their kitchens so they can enjoy preparing and cooking meals as well as spending time with family and friends. They add large islands, custom cabinetry, professional-grade appliances and electric radiant heating to make their kitchen functional and comfortable for everyone.
Do-it-yourself soundproofing 
Regardless of how you make your home a sanctuary, experts say there are many ways homeowners can soundproof their homes. 
According to The York County Journal Tribune, adding curtains, carpets and other fabrics to any room can help to absorb noise and make the home quieter.
Adding furniture can also cut down on the echo effect. Place large, upholstered chairs in the corners of the room and bookcases against common walls to block noise.
Enlisting expert assistance
Adding texture to the walls or ceilings as well as adding extra insulation may also help keep your home quieter, even though these projects may require some outside help.
In addition to helping reduce noise, improving insulation is likely to help improve your home's overall efficiency. According to the U.S. Department of Energy, insulating a home can reduce energy bills and pay for itself in just a few short years. 
Other options
Individuals with even the smallest budget can make changes to make their homes more relaxing. Create a small meditation area, reading nook or yoga space in the corner of your favorite room. Paint your bedroom a calming color such as green, blue, grey or white. Plant flowers outdoors and commit to taking a little bit of time for yourself each day. 
Whatever you choose to do, make your home a place where everyone in the family can relax, unwind and prepare for their busy lives.
Like this post? Subscribe for regular updates
Make sure you don't miss out on the latest news in radiant heating by subscribing to our blog. We'll send you an email with links to the newest posts from WarmlyYours.
We won't share your information and you can unsubscribe at any time with a single click.
---
Did you find this post helpful?
Let us know by giving it some applause.
---
---