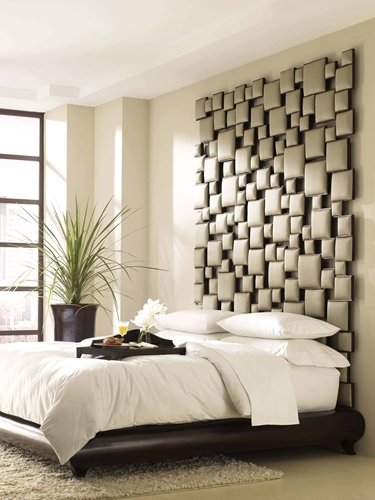 Trying to make a small bedroom look more spacious can leave many homeowners scratching their heads in confusion. But they may be surprised by some of the tips learned by decorators over the years to solve this common design dilemma.
According to House Beautiful, the biggest factors to consider in creating the illusion of more space in a bedroom are the color scheme and the proportion of furniture. Dark walls, for instance, do the opposite of what one might expect - they tend to make a small space look bigger.
Keep Scale in Mind
Small-scale furniture also tends to make a bedroom seem diminished, often because people put too much of it into the space. A high bed and tall headboard, on the other hand, will make the room seem taller and more spacious.
Choosing area rugs in proportion to the room size is another important element. For homeowners who choose to forego a floor covering, they can still have the comfort of stepping onto warm floors when they out of their beds. Radiant floor heating is a great investment for a bedroom regardless of its size. One advantage in a small room is that there are no ducts to work around when arranging the furniture.
Give Beds More Room
Since the bed is the most important - and largest - piece of furniture in a bedroom, steps should be taken to minimize the space it takes up by doing away with the traditional headboard.
A simple back board can be decorated by painting or with wallpaper for a cottage-style headboard that's coordinated with the other colors in the room. For a softer look, the board can be lined with foam and covered by fabric for an upholstered headboard that's comfortable to lean against while  reading in bed.
Another option is to create a faux headboard by decorating the wall around the bed, giving the illusion of a headboard by using a tapestry or quilt for a backdrop, or by painting a design on the wall that frames the bed.
Accessorize Proportionately
Another unexpected tip from designers is to use more than one pair of pillows as a decorative touch on a bed. Two pairs in contrasting patterns, colors and textures look more lavish without losing proportion.
For a window treatment that adds elegance and airiness to a small bedroom, install soft sheer shades. They allow filtered light in while maintaining visibility of outside views.
---
Tell us About your Project
Our team of Radiant Experts is ready to help! Just tell us a little about yourself and your project to get started.
---
Did you find this post helpful?
Let us know by giving it some applause.
---
---