When it comes to installing flooring in your home, there are many factors to take into consideration. The price, durability, and type of flooring are just a few, but it's not a bad idea to review the actual process of installation to insure a successful outcome.
To make your flooring experience easier, we have compiled some useful tips so you can achieve the best and most satisfactory results.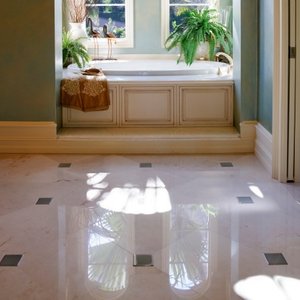 The Perfect Amount: It is very important to determine the square footage of the room by multiplying its length by its width. If you have an irregularly shaped room you can divide it into smaller rectangular sections and calculate the square footage of each section and then add them together. To prepare for any mistakes during installation, you may want to buy an extra 10 percent and even an extra box for future flooring fixes.
Subfloor: In order to have a flat and quiet subfloor, you can screw a wood subfloor to the underlying joists to minimize creaking and then pad low spots with plywood or shims. If you have a concrete subfloor, you can fill dips with a leveling compound.
Thermostat: If you installed WarmlyYours Radiant Floor Heating and you need to heat the room soon after installation, raise the temperature gradually over the course of a week to allow the flooring to adjust to the radiant heat.
Glue-down installation: Engineered wood, vinyl, and linoleum are floor coverings that can be installed using a glue-down process. It is best for wood or concrete flooring, or even existing flooring. To install, sheets, tiles, or planks are glued to a clean, flat subfloor using a troweled-on adhesive, yet some glue-down flooring is simply peel-and-stick. No vapor barrier is required.
Floating installation: Floating installation can also be used for engineered wood, plastic laminate, or linoleum flooring surfaces. A wood or concrete subfloor works best with floating installation as well as using existing flooring for your subfloor. During the process of installing, tongue-and-groove planks or tiles are locked together mechanically, yet some products must also be glued together at the joints. To account for minor flaws in the subfloor and to absorb sound, the flooring material is generally laid over a thin foam or cork pad. For installations over concrete, a thin plastic vapor barrier is required.
Nail or staple-down installation: This type of installation works for solid wood and engineered wood and is best for a wood subfloor. The installation process includes using a standard ¾-inch-thick solid-wood strip and plank flooring that is traditionally nailed to the subfloor, while thinner solid or engineered material is almost exclusively stapled. Fasteners are driven diagonally through the tongue side of the material and into the subfloor, which makes them invisible once the floor is finished. Solid flooring can also be nailed straight through the surface with decorative cut nails or fastened with screws, which are typically countersunk and concealed with wood plugs. A layer of 15-pound felt or rosin paper is often sandwiched between the subfloor and floor to prevent moisture accumulation between the two and lessen sound.
---
Tell us About your Project
Our team of Radiant Experts is ready to help! Just tell us a little about yourself and your project to get started.
---
Did you find this post helpful?
Let us know by giving it some applause.
---
---