Granite, quartz and marble are at the top of the list of trendy, upscale countertop options. Unfortunately, each of these surfaces is known for being inherently cold, which can quickly turn a beautiful kitchen into an uninviting space.
Kitchen islands, peninsulas and desks are some of the most-used areas of the home. They're where your guests mingle while munching on appetizers and where your children do their homework after school. That's what makes countertop heating so valuable.
By adding radiant heat to the underside of your countertop, you can raise its temperature 20-25 degrees, which will eliminate the chill and keep resting hands warmer. Just as tile and stone floors steal the heat from your feet, stone countertops steal the heat from resting hands and arms. By adding WarmlyYours FeelsWarm® countertop heaters to your kitchen island, peninsula and/or desk, you'll retain your body heat, making the area warm and inviting all year round.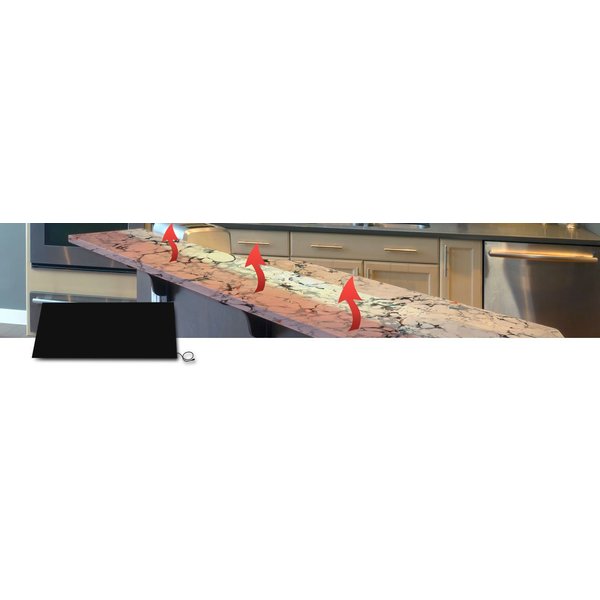 However, because this heating system is relatively new, there may still be some questions about exactly how it works. Therefore, WarmlyYours Radiant Heating compiled this handy list of frequently asked questions about its WarmlyYours FeelsWarm® countertop heaters.
Can a homeowner install the countertop heater themselves? 
Yes. WarmlyYours FeelsWarm® countertop heaters are easy for anyone to install. The underside of the heater is outfitted with an adhesive, so all you have to do is peel off the sticker and stick it to the bottom of the countertop. Then, plug it in to the nearest 120-volt outlet to turn it on.
How is the heater controlled?
Each WarmlyYours FeelsWarm® countertop heater comes with a thermal control unit and transformer. The thermal control unit is typically mounted inside a cabinet and ensures that the heater never exceeds its maximum limit. The transformer supplies 12-24 volts to the heater and prevents the homeowner from having to run a separate line to the heater. To turn the heater on and off, the user can simply plug it in or unplug it. Or, the user can purchase a programmable timer to set a schedule for the heater.
How long does it take the heater to warm up?
It takes about 90 minutes for the heater to reach its maximum temperature setting. So, if you don't plan to leave the heater on all the time, a programmable timer is a good option to make sure your countertops are in working order when you need them.
How hot does the countertop get?
The countertop will get 20-25 degrees warmer than the room temperature. So if your thermostat is set to 70 degrees Fahrenheit, your countertops will be between 90 and 95 degrees. This means they won't feel warm like a heated floor, but they won't feel cold to the touch.
How much does it cost to heat the countertop?
The cost of operation depends on the size of the heater and the cost of electricity in your state. However, generally it costs pennies a day to run the system for 24 hours. For example, the cost to operate a 4-square-foot heater continuously would come out to about $0.25 a day. That's about the same as the cost of using a 75-watt light bulb.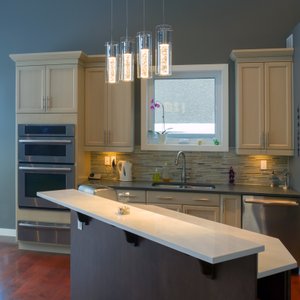 With which countertop materials do these heaters work?
WarmlyYours FeelsWarm® countertop heaters can be applied to natural and engineered stones, including granite, marble, quartz, limestone, Soapstone, Cambria and Silestone. Remarkably, they also work under concrete and stainless steel countertops.
What heater sizes are available?
WarmlyYours FeelsWarm® countertop heaters are available in five popular sizes or they can be custom fit for your overhang. To view the available sizes or submit an order for a custom heater, click here.
For more information about countertop heating, visit www.warmlyyours.com or call WarmlyYours at 800-875-5285. 
---
Tell us About your Project
Our team of Radiant Experts is ready to help! Just tell us a little about yourself and your project to get started.
---
Did you find this post helpful?
Let us know by giving it some applause.
---
---