It all began in 1972 and has since grown into the most widely celebrated global day for positive environmental action. And on the fifth of June, everyone around the globe participates in World Environment Day. Yet is more than just an annual event. It has launched activities that simultaneously take place all around the world, all year round.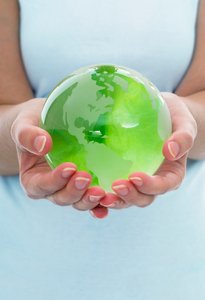 World Environment Day was created to address environmental issues and encourage people to become active agents of sustainable and equitable development. It actively promotes awareness that communities are greatly influential to changing environmental issues, while advocating partnership, to ensure that everyone around the world can enjoy a safer and more prosperous future.
Countries such as Kenya, New Zealand, Poland, Spain and the United States celebrate World Environment Day by hosting events like street rallies and parades, concerts, tree planting, and cleanup campaigns! In many countries, this annual event attracts political attention and results in direct action toward improving the environment, which in turn, provides an opportunity to sign or ratify international environmental conventions.
The theme for this year's World Environment Day is Green Economy! The UNEP defines this theme as one that results in improved human well-being and social equity, while significantly reducing environmental risks and ecological scarcities. A green economy is categorized as an economy that is low carbon, resource efficient, and socially inclusive.
Furthermore, a Green Economy is one whose income and employment growth is driven by public and private investments that reduce carbon emissions and pollution. It also encourages the enhancement of energy and resource efficiency while preventing the loss of biodiversity and ecosystem services.
World Environment Day relies on us! Our choices and our actions! Almost everything we do is influential to our environment and WarmlyYours makes sure to always keep this in mind!
Here at WarmlyYours, being "green" is a value of ours, which is why we manufacture RoHS (Restriction of the Use of Certain Hazardous Substances) certified energy-efficient electric heating solutions. Our floor heating products and electrical components are completely free of harmful materials such as lead, mercury, cadmium, hexavalent chromium, polybromo biphenyls (PBB), and polybromo diphenyl ethers (PBDE).
On World Environment Day, everyone counts in this initiative and it's up to us to make positive change happen. You can plant a tree, walk to work, organize a neighborhood cleanup, or stop using plastic bags. There are so many possibilities! Join in and help us positively impact the environment!
---
Tell us About your Project
Our team of Radiant Experts is ready to help! Just tell us a little about yourself and your project to get started.
---
Did you find this post helpful?
Let us know by giving it some applause.
---
---