Dayton is the sixth-largest city in the state of Ohio and the county seat of Montgomery County. The region is just north of Cincinnati and has a population of around 1 million people making it Ohio's fourth-largest metropolitan area, after Cleveland, Cincinnati, and Columbus. Thanks to the Wright brothers, Dayton is the historic birthplace of powered flight.
Dayton's climate is classified as a humid continental climate. On average, there are 4.5 nights of sub-zero degrees Fahrenheit lows annually. Based on currentresults.com temperatures are coldest in January with highs around 36 degrees Fahrenheit and lows around 22 degrees. Snow is moderate, with a normal seasonal accumulation of 23.3 inches (59 centimeters) usually occurring from November to March.
It's Easy to Add Affordable In-floor Heating to the Bathroom, Kitchen, or Any Room in Your Home
Recent data on listing terms when selling a home uncovered some popular home features, among those heated/radiant floors. It makes sense that if people are looking to buy a home with these amenities, then existing homeowners should consider them when remodeling. WarmlyYours has an underfloor heating system for most any application and any room in your home. Here are some room examples along with compatible flooring selections.
No More Cold Bathroom Tile with Underfloor Heating
These Dayton homeowners needed to warm up the elegant but cold tile flooring in their newly remodeled bathroom, so they decided to add radiant floor heating to their medium master bath. Radiant heating is the perfect solution to bring welcoming warmth and luxury to your daily routine.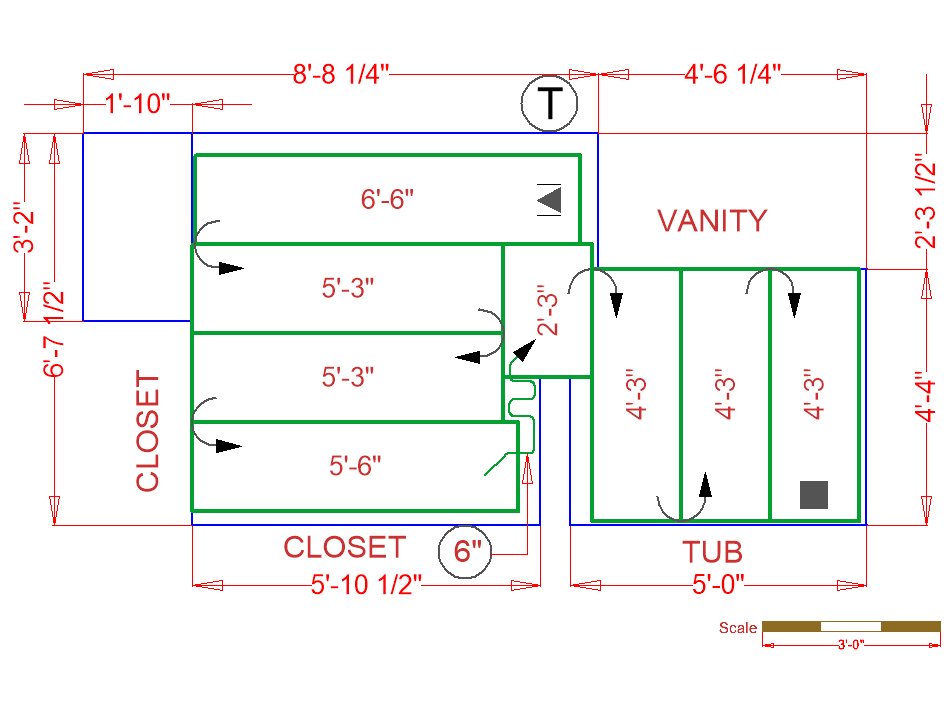 Low Cost per Square Foot of Radiant Warmth and Low Operating Cost Make This Bathroom Affordably Cozy
For their project, these owners selected a 1.5- by 38-foot TempZone™ Flex Roll to install in their 70-square-foot bathroom. The cost was only $598.50 or $10.50 per square foot. In addition to the material cost, the operating cost should also be factored into the remodeling budget. WarmlyYours' Operating Cost Calculator figures in the average kWh cost in Dayton of 11.79 cents resulting in a daily cost of 43 cents to heat this bathroom for four hours a day, a small price to pay for the comfort and luxury of a soothingly warm bathroom tile floor. Furthermore, the system can be the primary heating source for the room which is an additional cost and energy savings advantage.
Calculating Costs for Heating Up a Laminate Kitchen Floor
As their kitchen was one of the most used rooms in their home, these Dayton homeowners knew it made sense to add electric in-floor heating when planning their kitchen remodeling project.  To warm up the stylish but cold laminate flooring they had selected they chose to install an Environ Flex Roll floor heating system in the 123 square foot space for $860.00 at a cost of approximately $12.00 per square foot. The Flex Roll consists of an insulated heating cable sandwiched between two layers of reinforced, durable aluminum foil that radiates 12 watts per square foot.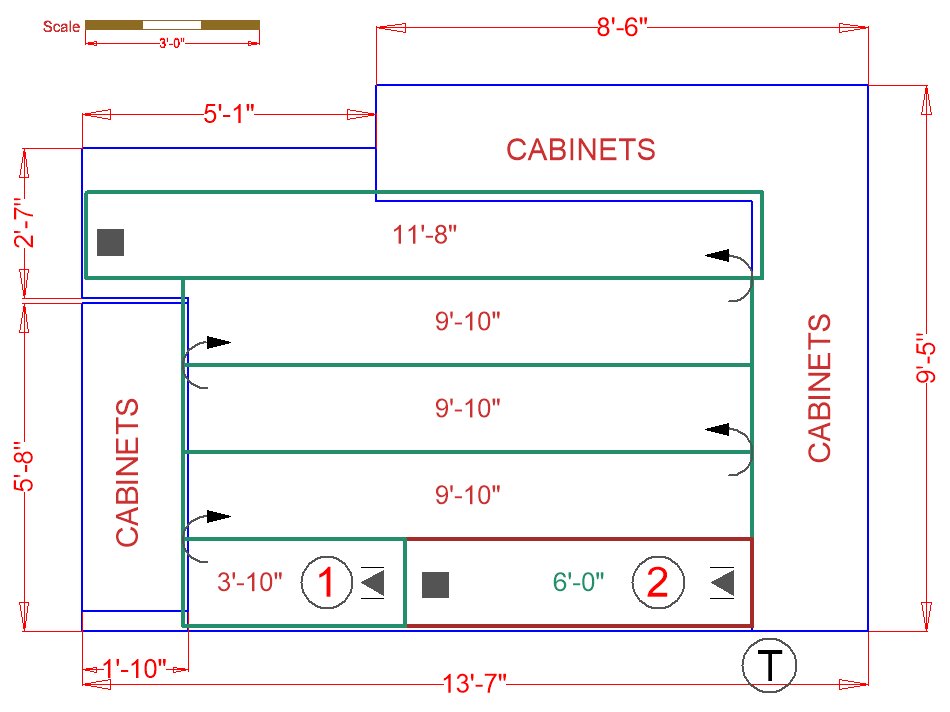 Around 75 Cents a Day Will Heat This Kitchen Flooring
Factoring in the cost for operating the system is important when planning your budget. WarmlyYours has a useful online tool to help you do just that. Based on WarmlyYours's Operating Cost Calculator it costs just 76 cents to heat this kitchen for eight hours a day. An added bonus is that this system can be a primary heat source for the room without incurring additional heating bills.  
TempZone™ Cable Warms up this Office for Less than a Dollar a Day
This homeowner decided to install radiant heating during a recent remodeling of their home office to minimize the winter chill. The system was designed to heat the floors of their office with 300 feet (75 square feet) of 120-volt TempZone™ Cable for $480.00. That amounts to just $6.40 per square foot. By adding a nHance programmable thermostat for $169, it brought the total to $649.00.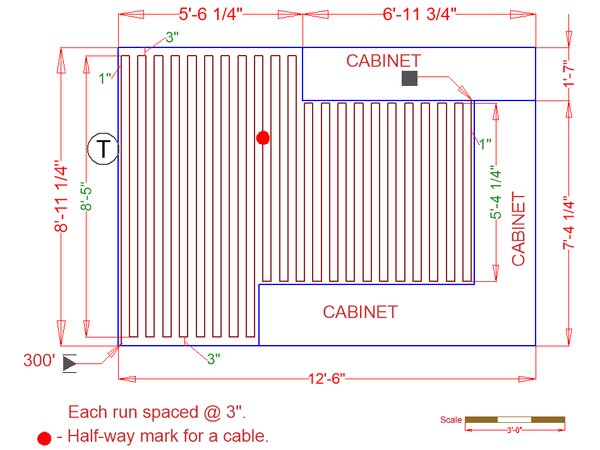 Operating Cost is Low to Heat Underneath Wood Flooring
It's important to consider the operating cost of your floor heating system when budgeting for your own project. WarmlyYours makes it easy for you with our Operating Cost Calculator. Based on the data from this tool, the cost to operate this system for 8 hours a day is just 46 cents. This calculator factors in the average kWh cost in Dayton, which is just slightly less than 12 cents. Best of all, this radiant heating system can be the primary heat source for the room so there's no need for additional heating and higher energy bills.
Add a Basement Bedroom Complete with Radiant Floor Heating
These Dayton homeowners decided to add a basement bedroom for visiting friends and family, but were concerned about the cold basement floor. They discovered that electric radiant floor heating would be an ideal solution to that dilemma. They immediately ordered a WarmlyYours underfloor heating system for installation under new laminate flooring to keep the guest bedroom comfortably cozy during the winter rainy season.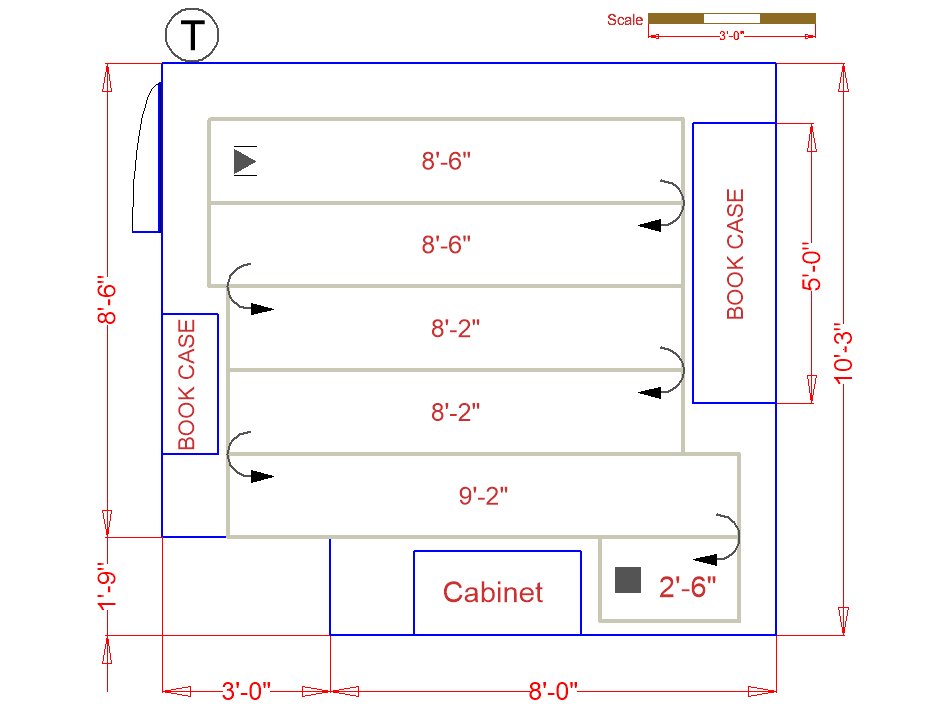 Product Cost per Square Foot, Plus Operating Cost for the System
The 1.5- by 52-foot TempZone™ flex roll fills 78 square feet of floor space and costs $741, which equates to just $9.50 per square foot. The flex roll is easy to cut and turn to effectively fill the floor space with 15 watts per square foot of soothing radiant heat. They were also pleasantly surprised to find that operating the in-floor heating is also affordable. According to WarmlyYours' Operating Cost Calculator, it only costs 48 cents a day to heat this bedroom for eight hours.  The floor heating system can be the primary heat source for this room, so there won't be any additional heating bills which is a welcome bonus.
Our Easy to Use Operating Cost Calculator Gives Cost To Run An In-floor Heating System
After you've chosen your floor heating system including how you'll use it, you can calculate how much it will cost to operate. Actually, the calculating is done for you with the Operating Cost Calculator, a useful online tool that asks basic project questions; product type, room size, local energy rate and daily usage in order to calculate the daily, monthly and annual operating cost of your system. It's simple to use. To get started, check it out here.
Floor Heating Controls and Costs to Suit Your Lifestyle and Budget
Customize your comfort with the nSpiration series of thermostats from WarmlyYours. Each control has been tailored to meet a specific need.

From programmable models that allow you to easily monitor and manage your home comfort remotely from any device to controls where you can set it and forget it, all of our controls are designed to help you get the most out of your floor heating system. For large applications, or additional areas, you may have to combine the nJoin power module with your nSpiration Series thermostat.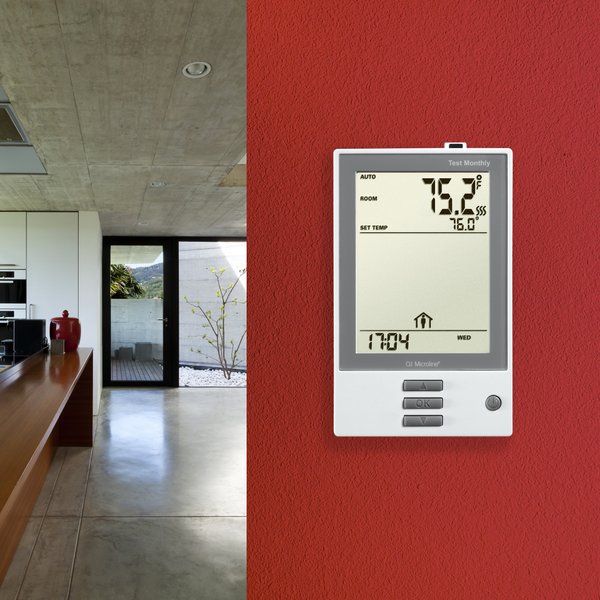 nSpire Touch Wifi Programmable
Control your floor heating system with your smartphone or on the web with the nSpire Touch WiFi thermostat. The added ability to be controlled remotely can accommodate busy schedules. It also offers substantial energy savings without sacrificing comfort or convenience.  
nSpire Touch Programmable
It's easy to set up a radiant heating system according to your preferences and schedule with the integrated Install Wizard included with the nSpire Touch. With 4 programmable events for each day of the week, the nSpire Touch allows you maximum control over the floor temperature.
nHance Programmable
You can easily set this control up for your exact needs and specifications with the nHance intuitive user-interface. For consistent schedules, it will deliver a maximum level of comfort when you need it most, like during your morning routine, while still keeping your overall energy use to a minimum.
nTrust Non-Programmable
Ease and reliability are benefits of the nTrust  thermostat. Because there is no programming required for the nTrust dual voltage (120V/240V) control, you can just set it for your desired temperature and then sit back and relax. 
Radiant Floor Heating Technical Installation Support Available 24/7
Our 24/7 technical support experts will be on hand to guide you every step of the way through your installation, whenever you need assistance. Ensuring your project goes smoothly is WarmlyYours commitment to you, so whenever you are ready to install your system, we will be there for you day or night.
Get Started Quickly with our Radiant Heat Cost Calculator and SmartPlan™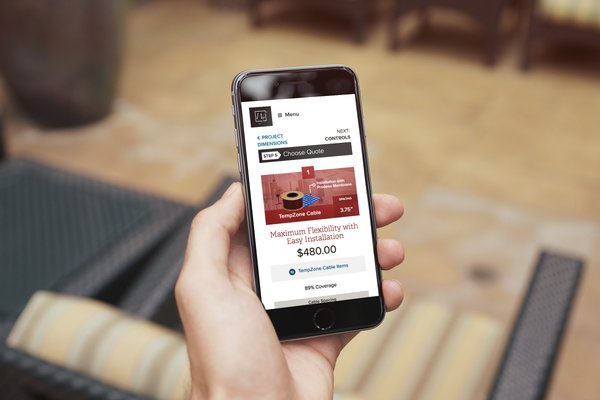 Using our Radiant Heat Cost Calculator is the easiest way to plan for adding electric floor heating to your next project. All you need to do is fill in some basic information about your project and the cost calculator tool will give you a side-by-side comparison of the recommended products and costs for your room. Using this tool allows you to plan and budget for your own project online. Get started right now by clicking here.   
The next step is to upload a floor plan of your room to get your radiant heating SmartPlan™. This plan provides more in-depth detail than a radiant heat cost calculator because it shows exactly how the floor-heating system should be laid out with the electrical plan. This custom SmartPlan™ helps ensure an easier install by helping our expert technical staff guide you through the complete installation process.
If you have any questions, there are several ways you can reach us. 1) Call us at 800-875-5285, 2) live chat us at www.warmlyyours.com, or 3) email us sales@warmlyyours.com. Whether you live in Dayton or another city that could benefit from our radiant heating solutions, WarmlyYours is ready and waiting.
Skyline image: By MarkDonna at the English language Wikipedia, CC BY-SA 3.0, https://commons.wikimedia.org/...
---
Tell us About your Project
Our team of Radiant Experts is ready to help! Just tell us a little about yourself and your project to get started.
---
Did you find this post helpful?
Let us know by giving it some applause.
---
---