If you are one of the many owners of granite, quartz, soapstone slabs, natural stone, marble, or concrete counters, then you have most likely noticed how cold the surface feels to lean on. With winter right around the corner, the thought of sitting at a cold kitchen countertop everyday can be off putting.
To solve this problem, many homeowners decide to add an extra element to their kitchen design: heat under their kitchen island or countertop seating area, specifically the place where you most often rest your arms. We're not talking about extreme heat with the finished product; just a little bit of warmth to take away that initial "shock" when your bare skin touches the stone.
So, how can this be done and how much work does this project take? What about the fixed costs? For both new and existing countertops, adding warmth with FeelsWarm® countertop heaters is a surprisingly simple process, one that does not typically require hiring an electrician or contractor.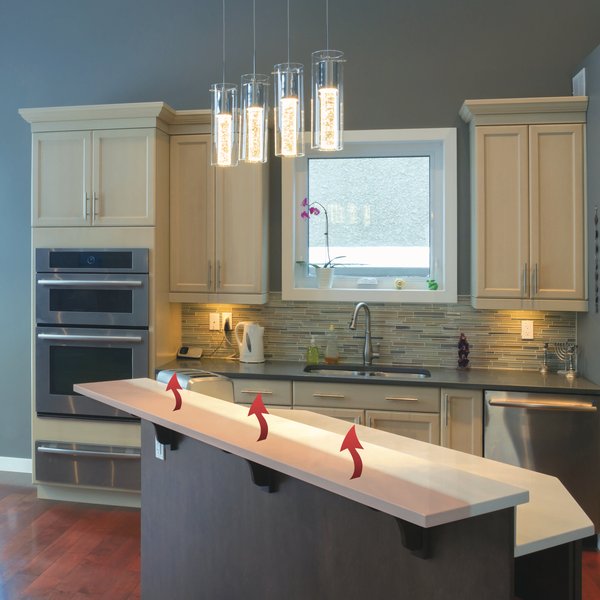 Installing Undercounter Heat
Installing a countertop heater is extremely easy, just follow the steps below.
1.     Purchase a WarmlyYours FeelsWarm® stick-on heating mat, one that can be customized to fit the exact size and shape of your overhang. It is recommended to only heat the area where you commonly sit. 
2.     Apply a light layer of two-part epoxy to the underside of your countertop. (Epoxy is included with all countertop heating mats). This step is typically required for "rough cut" natural stone countertops such as quartz or granite countertop materials. Smooth granite and any stone with a mesh backing will most likely not need this thin layer of epoxy. 
3.     Using a simple "peel-and-stick" method, remove the release liner from the mat and apply the adhesive side underneath your countertop, approximately ½" away from the outer edges.
4.     After locating an outlet inside of your cabinet, drill a small hole into your cupboard under the overhang area and feed the heater cord through the hole. 
5.     Included with all countertop heating mats is a low-voltage transformer, which plugs directly into a standard outlet and can be bolted up on the wall in your cabinet. Simply plug the mat into its transformer and your heater will begin warming up. You can also utilize a thermostat controller which allows you to dial the temperature of the heating mat down if desired.
Here's a short video outlining the entire process.
Note: If you are installing new countertops and want to heat an area that is not an overhang, click here to learn more about how to add heat to your countertop with no overhang.
Cost to Operate Countertop Heaters
Once you have plugged in your heating mat, you can run it 24/7 without a temperature control as it costs practically nothing to utilize. The cost to operate a countertop heater for 24 hours is approximately 10 cents. This can, of course, vary to a small degree based on local electrical costs and the square foot coverage of the mats. Regardless, it's a very small price to pay for comfort. 
Enjoying Your New Heated Countertop 
WarmlyYours FeelsWarm® mats are the only product designed specifically for countertops, making it a very safe and easy option for you to enjoy warmth year-round.

"Guests will come over and be astonished that the granite isn't cold like most stone," says Dorothy F. of Burnsville, MN. "Without a doubt, it has enhanced our kitchen and home. You will be amazed to how much it helps keep your arms and hands warm."

Practically invisible and very easy to install, it's no wonder why homeowners are loving this improvement of their luxurious countertops! 
For more information about countertop heaters, check out some of these example projects. 
---
Tell us About your Project
Our team of Radiant Experts is ready to help! Just tell us a little about yourself and your project to get started.
---
Did you find this post helpful?
Let us know by giving it some applause.
---
---