Most of us lead busy lives, so getting the day off to a good start is more important to our well-being than ever. It follows that the bathroom is the pivotal room in our home where we begin and end our day, getting ready for work or play and ending with preparations for a good night's sleep. In this age of constant social media and interruptions, radiant heat offers the perfect solution to treat ourselves well with routines that alternately energize us as we begin our day and let us ease into relaxation at the close of day.
 
To maximize the benefits of radiant heating during your next home remodel, you can turn your bathroom into an in-home spa, an oasis of tranquility. And it's not as hard or expensive as you might think. When remodeling your bathroom if you are replacing the flooring, it's easy to add radiant heat underneath. 
If you aren't replacing your floor, you can always upgrade your bathroom by adding a towel warmer, LAVA radiant panel, LED Mirror or mirror defogger to create your own in-home spa. There are new shower waterproofing and floor heating kits, along with shower floor and bench heating systems to complete the effect. If you are replacing your bathroom flooring, these upgrades all enhance the spa experience.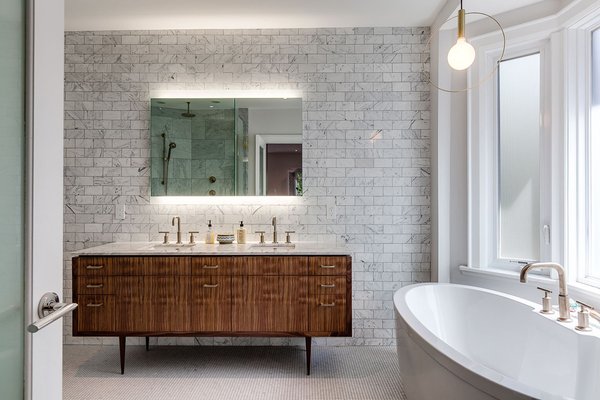 How Much Does A Heated Bathroom Floor Cost?
Easy to install floor-heating systems for warming tile in a bathroom usually cost between $5-$12 per square foot for electric heated mats, rolls or cables with fixing strips. Typically a mid-sized bathroom is about 50 square feet, with roughly 35 square feet that can be heated (you can't heat right up against the wall or under permanent fixtures like vanities, showers, tubs or toilets), so that would put the price for a floor-heating system between $175 and $420.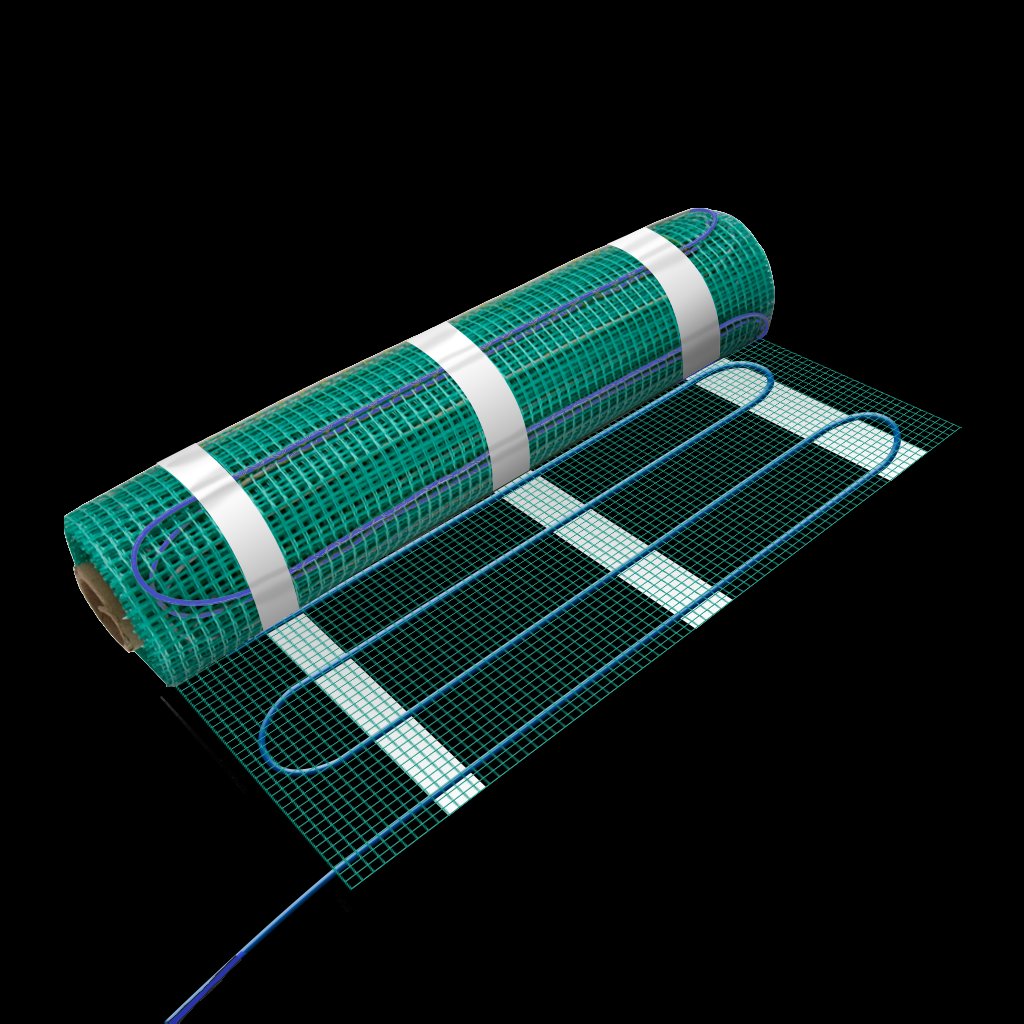 You can calculate floor heating costs for your specific bathroom by using WarmlyYours's Radiant Heat Cost Calculator. For more information about the costs for bathroom floor heating in 2019 check out our recent blog on the subject.
What's the Cost to Install Underfloor Heating?
Installation costs for floor heating can vary according to square footage.  Typically the larger the project, the lower the installation cost per square foot. An average is between $3.75 to $5.75 a square foot depending on the job size. Again, this is an estimate. For actual radiant floor heating installation costs, consult your local trade professional for specific costs in your area.  
Wrap Yourself in Warmth with a Towel Fresh from a Towel Warmer
There's little that compares to the feeling of well-being as you step from your shower or bath and feel the embrace of a warm towel. WarmlyYours offers several different towel warmer collections. One of the most popular towel warmers from our Classic Collection, is the Infinity, with a modern minimalist Zen-inspired design ideal for creating a calm, soothing spa atmosphere.
 
Available in both hardwired and plug-in styles, the Infinity measures 23 5/8"W x 32"H x 4 3/4"D so it's a mid-sized model that fits most bathroom decors. Sleek and stylish, it comes in stainless steel with a beautiful brushed metal finish.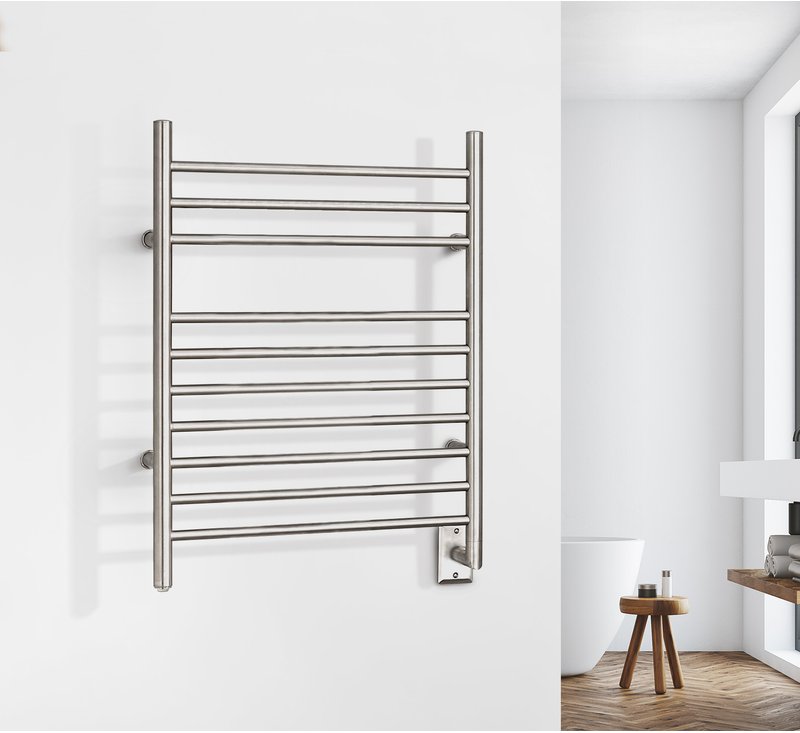 For the complete selection of WarmlyYours towel warmers, click here. 
Radiant Panels offer Soothing Warmth without Remodeling
To experience the benefits of radiant heat without needing to replace your floor to install floor heating, consider WarmlyYours radiant panels. These wall-mounted radiant panels are a much more elegant and safe way to add supplemental heat to an area than a traditional space heater. They are easy to install, like hanging a painting. In fact, there are options with Swarovski crystals that are viewed as functional artwork.
 
For bathrooms, there are mirror models with towel bars that perform 3 functions; adding radiant heat, warming towels and defogging the mirror. Take a look at the wide variety of radiant panels available to meet your esthetics.
LED Mirrors to Light Up Your Life
WarmlyYours offers a selection of beautiful LED mirrors with bright, full spectrum lighting. This preferred lighting lets you view your reflection in the more natural daylight spectrum giving you extra confidence in your appearance.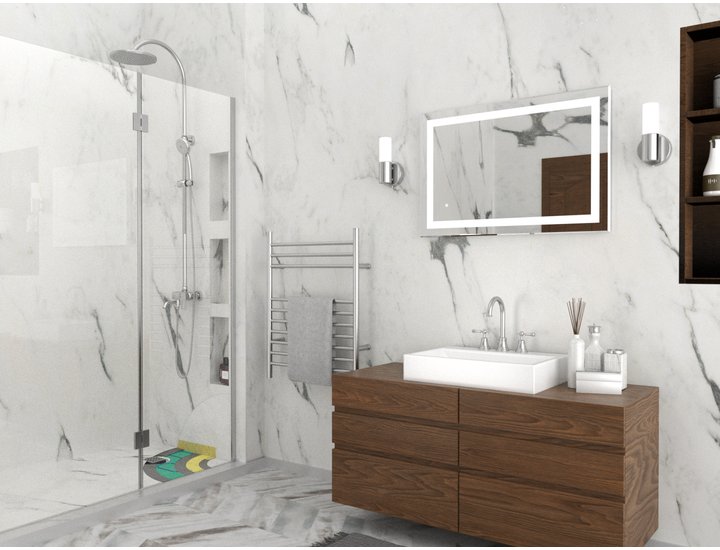 The Audrey model delivers classic beauty along with functionality so you can look your best as you head out for the day. This wall-mounted 36" x 24" rectangular LED mirror can be installed vertically or horizontally, depending on your project needs. Bright, full-spectrum lighting illuminates Audrey's rectangular frosted inner frame.
To see more LED mirror options, visit the LED selection on our website. 
Mirror Defoggers That Clearly Define You
To efficiently prepare for your day, fog free mornings are guaranteed with WarmlyYours ClearlyYou™ Mirror Defoggers. Ready to install in several shapes and sizes, they fit most bathroom mirror types. The mirror defogger works by gently transmitting warmth across the mirror's surface while you shower or bathe to prevent the steam's moisture from building on the colder mirror surface. Complete with pre-attached power leads, the WarmlyYours cULus listed mirror defoggers will conveniently connect to your bathroom's 120VAC lighting fixture.
Check out our previous blog for any mirror defogger questions you may have.
Interested in a custom size or shape? Just contact an account manager or call WarmlyYours directly at (800) 875-5285 for more information.
While adding some radiant products to create your ultimate spa bathroom, you may want to take a look at these calming bathroom retreats, color schemes and an article on creating the perfect spa bathroom for further inspiration. There are endless ways to enhance your daybreak and nighttime routines.
 
If you have any questions, please don't hesitate to contact us at (800) 875-5285 or, if you prefer, you can live chat us. We welcome the opportunity to make your day by enhancing your sense of well being with the luxury and comfort of radiant heating. 
---
Tell us About your Project
Our team of Radiant Experts is ready to help! Just tell us a little about yourself and your project to get started.
---
Did you find this post helpful?
Let us know by giving it some applause.
---
---