At times, a kitchen or bathroom makeover can feel overwhelming. The variables to consider may seem endless: choosing a contractor and which new amenities to install is just the beginning. While the payoff of a beautiful new space will be worth it in the end, planning and successfully executing the job demands plenty of hard work. If you're just getting started on your kitchen or bathroom renovation and already feeling the weight of the tasks to be done, keeping these four tips in mind can help you stay focused, on target and stress free.
1.) Plan Ahead
Begin by choosing products and materials for the remodeling project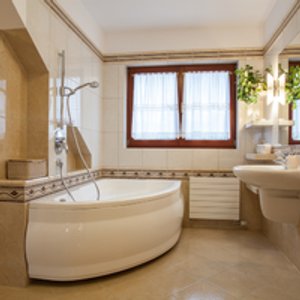 as early in the process as possible. Knowing what you want your space to look like before you start pulling up tile and tearing out cabinets will save time and spare you the unsettling feeling of staring at a demolition zone, uncertain about how it will turn out. Molly Erin McCabe, a Certified Associate Kitchen and Bath Designer, instructs her clients to have every piece of material chosen before work actually begins. In her post for the National Kitchen and Bath Association, she notes that the timeframe for this early stage of the renovation process can be longer than you might expect.
"If you are planning on gutting the entire space, then I typically recommend clients spend up to twelve months planning/designing the kitchen and up to six months for a master bathroom," says McCabe.
During the planning stage, map out what amenities you want to include in the remodeled spaces, whether you want towel warmers in your bathroom, for instance, or what style sink you'll put in your new kitchen.
2.) Know Your Budget
The costs of renovation can add up quickly. Knowing your financial limits can help you understand what's within the realm of possibility—and what's not. McCabe suggests that homeowners spend no more than 5 to 10 percent of the home's market value on a bathroom project. Kitchen remodeling projects take up more resources but shouldn't exceed 15 percent of what the home itself is worth. Labor costs can be one of the biggest expenses. Get at least three estimates in writing from different companies to find the best option to meet your budget and expectations. Planning, and sticking to, a budget can help guide your choices for appliances, fixtures and decorative elements throughout the process and avoid costly surprises later on.
3.) Do Your Research
Before hiring a contractor be sure to fully investigate the reputation of the firm. References from friends, family, and other homeowners are essential to get a sense of how flexible and trustworthy the contractor is. Once you have done your background research, you can ask your prospective contractor tough questions if there are any blemishes on the company's record. After all, if you're going to be paying him or her good money to install the plumbing for your new sink or the radiant floor heating in your bathroom, you want to be confident the job will be done right.
4.) Design with Harmony in Mind
The sheer number of decisions required can make remodeling a dizzying experience. Aim for balance in your decorating choices to avoid the pitfalls of mismatched design. Cutting corners to save money on one item so that you can splurge on another does not always make sense. For example, luxurious granite countertops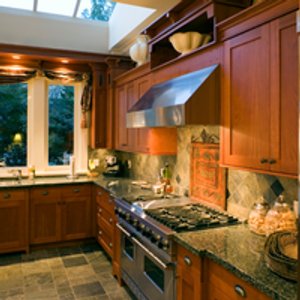 require an equally sophisticated choice in cabinetry, says McCabe, noting that the end result may not live up to your expectations if you fail keep that balance in mind.
The materials and amenities you select also need to make sense within the context of your family's needs and habits.
"Another thing to consider is, do the materials on your wish list match your family's life style and your willingness to clean and maintain them? Learn about the durability and maintenance requirements of your selected materials before you purchase and install them," advises McCabe.
Consistent design from room to room can also create a sense of unity. Incorporating a common color into different design elements throughout the home is one option. Using the same flooring throughout the home is ideal, but not always practical with remodeling projects. Using area rugs or runners in matching colors or textures is one way to create a connection between rooms with different floor covering, suggests Lauren Flanagan, in an article for About.com . If you already have radiant heating in your bathrooms, adding underfloor heating to your kitchen will continue the feeling of warmth and comfort throughout your home.
Whether you are planning a complete overhaul or simply updating the look of your kitchen or bathroom, a little homework and careful planning can make the difference between creating the space of your dreams and an expensive learning experience.
Sources:
http://www.nkba.org/Learn/Homeowners/Tips/Remodeling/GettingTheMostFromAKitchenOrBathProject.aspx
http://interiordec.about.com/od/decorateforbegin/a/Decorating-Rooms-So-They-Work-Together.htm
---
Tell us About your Project
Our team of Radiant Experts is ready to help! Just tell us a little about yourself and your project to get started.
---
Did you find this post helpful?
Let us know by giving it some applause.
---
---