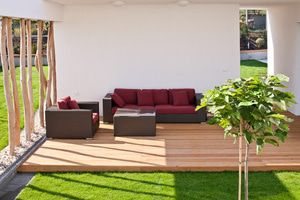 Summer is here and it's the perfect time to upgrade your backyard area into an outdoor space where you can soak in every cool, peaceful morning and warm, balmy night. At WarmlyYours Radiant Heating we've reviewed several great compilations of ideas for upgrading outdoor spaces into the best "room" in the house. Here, in no particular order, are the "Top 5" tips that caught our eye. We've included the sources where we found them to make it easy for you to explore additional ideas. Just click on the headings and bold, gold text to learn more. Have fun dreaming up the perfect outdoor space just for you.

Whether you have a small balcony or an expansive backyard, these 15 tips will help you add charm and beauty to your outdoor spaces.

1. Connect to the indoors.
"Outdoor living spaces that are easily accessible to indoor rooms are the most likely to get used. So when you're designing your deck or patio, try to locate it in a spot that's in a traffic pattern or in a place that offers refuge, such as off the master bedroom or living room. It can help to extend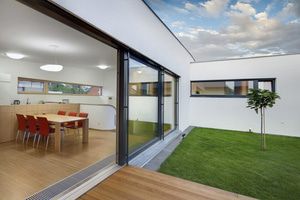 the flooring out from the master bedroom or living room to create an effortless transition for bare feet from the indoors to the outdoors on cooler mornings and evenings." "You want to erase the fact that you've gone outside," says Atlanta-based landscape designer Patricia Thernell. She advises using the same flooring material outside as inside, or using plants to frame the doorway to your outdoor room. Whether you extend a concrete slab, create a multi-seasonal room that could include heated tile or wood floors flowing out from the main house, or choose to add a snow melting system to your patio that lets you extend the outdoor entertaining season, WarmlyYours has a radiant solution to meet your needs.

Whether you have a porch, pool, or patio, take advantage of the warm weather with our guide to creating a luxurious outside lounge.

2. Add a fireplace.
"Designer Tobi Tobin completely revamped the backyard of her modern Hollywood Hills cottage. She used brick from an old patio for the new fireplace and created a terrace from sand mixed with granite." Use brick from your old patio to create an outdoor fireplace. Fireplaces create warmth and a place to gather, often becoming the focal point of a room. They also create the illusion of an outdoor "room" when included in the space. "The idea of turning a backyard into another room of your house is fueling the outdoor fireplace trend," according to Napoleon Fireplaces.

Tour four bold and budget-minded outdoor rooms to find inspiration for your backyard.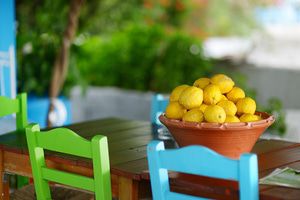 3. Keep it bright and cheery.
"Make a big impact in a small space with intense color. Here, a turquoise-painted picnic table and coral-colored accents make an energetic combo." Maybe try experimenting with this year's PANTONE® Color of the Year, Radiant Orchid.

Whether you have a big backyard or a tiny patio, start increasing your home's square footage today with our budget-friendly outdoor decorating tips.

4. Use flooring to create space.
"Since flooring defines a space, put down some kind of hardscaping, whether it's a deck or a stone floor or a concrete slab. If your outdoor room has a floor of grass, "you'll never go out there," says Elyse Santoro, a Miami-based interior designer/decorator. "If there's no floor it doesn't feel like a room." Concrete flooring can be stamped to resemble flagstone or brick, or stained in myriad colors. Plus, it's less expensive than a stone floor. Installing a snow melting system can help protect your investment by keeping the area clear of snow and ice without the use of salt and other chemicals or equipment that can damage the concrete finish.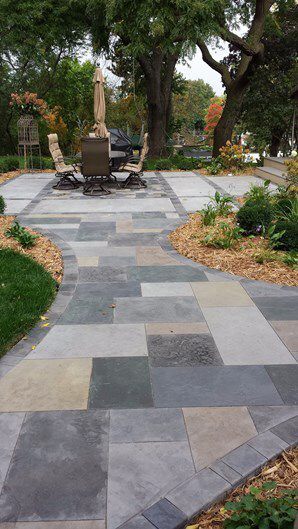 No matter what the weather or the season, you can enjoy cooking, entertaining or just relaxing on a deck or patio that is every bit as comfortable as the inside of your home.

5. Talk to your builder.
"Depending on the size and complexity of your project, you may want to hire a professional. If you're building a new home, it's a great idea to get your outdoor room included in the original construction. It saves you money in the long run as the cost is rolled right into your mortgage. Plus, there's no waiting to enjoy your outdoor room after the rest of the house is completed. Working with a builder can alleviate potential problems that may arise, such as obtaining construction permits or meeting local building codes. Your builder can also tell you about what's available in terms of appliances and outdoor furniture, as well as what works best in a certain climate." This would also help you create the seamless flooring options mentioned in number 1 above. When working with a builder, you'll want to pay close attention to the necessary paperwork: architectural designs, blueprints, contracts, permits…it all adds up, but is an important part of protecting you in the process and getting you the results you want. Look for an upcoming blog from WarmlyYours on the paperwork needed with remodels. These are just the "Top 5" ideas that caught our eye from the collections above. Enjoy reading through the rest of the tips — and best of luck creating your dream outdoor oasis. If you incorporate radiant heated flooring in a multi-season room or snow/ice melting systems into a unique outdoor space, we'd love to hear about it. Share your story on our website, send us photos on the WarmlyYours Facebook page, or tweet us at @WarmlyYours.



For more ideas about decorative concrete design, indoors and out, visit ConcreteNetwork.com.
Like this post? Subscribe for regular updates
Make sure you don't miss out on the latest news in radiant heating by subscribing to our blog. We'll send you an email with links to the newest posts from WarmlyYours.
We won't share your information and you can unsubscribe at any time with a single click.
---
Did you find this post helpful?
Let us know by giving it some applause.
---
---