Sales growth in the first quarter of 2020 was primarily led by increases in sales of both floor heating cable and insulating underlayment. Additionally, snow melting sales helped sales push into positive growth in the closing weeks of the quarter while coronavirus-related shutdowns were initiated in many parts of North America.
It's still too early to predict the long-term impacts of the shutdowns but many industry experts are predicting that the lockdowns will have a depressive impact on remodeling activity. In the short term, it does appear that ecommerce shopping has increased, which has translated into sales growth for WarmlyYours electric floor heating systems via Amazon.
In this report, we'll take a closer look at the causes of these developments along with analyzing the performance of radiant heating product sales within the larger context of the remodeling and housing markets.
Drivers of First Quarter Floor Heating Growth
Total consolidated sales of floor heating products and services for WarmlyYours were up 1.1% and constituted 64.1% of all sales for the company. This large volume increase helped insulate all product sales from virus-related volatility at the end of quarter.
The floor heating product portfolio saw growth in almost every subgrouping, from thermostats to heating elements. The largest volume increase actually came from thermostats which were up 10% and constituted 31% of all floor heating sales in the first quarter. The lion's share of growth in thermostats came from programmable thermostat options such as the nSpire Touch (up 9.7%).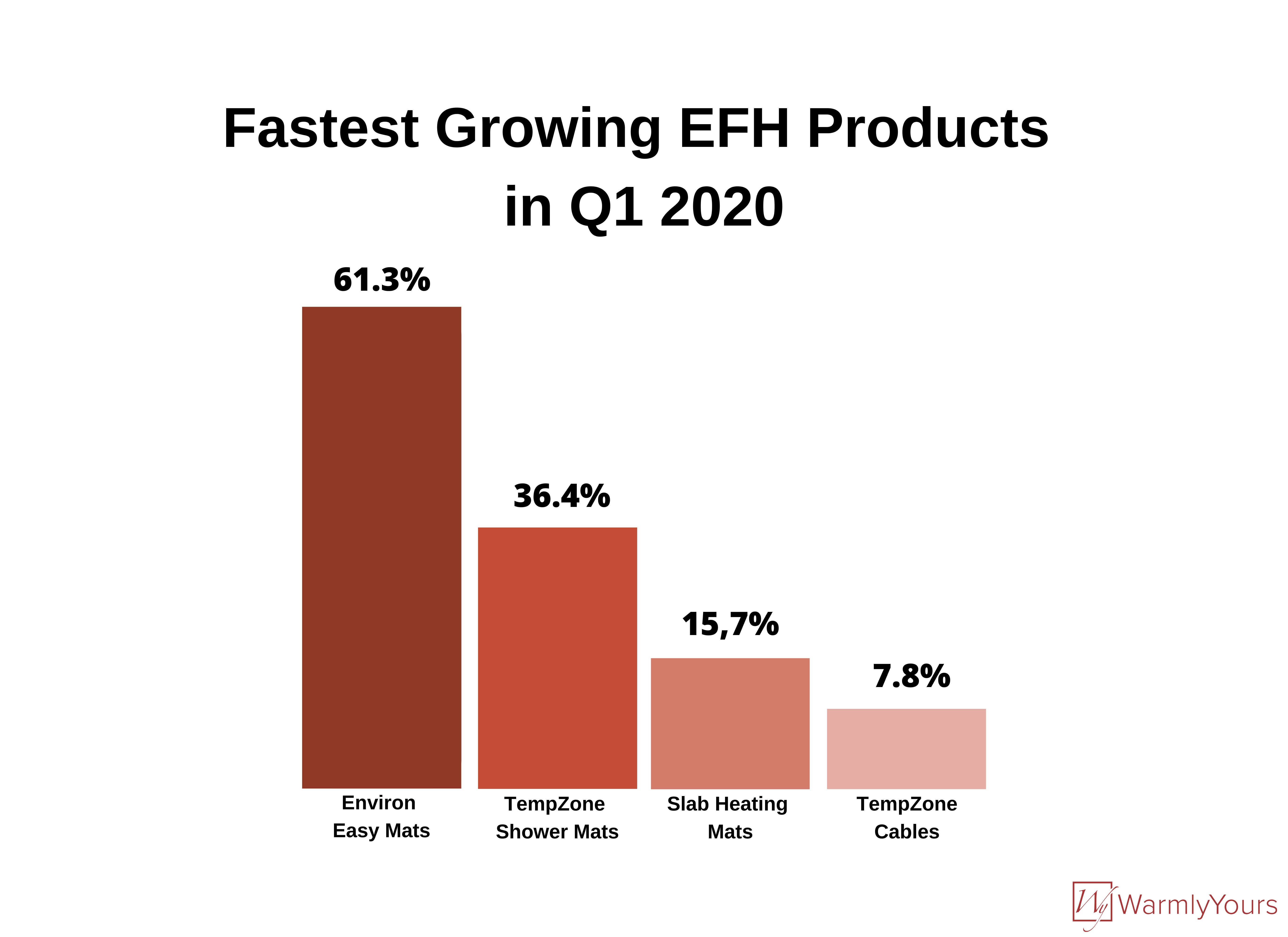 The fastest growing floor heating product with significant sales volume was the Environ Easy Mat which was up an astonishing 61.3%. However, it should be acknowledged that most of this growth was driven by a promotion run by WarmlyYours on the product line and shouldn't be considered a sustainable trend-shift.
Also of note for fast growth in the first quarter were TempZone Shower Mats and Slab Heating Mats, which grew 36.4% and 15.7% respectively.
Unsurprisingly, sales of TempZone Floor Heating Cable yet again contributed the largest increase in sales volume for electric heating elements. The cable was up 7.8% in the first quarter to constitute 27% of all floor heating sales. This is the highest percentage of total floor heating sales that the cable product has constituted since it was launched in 2015.
Historically, growth for TempZone Floor Heating Cable has coincided with sales growth for the Prodeso uncoupling membrane, as these products are often paired together. However, in Q1 2020, sales of the Prodeso membrane dropped disproportionately when compared to TempZone Floor Heating Cable. When comparing the first quarters of 2019 and 2020, the Prodeso membrane went from 69% of all underlayment sales for WarmlyYours to 57%.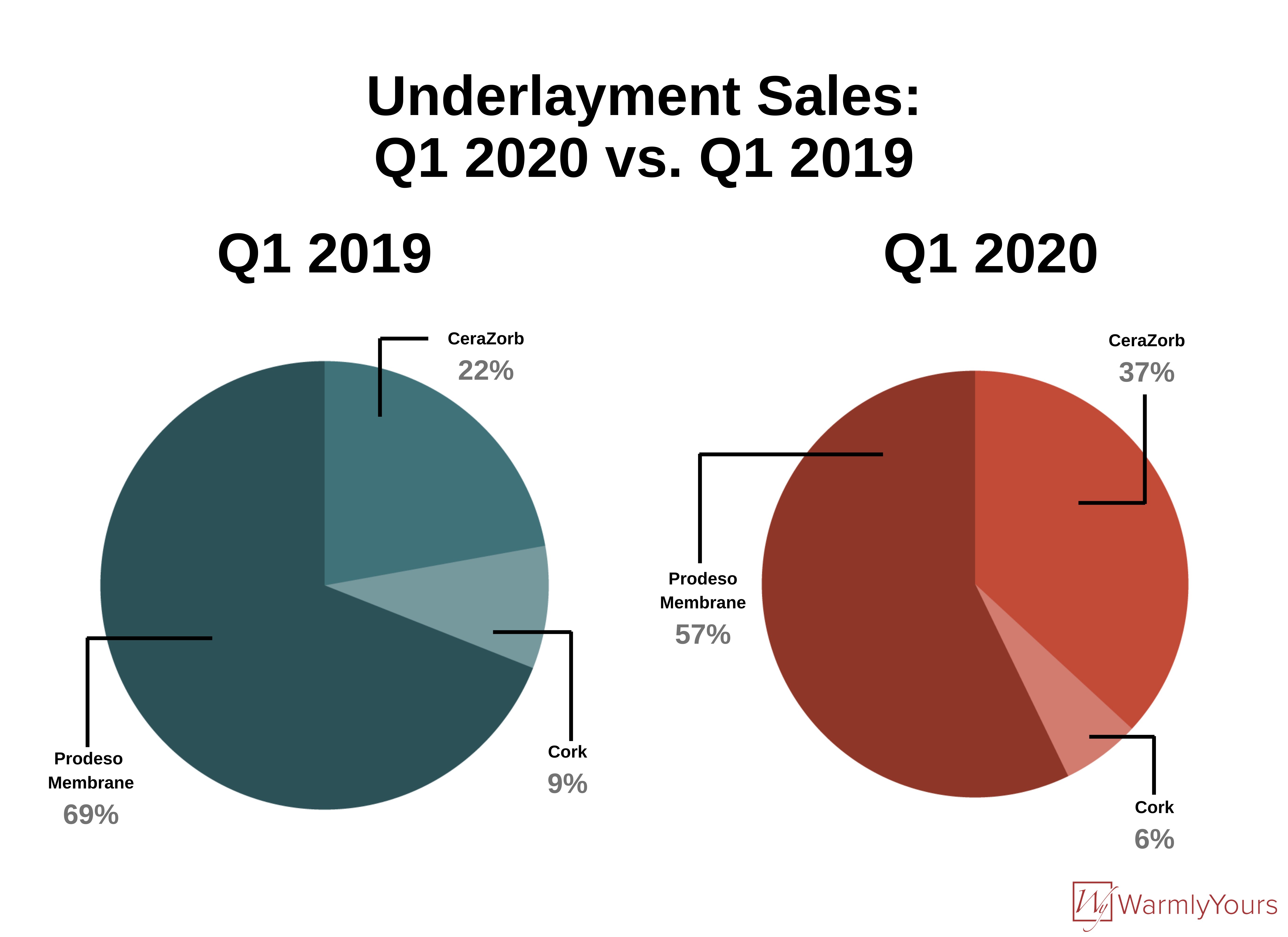 Interestingly, we did see a sizable 33.9% increase in sales of our insulating underlayment, CeraZorb, which grew from 22% of underlayment sales in Q1 2019 to 37% in Q1 2020. CeraZorb is a synthetic cork product that is used as an insulating underlayment to prevent "heat sink" (loss of heat to the subfloor) for electric radiant heating systems. This is particularly important when a floor heating system is installed over a concrete or cement slab. In these cases, the CeraZorb, which has a high thermal resistance level, creates a thermal break between the subfloor and the heating element and the radiant heating system's energy is efficiently radiated upwards.
Part of CeraZorb's growth in popularity can certainly be explained by a nearly 50% increase in the number of floor heating projects for basements, which often have cement slab subfloors.
Floor Heating Led Ecommerce Sales in Q1 2020
To start the year, WarmlyYours saw a sizable uptick in sales on Amazon for crucial product lines like floor heating, snow melting, and radiant panels. The largest volume increase was in floor heating which saw sales of WarmlyYours products increase by an astonishing 118.9% in the first quarter.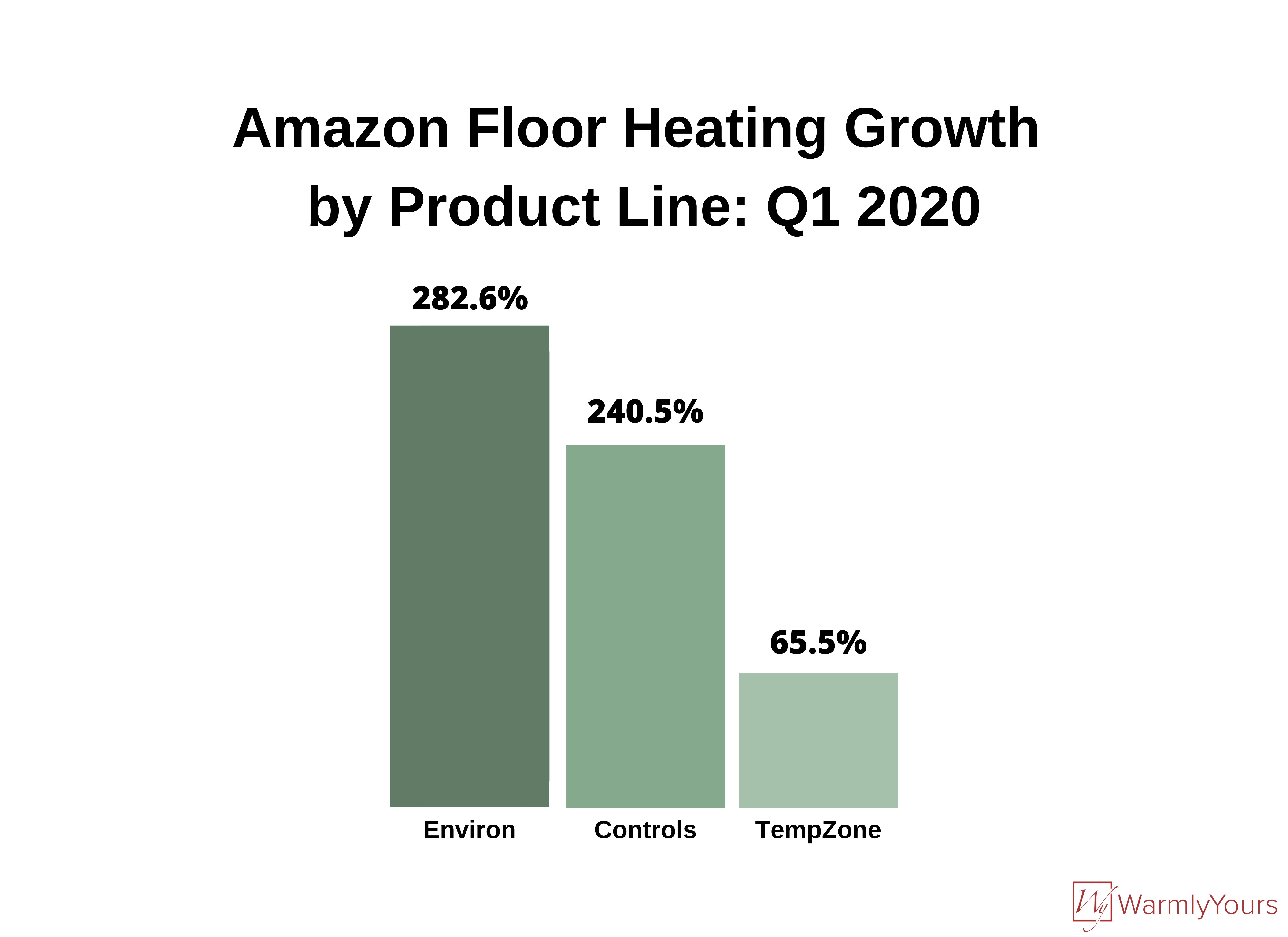 The primary drivers of growth were our TempZone heating products (up 65.5%), Environ (up 240.5%), and controls (up 282.6%). TempZone Cables, Easy Mats, and Flex Rolls are designed for installation under some of the most commonly heated floor coverings like tile, whereas Environ is installed within floating floors (like click-together engineered wood). The controls product category includes both thermostats and power modules (which are used for larger projects).
WarmlyYours also saw significant growth in several other etailer customer channels including Lowe's and Overstock.com. However, the most significant growth was within Wayfair which saw WarmlyYours sales grow 47.3% year-over-year.
A large portion of this growth was from towel warmers. This can be seen from the growth for the Classic Collection and the Elevate Collection of towel warmers (up 15.6% and 12.5% respectively), as these collections are available through both direct sale from WarmlyYours and from etailers like Wayfair.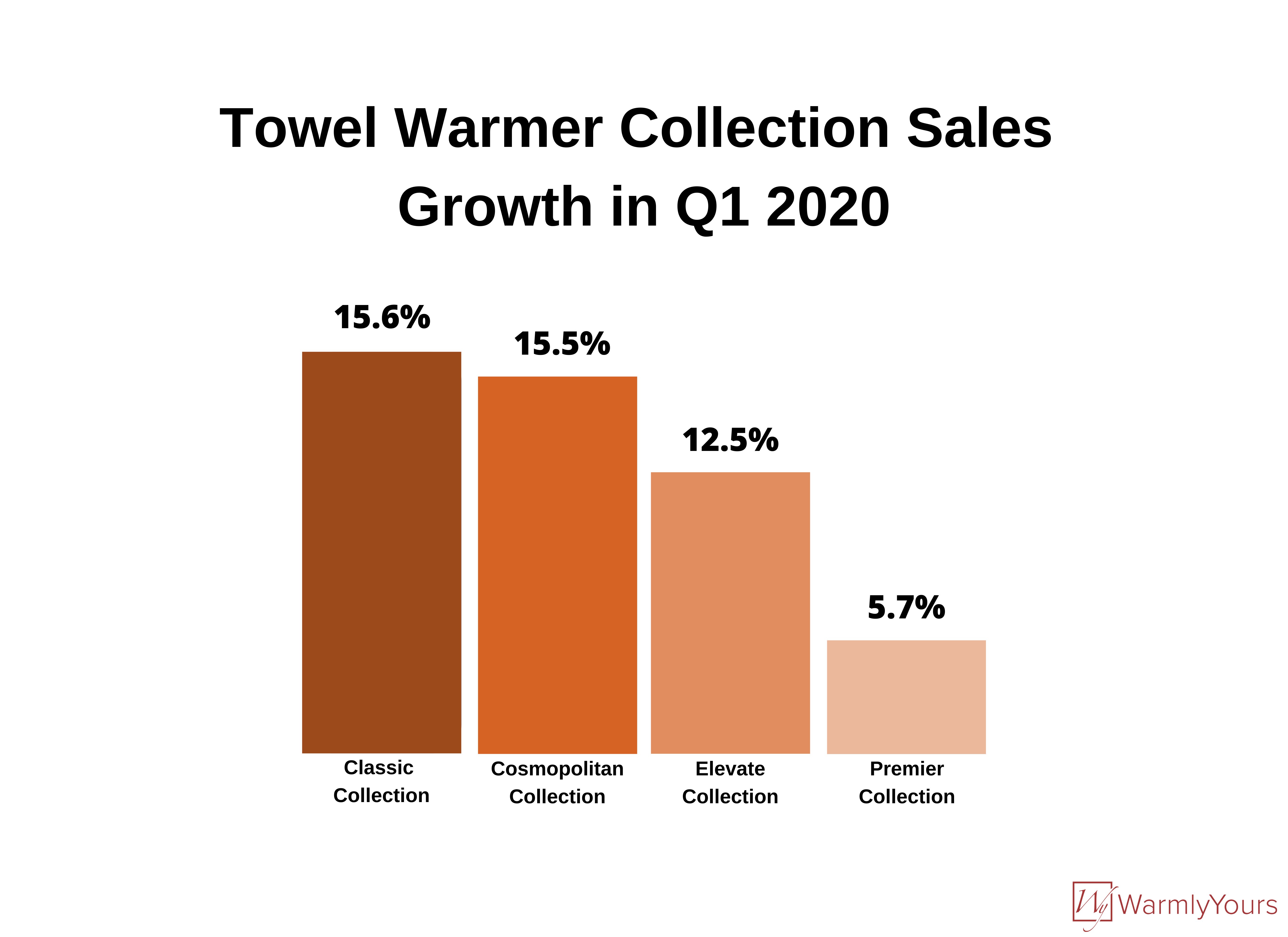 We fully expect this trend to continue well into 2020 as COVID-19 related lockdowns and concerns have pushed more consumers towards ecommerce channels.
Outdoor Heating Sales Kickoff 2020 with Solid Growth
Snow melting has continued to show strong sales growth despite a relatively mild winter. Part of this was from a 2.4% increase in snow melting sales on Amazon (which is being compared to a very strong Q1 2019).
Interestingly, roof and gutter deicing cables were the fastest growing outdoor heating product with 77% growth. However, this was overshadowed by the sales volume growth provided by various snow melting heating elements. 208V Snow Melting Cables and 277V Snow Melting Cables were up 21.6% and 26.8% respectively, while 240V Snow Melting Mats were up 33%.
208V Snow Melting Cables and 277V Snow Melting Cables are mostly used in commercial applications. It appears that a lot of the growth for these products was due to an over 500% increase in snow melting projects involving entryways (which can be residential but are typically commercial).
240V Snow Melting Mats are often used in driveway applications and driveways were up 442% in the first quarter of the year.
While we see no indications that snow melting sales are slowing, we do expect to see the rate of growth diminish slightly throughout the year, owing primarily to very robust sales in 2019.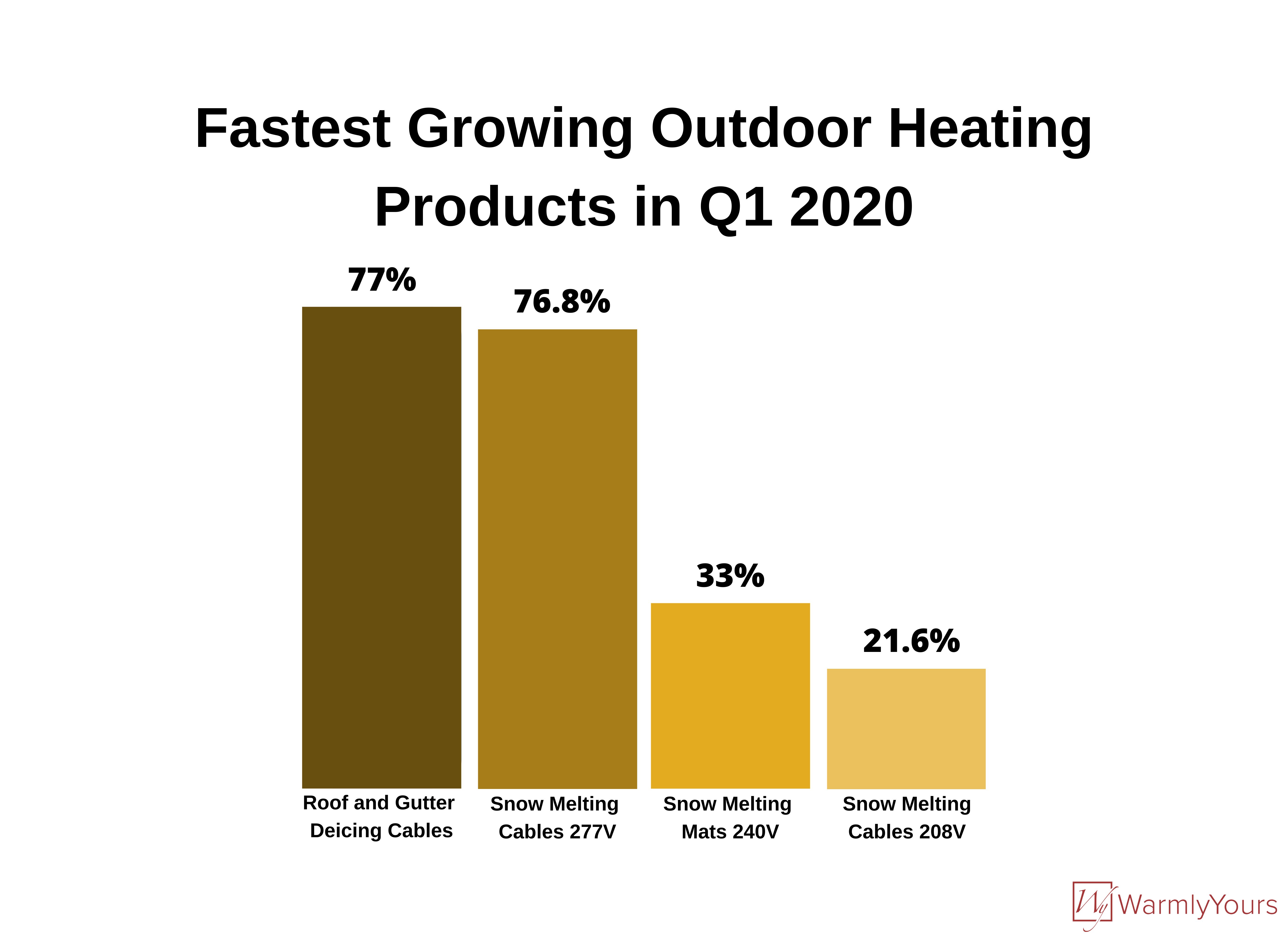 The Remodeling and Housing Markets in Q1 2020
The first quarter of the year began optimistically prior to significant outbreaks of COVID-19 in North America during March when many states in the U.S. issued stay-at-home orders.
According to the National Association of Realtors (NAR), sales of existing homes were up 7.2% in February of 2020 from the previous year. Lawrence Yun, chief economist for NAR, said that this was the strongest February for home sales since 2007.
"I would attribute that to the incredibly low mortgage rates and the steady release of a sizable pent-up housing demand that was built over recent years," said Yun.
However, that strong February helped emphasize March's 8.5% decline in month-to-month existing home sales.
"Unfortunately, we knew home sales would wane in March due to the coronavirus outbreak," said Yun. "More temporary interruptions to home sales should be expected in the next couple of months, though home prices will still likely rise."
However, there was some positive news as March existing home sales were up 8% from March 2019.
According to the Leading Indicator of Remodeling Activity (LIRA), a quarterly assessment from the Joint Center for Housing Studies of Harvard University, remodeling activity is expected to be severely hampered by the economic and social effects of the coronavirus outbreak.
"While there is still considerable uncertainty surrounding the near- and longer-term impacts of the pandemic, the best available evidence suggests substantial downturns in key remodeling indicators of new home construction, home sales and values of existing homes over the coming quarters," said Chris Herbert, managing director of the Joint Center for Housing Studies. "Homeowners who are concerned about losses of income, home equity, and other forms of wealth are anxious about making large investments in improving their homes in this economic environment."
According to a revised projection from the LIRA, the rate of change for home renovation expenditures is actually expected to enter negative territory by the third quarter of this year, with current projections seeing the negative rate of change reaching an apex at -1.2% in Q1 2021.
"Quarterly spending for improvements and repairs to the owner-occupied housing stock is projected to turn negative by the third quarter, and annual expenditures are expected to fall to $322 billion by early next year with potential for even more severe declines to follow," says Abbe Will, associate project director in the Remodeling Futures Program at the Center. "Beyond the start of next year, remodeling activity that would typically result from expanding homebuilding, sales of existing homes, and home prices mean the greatest downturn could come later in 2021 with recovery depending on what occurs in housing markets over the remainder of this year."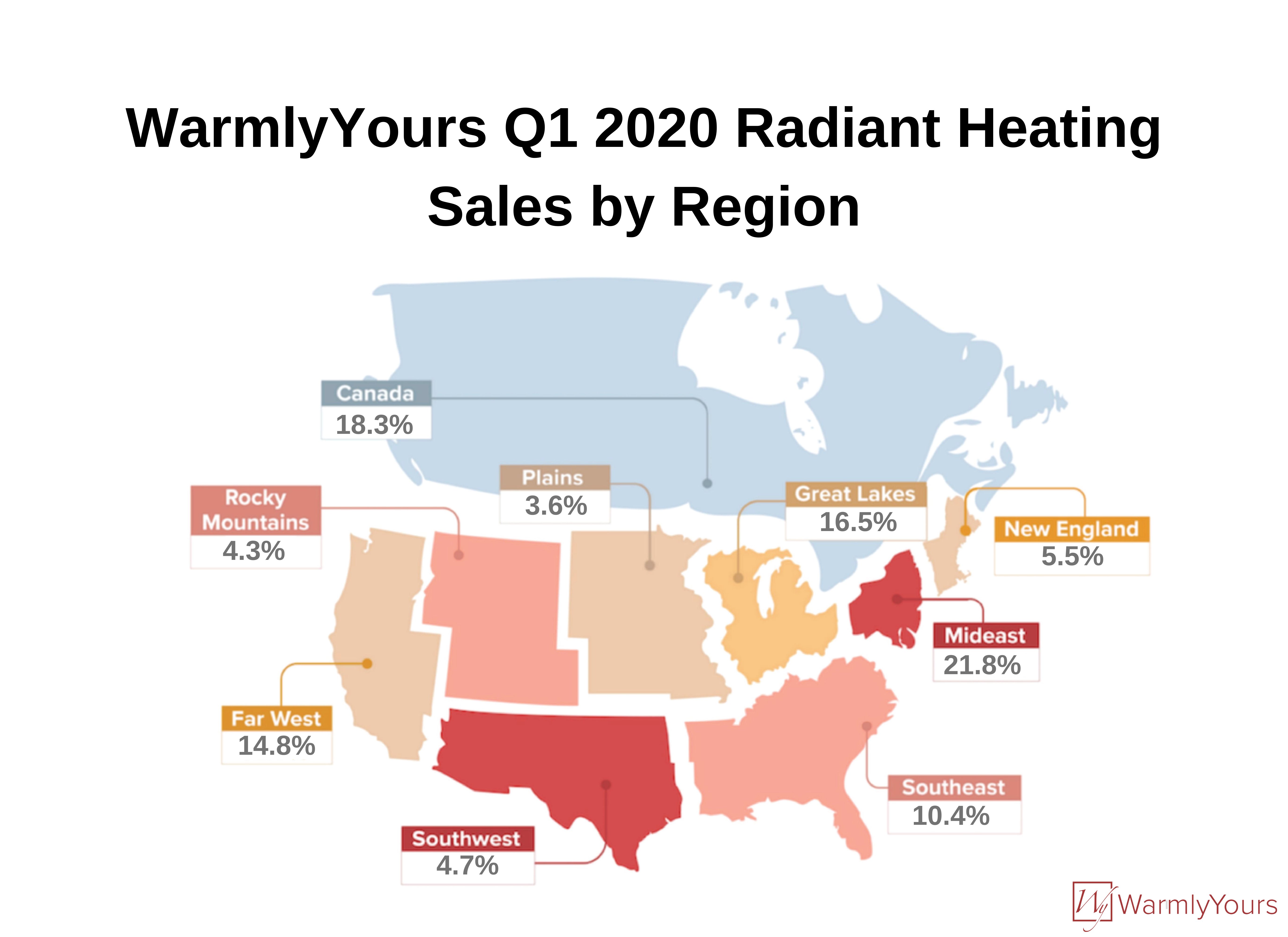 Despite these potentially negative predictions, Julia Billen, owner and president of WarmlyYours, said that sales for Q2 2020 have so far remained strong for floor heating.
"Of course it's still early, but so far we've seen many key product lines match sales growth from last year, which is very encouraging," said Billen. "But it would be foolish to assume the marketplace isn't going to change significantly. The key is for us to identify the direction of that change to make sure the company is ready and able to continue providing excellent products and even better service for our clientele."
Billen said she has a plan for how WarmlyYours can approach radiant heating in this uncertain future. The company is focusing efforts on providing various services for both professional installers of radiant heating products and homeowners. The new line of services is being called "SmartServices" and will focus on what WarmlyYours does best, said Billen, providing support to customers. One of the new services is called "SmartSupport" and it entails providing installation support remotely with video conferencing (SmartSupport is also available for onsite visits). With the service, WarmlyYours's Radiant Experts will be able to walk users through the most crucial stages of installation
"If there's one thing I've learned in all of my years in radiant heating, it's that if you eliminate issues during installation, you eliminate 99% of issues with a heating system. That's why we're so focused on being able to provide support to our customers during the installation itself with video conferencing," said Billen. "We're a company that has always believed in innovation and we're confident that this kind of customer support will become commonplace in the industry within a couple of years."
Another benefit of this service model is that it provides a much safer alternative to onsite visits while the world continues to deal with COVID-19. This should prove valuable as it limits the number of people needed at a jobsite.
"The technology exists—we're all walking around with a mobile camera that can connect to almost anyone in the world—so why wouldn't we take advantage of that?" said Billen. "Whether you're a homeowner or a trade professional, a successful radiant heating installation is just a call away."
Sources:
---
Tell us About your Project
Our team of Radiant Experts is ready to help! Just tell us a little about yourself and your project to get started.
---
Did you find this post helpful?
Let us know by giving it some applause.
---
---