There's always been a basic formula for the ideal master bathroom design: combine a double vanity with a luxury bathtub, upscale shower and trendy tile. But in 2019, the number of ways to complete this formula are endless. That's because 2019 is all about infusing character into your space instead of sticking to "safer" options.
"Don't get me wrong — subway tile, stone countertops and white cabinetry are classic options that will never let you down — but in 2019, it's time for the more daring design features to shine"
Let Your Vanity Mirrors Shine
When it comes to your master bathroom design, let your fixtures be the focal point. In other words, choose a neutral paint color and let your fixtures get all the attention. One way to draw attention is with unique bathroom mirrors. Depending on your style, you can find something vintage, rustic or modern.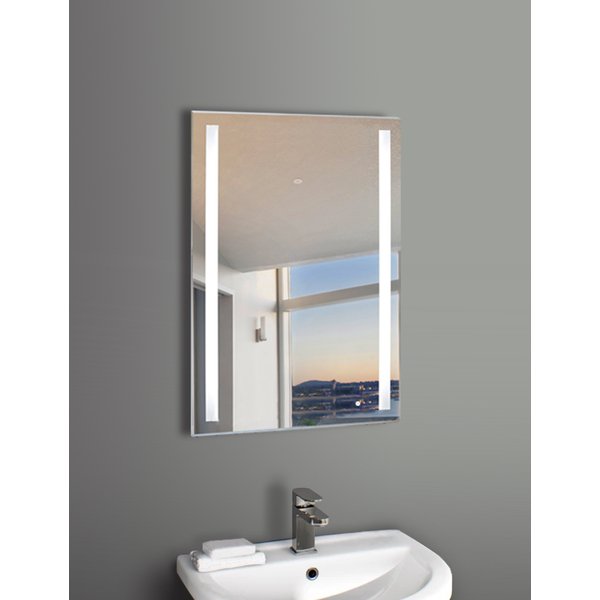 Concrete Makes its Way into New Places
Concrete recently established itself as a trendy material for kitchen countertops. Now, it's headed to the bathroom. Expect to see it in countertops, sink basins, floors and even walls. Although you might think it would present a cold, harsh tone to the room, when paired with wood and metal features, it creates an "industrial meets natural" flair.
If you love the look but are worried about it being too cold to the touch to use as flooring, consider embedding an electric floor heating system as the concrete is poured. A slab heating system, as it's called, warms the concrete so that you can get the "cold," industrial look without it being cold to the touch.
Matte Fixtures Take the Lead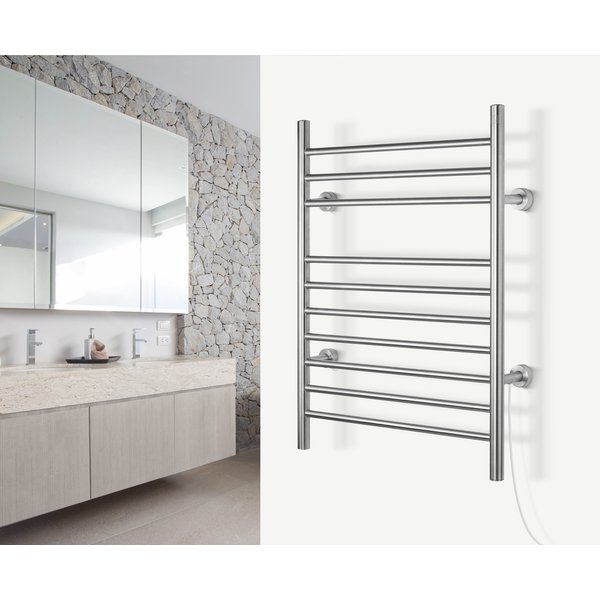 In 2019, shiny chrome is out and matte metals are in. This includes polished, satin and brushed nickel; matte chrome; oil rubbed bronze; matte black; and polished, satin and brushed brass. According to the 2018 Houzz Bathroom Trends Report, matte nickel is the most popular choice for bathroom fixtures. However, designers are increasingly using matte brass in bathroom and kitchen designs, so alternative matte metals should not be discounted when considering your design ideas for bathrooms. WarmlyYours recently introduced new matte black, oil rubbed bronze and gold metals to its towel warmer collection, demonstrating just how popular these options have become.
Wet Rooms Gain Traction
Open floor concept, meet the master bathroom. In recent years, a growing number of bathrooms have incorporated wet rooms, which typically include a shower and bathtub separated from the rest of the bathroom by a large pane of glass. This creates a functional "wet space," while also making the room look more open and bigger than it actually is. For bathrooms undergoing a full remodel, this is a great design option to consider.
When undertaking a wet room bathroom remodel, homeowners should also consider heating the floor and shower bench, if there is one. Adding warmth to these areas will add comfort and luxury — and it'll actually make your cold shower bench usable!
Technology Meets Modern Bathroom Design
Modern bathrooms may want to take advantage of some tech-savvy bathroom design trends, such as LED mirrors, automatic faucets and towel warmers. These features are easy to add to any bathroom remodeling project and add significant convenience to the room. Plus, towel warmers offer the added benefit of giving some extra heat to the room — not only the towels. And, unlike other remodeling projects, these updates can be completed in a couple of hours. Accessories like towel warmers and radiant panels can also be outfitted with WiFi controls that allow you to operate the appliance from anywhere using your smartphone. Some of them can even integrate with Amazon's Alexa or your Google Assistant, so you can control your heating system hands free. That's about as futuristic as it gets!
Wood Vanities Invoke Mother Nature
Photo by Innovative Construction Inc.

In recent years, white or painted cabinets have graced most bathroom vanities. But according to the 2018 Houzz Bathroom Trends Report, unpainted wood vanities are gaining popularity. This trend piggybacks the more general reclaimed wood trend that can be found throughout the home. Trendy wood vanities typically feature light wood or reclaimed wood that showcases the wood grain and knots, Real Simple reports. This trend compliments the previously discussed concrete trend and lends a warm, natural tone to the bathroom.
Bathroom Tile Draws Attention
Today's tile does anything but "blend in." The top tile trends for bathrooms range from geometric shapes to bold patterns to terrazzo. In particular, hexagon shaped tile is appearing on floors and walls in a variety of sizes and colors. Tile laid in herringbone and offset patterns also remain popular. However, one of the most striking options is patterned tile with a vintage, classic feel. Patterned tile can be as bright or neutral as you want, depending on the impact you're seeking. But one thing's for sure — it will be the first thing you'll notice. Along these lines, fish scale tile is gaining popularity. Again, it can be bold or neutral, depending on the size and color you choose, but it's great for adding character and dimension to the room.
Designers are also transforming the way they use subway tile by using longer, narrower horizontal tiles for a sleek, modern alternative. Similarly, many remodelers are installing longer subway tile vertically. Traditional subway tile is still en vogue, but these alternatives are a great way to switch things up.
In terms of material, natural stone like marble will always be a classic popular option. However, one of the newest bathroom trends is terrazzo. Terrazzo is a composite material made from marble, quartz, granite and glass set into cement, which gives it a confetti-like appearance. Generally, terrazzo is used for the shower floor, but it can be used on the wall or even as countertops as well.
Photo by Zunica Interior Architecture & Design
When it comes to tile flooring, homeowners should never forget to consider in floor heating. It can be installed under nearly any flooring material and will add warmth and luxury to your space. If you've ever wondered where to install radiant floor heating, the bathroom is the ideal place.

Freestanding Tubs are in Demand
One of the biggest decisions when undertaking a bathroom renovation is whether or not you should have a bathtub. In 2017, more than a quarter of remodeling homeowners decided to get rid of their tub in order to get a larger shower, according to the 2017 Houzz Bathroom Trends Report. However, now more homeowners are opting to have a tub but upgrade it. Freestanding tubs have become a statement piece in master bathrooms that exude luxury. So if you're debating on whether or not to ditch your tub, consider upgrading it instead and including it in a wet room to get the best of both worlds.
Before you start your bathroom remodel, be sure to consider these eight trends. With this information at your fingertips, you'll be prepared to channel your inner designer and create the bathroom of your dreams. For more inspiration, check out pictures of remodeled bathrooms at houzz.com.
---
Tell us About your Project
Our team of Radiant Experts is ready to help! Just tell us a little about yourself and your project to get started.
---
Did you find this post helpful?
Let us know by giving it some applause.
---
---