PrettyHandyGirl.com Installs CeraZorb® Synthetic Cork Underlayment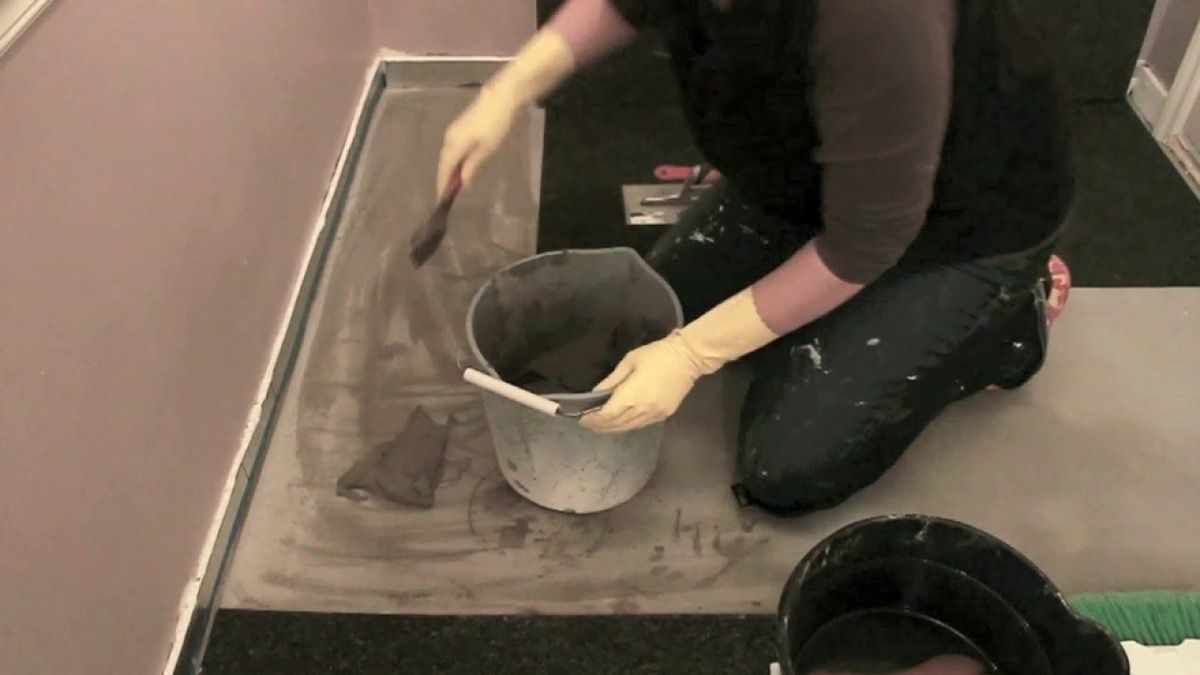 Hey, guys,
getting ready to install the radiant flooring in our mudroom here. And so we have just concrete subfloor underneath that I used a self leveler on get rid of any of the, there were some divots and and then I've pre cut these cork, actually synthetic cork mats that have to go on top of the concrete. And it keeps the radiant floor from actually spending all the energy heating, the subfloor, the concrete instead. This will kind of provide like an insulation barrier. So the heat will go up through the tiles instead of down into the concrete. So these are actually the last few tiles that I have to adhere down. And they're already pre cut. So I know they're gonna fit.
And I'm going to go ahead show you how I install these. I'm using a thinset called ultra contact. Before I add the thinset I'm going to sweep up any debris off here, because you actually and you can actually feel it through these cork mats. So make sure you get everything off the floor, just damp this sponge off to get any access and also will make the concrete moist. To help keep the thinset from getting dried out too quick. So I've already premixed my thinset here, and it's a very thick consistency. And it's you know, it's kind of drop off, but it holds the edge, which is what I'm looking for. All I do is. I'm using a notched trowel and there are 2 smooth edges and then there's the notched edge for this particular application. It's just a one eighth inch notch. So I'm using the flat side, just kind of spread the thinset out Once I have that thinset All smooth on there I'm just gonna use the trowel side, And I'm just going to scrape it through. Scrape up an excess. You're looking for a nice kind of a corduroy look without any pockets, Or bare spots, if you didn't get a bare spot, you can take this and patch it where you get yours. Then go ahead and Kind of move the mat around a little bit to make sure that it has some good contact with that thinset and then take this really great invention of rolling pin, which actually had to go buy one because I don't know if I have one. I don't bake much. And of course, you can just push it down a little bit with your hands. I have been doing, is that I've Been wiping anywhere the thinset Gets on the mats, just because I don't want any Rough edges that could potentially cause the radiant mats to break. So that's basically all you do. And I'm going to go ahead and let it dry and then I can come back and I'm going to go ahead. And lay the radiant floor mats.