The first quarter of 2022 saw significant changes in radiant heating sales patterns compared to the previous year, which shouldn't be surprising given the magnitude of the changes that the world has experienced in the same timeframe.
Federal responses to inflation, generalized instability in the stock market, and increasing home prices have had a pronounced impact on both home sales and remodeling expenditures.
This is all set against the backdrop of the, hopefully, tail-end of the COVID-19 pandemic, which has caused significant levels of uncertainty along with tangible complications to supply-chain infrastructure.
In this report, we'll take a closer look at the performance of radiant heating product sales and analyze the impact that the national housing and remodeling markets are expected to have on future sales.
Radiant Heating Sales in the First Quarter of 2022
This year has started strong for consolidated sales of radiant heating products, which are up 5.8% over last year. This growth was driven largely by U.S. sales which were up 9.9%. Several product groups experienced sizable increases in sales such as radiant heating panels and towel warmers, which were up 110.1% and 12.1%, respectively. But by far the largest volume increase came from snow melting which was up a whopping 67.6%.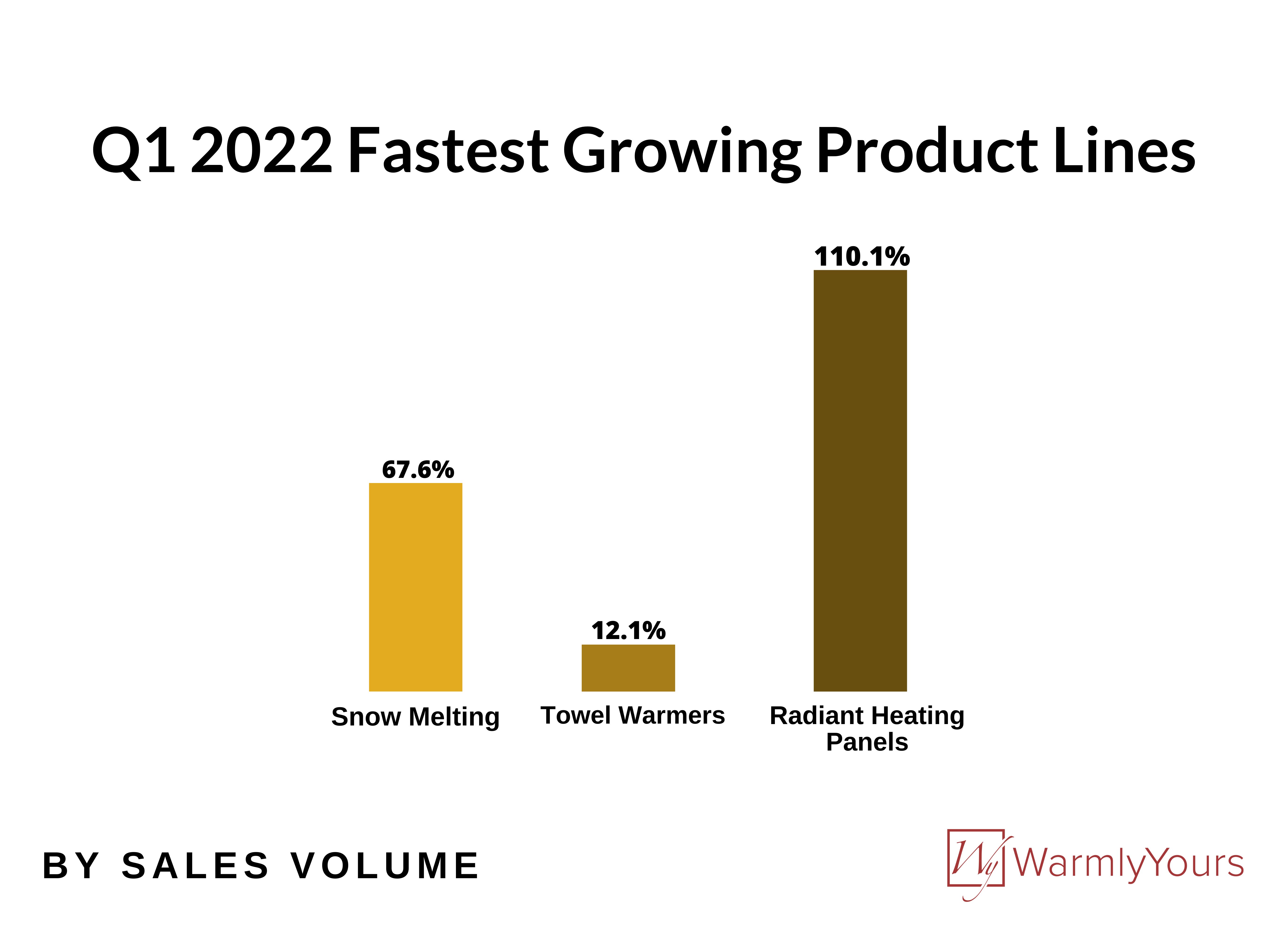 This uptick in snow melting sales has pushed the product category to make up 12% of all WarmlyYours sales in Q1 2022 (up from 8% in Q1 2021). Floor heating, while still the flagship product line for WarmlyYours, did shift down to just 61% of total sales (down from 68%). However, most of this shift is related to a massive increase for snow melting sales rather than a decline in floor heating sales.
The acceleration for snow melting sales has bucked recent trends by increasing significantly following a relatively mild winter in North America, whereas it is more typical to see increased snow melting sales after particularly bad winters. It's important to keep in mind that the "mildness" of the preceding winter is regional, as several locations, including parts of the Upper Midwest, actually had higher snowfall accumulations than in the preceding year.
The evidence seems to suggest that snow melting consumers are taking a "long term view" approach because WarmlyYours saw upticks in snow melting sales for regions that usually have significant snowfall such as the Great Lakes (up 9.5%), the Eastern Seaboard (up 17.3%), New England (up 15%), and the Rocky Mountains (up 17%).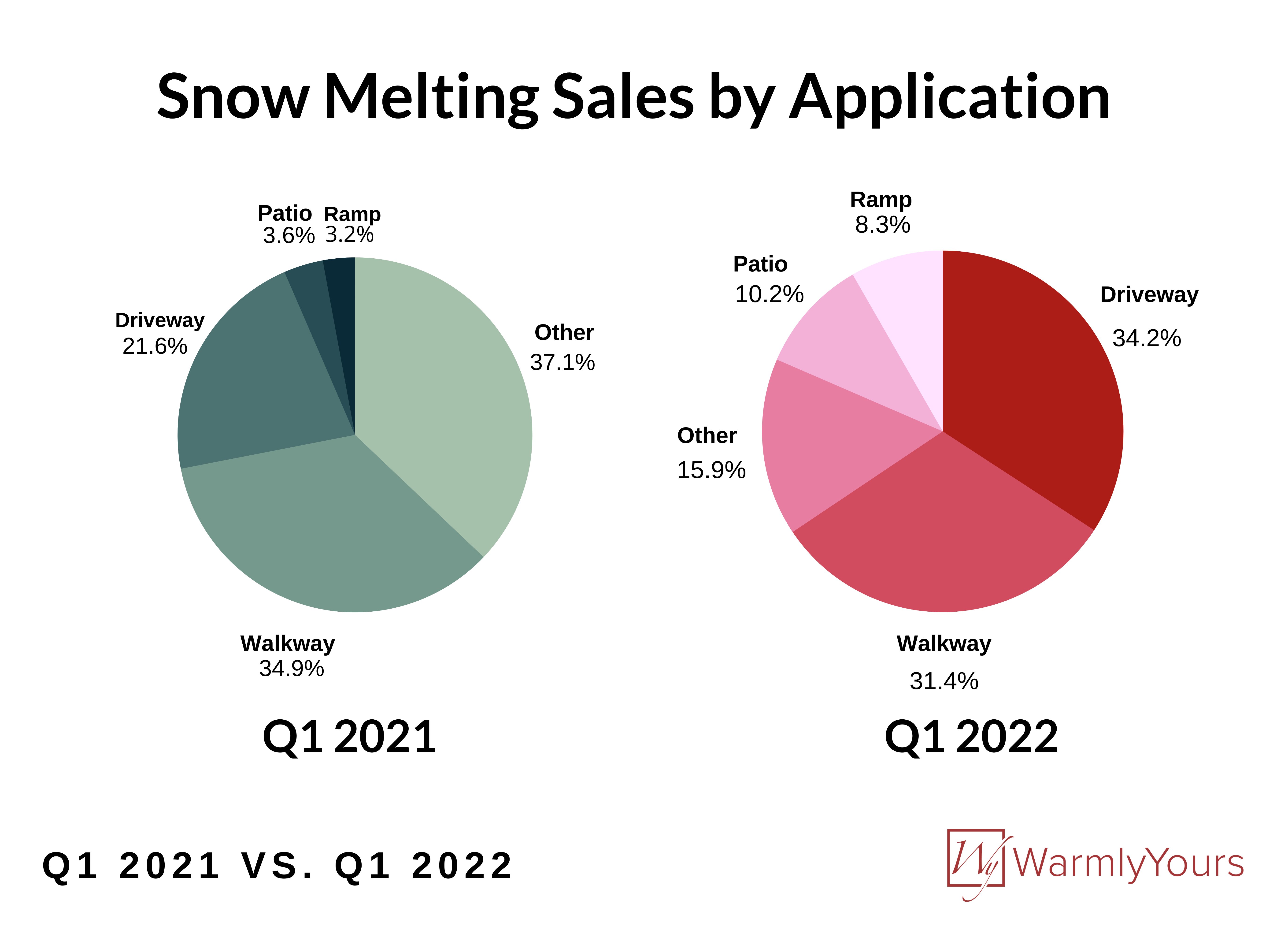 This first quarter also saw some interesting changes in the applications being used for snow melting. In Q1 2021, driveways went from 21.9% of all snow melting projects to 34.2% the following year (a rate of change of almost 141%). Patios went up from 3.6% in 2021 to 10.2% in 2022, while ramps also increased from 3.2% to 8.3% during the same period. However, walkways did see a small decline (down to 31.4% of all snow melting systems from 34.9% in the preceding year).
One of the core explanations for the growth in certain project types has been growth in the trade pro customer segment in relation to snow melting sales. Many of these professionals have specializations, which is reflected in the growth of projects like patios, ramps, and driveways are relatively complicated projects which often require trade specialists whereas walkways are typically more straightforward and can occasionally be completed by DIY-ers.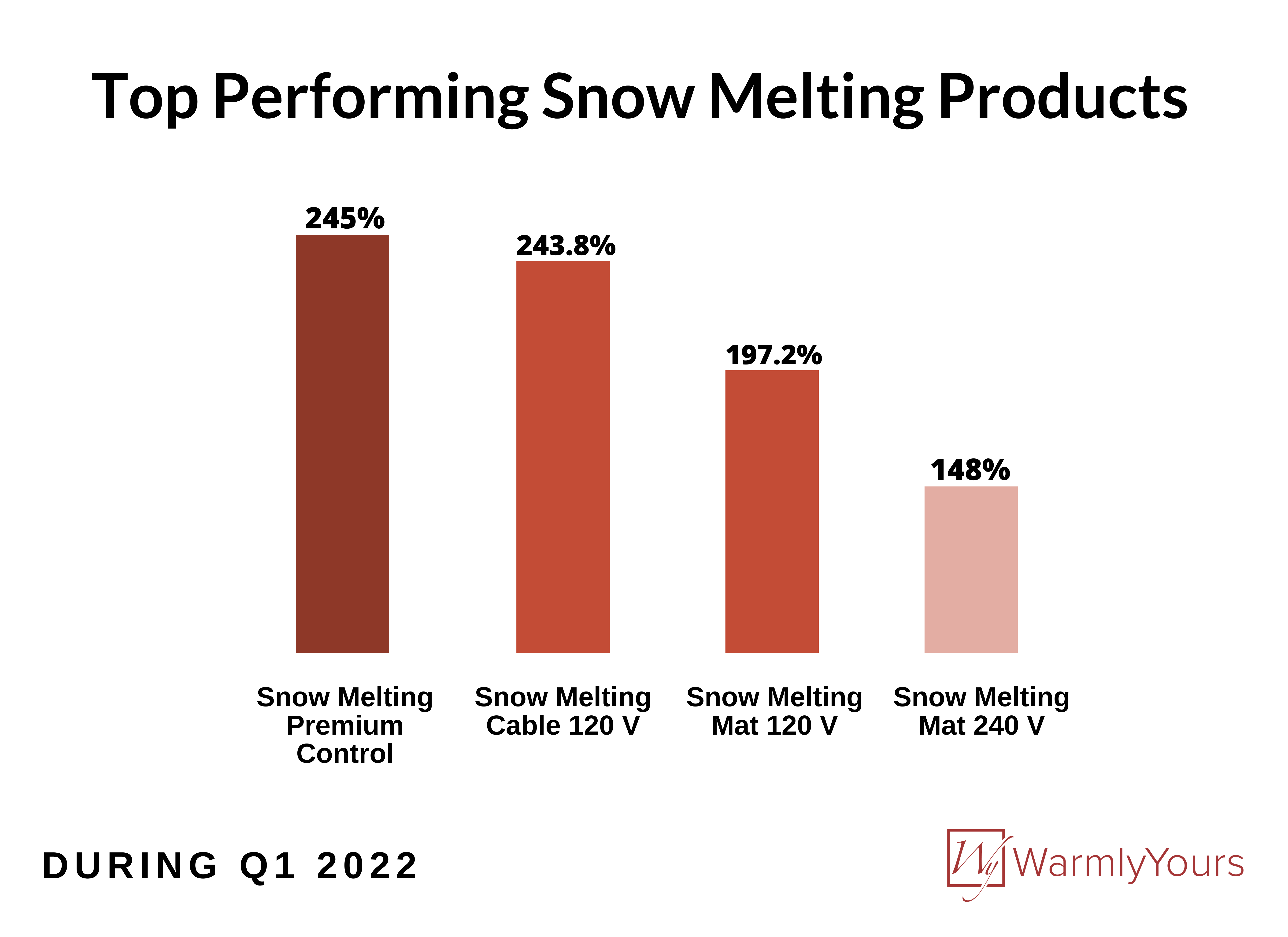 The best performing snow melting products in the first quarter were the Premium control (up 245%), the 120 V cable (up 234.8%), the 120 V mat (up 197.7%), and the 240 V mat (up 148%). These products, particularly the 120 V heating elements, are popular with both DIY-ers and with trade professionals.
Trade professionals had the largest sales volume shift in Q1 2022 followed by e-tailers, dealers, and wholesalers. But in terms of rate of change, e-tailers led the pack with a growth rate of 25.9%. Wholesalers were up 12.5%, trade professionals were up 10.1%, and dealers had a 2.3% increase. While these growth rates are related to all of WarmlyYours product sales, most of these customer segments have seen increased purchases of snow melting products (dealers being the exception).
The growth in the trade professional segment has been particularly impacted by several different support efforts that WarmlyYours has developed over the last couple of years: an installer certification program and a new line of professional services related to radiant heating installation.
WarmlyYours launched the installer certification program less than a year ago but has seen substantial engagement from a wide range of different trade professionals such as paving contractors, general contractors, electricians, and flooring installers. The program allows these professionals to complete educational modules along with assessments in order to achieve a certification from WarmlyYours. The company can then connect these accredited professionals with homeowners in their area that have reached out directly to WarmlyYours.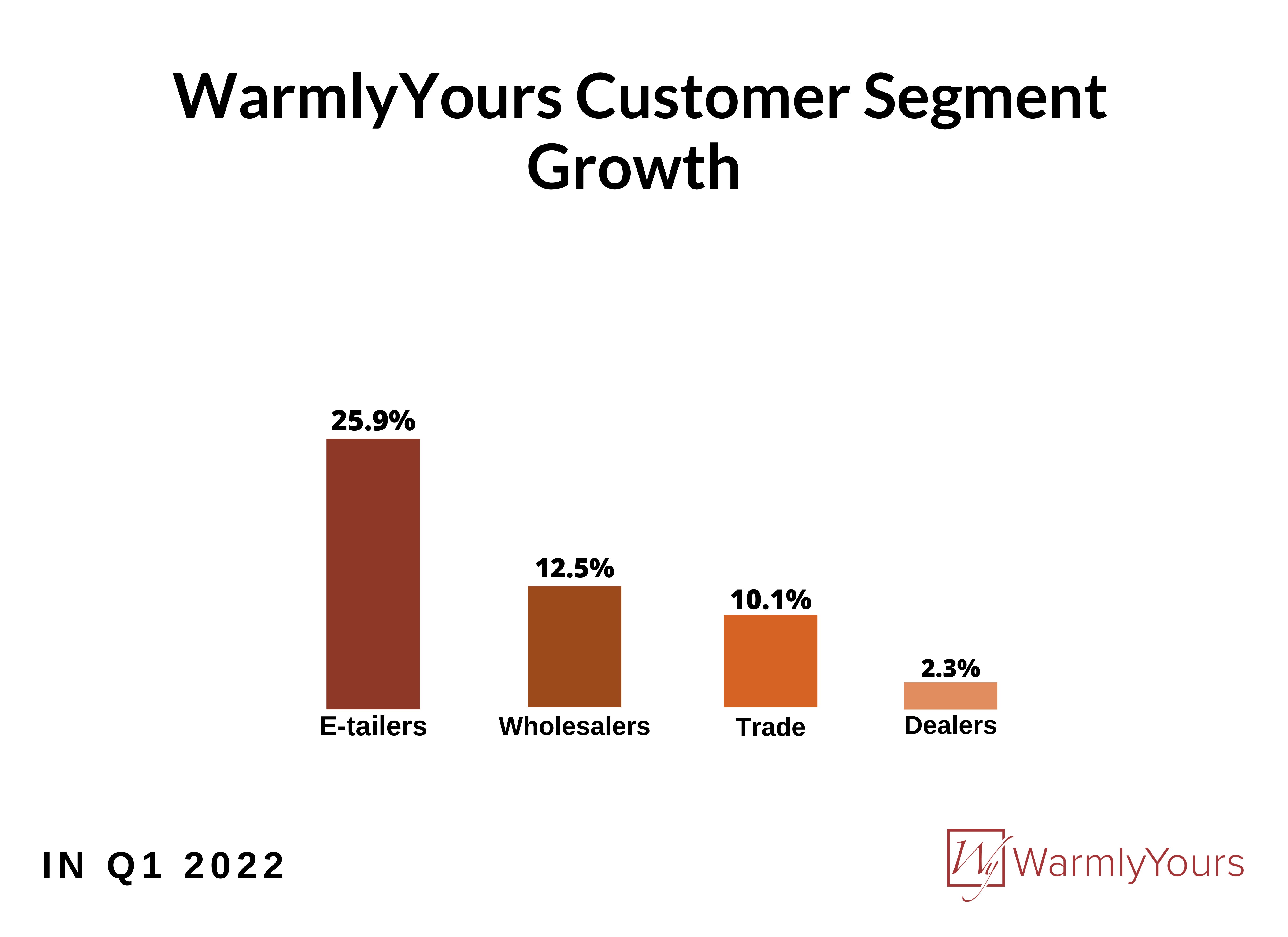 The services division of WarmlyYours was launched back in 2020 and has seen sustained quarterly growth since then. These services were designed to provide assistance to both professionals in the field and homeowners, with services devoted to the entire process of radiant heating installation including a measuring service, a troubleshooting service, and an installation service. The fastest growing service has been the SmartInstall, which is available for both floor heating and snow melting, which was up 83% from the previous year.
In this service, the WarmlyYours team will actually help layout the heating elements according to the installation plan while allowing the onsite professionals to complete the installation and control hookups. This helps prevent a majority of onsite installation issues while not interfering with the professionals' work directly.
In fact, you can see this directly in the sales proportions when comparing year-over-year sales numbers. SmartFix, a troubleshooting and repair service, made up 67% of all service orders for WarmlyYours in Q1 2021 while SmartInstall only made up 33%. In Q2 2022, SmartFix only made up 42% and SmartInstall made up 54%. While it's a small sample size, it does appear that working with the WarmlyYours team during the most crucial stages of the installation has helped to cut down on issues that would necessitate the later implementation of the troubleshooting and repair service.
Julia Billen, the owner and president of WarmlyYours, said that the company has put considerable time and effort into making sure that they're providing support for their professional customers.
"Like many industries, radiant heating is all about relationships," said Billen. "We want to build strong and long lasting relationships with our professional customers because we know that it will mean not only more sales for us down the line but it also means that we can be confident that our products are being installed to the highest standards for the end user. There's no secret—it's just good business."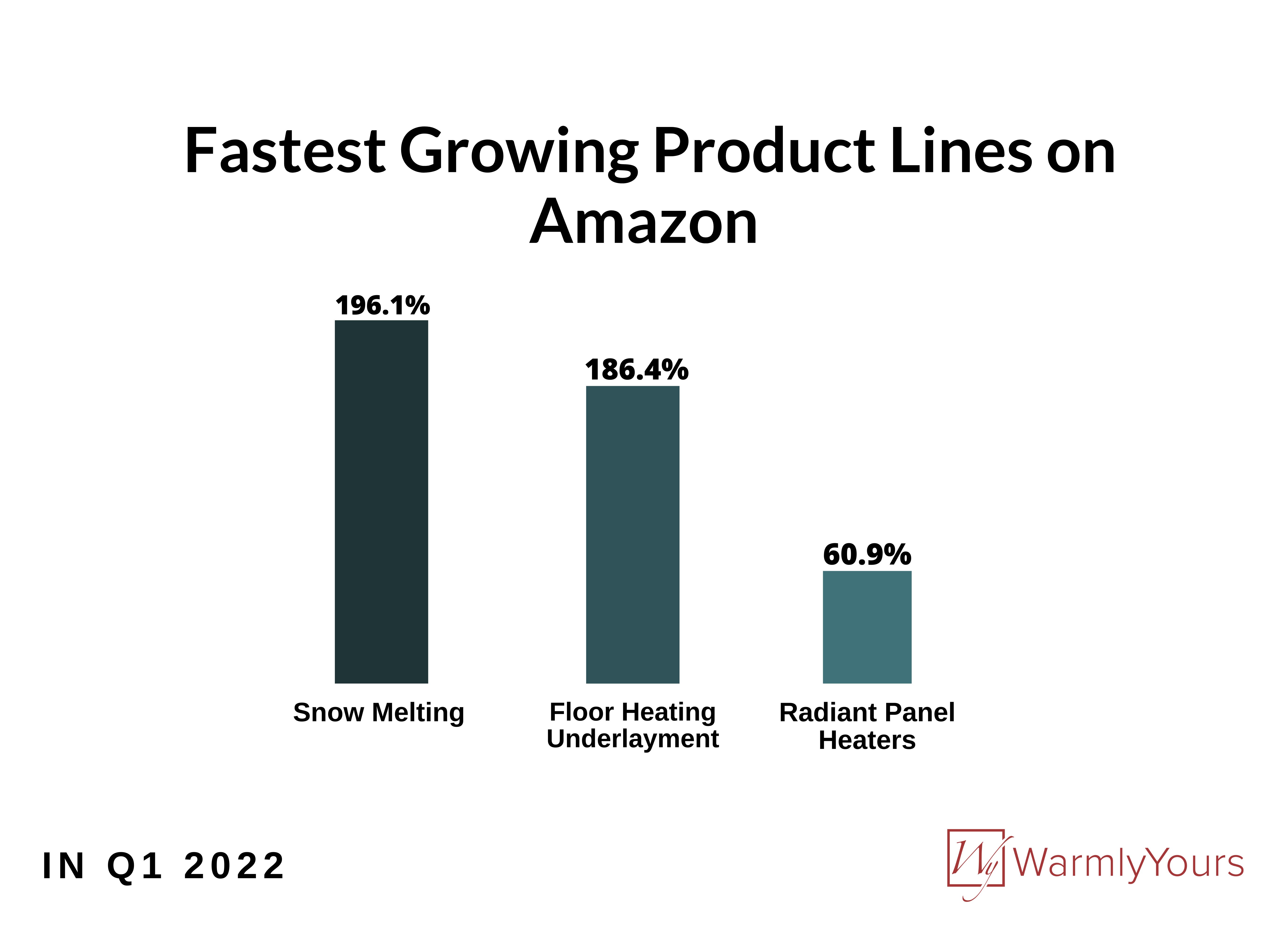 Along with sales to professional customers, WarmlyYours also saw substantial sales growth for several product lines via Amazon. Snow melting yet again led the way with 196.1% growth with floor heating underlayments and radiant panel heaters followed with 186.4% and 60.9% sales growth respectively.
Amazon product sales introduce a unique wrinkle into analysis as WarmlyYours does not have visibility on the demographics of the purchasers from the third party. However, from technical support calls (where information like the application, product type, and whether or not the caller is a trade professional is self reported) it does appear, from an admittedly incomplete data set, that users are pretty evenly split between trade professionals and homeowners.
National Housing and Remodeling Markets in Q1 2022
The housing market in the first quarter of 2022 has continued to be plagued by the same issues that have been problematic for the last couple of years. Primarily, there continues to be a supply crunch on available inventory that has increased pricing. For many buyers, particularly first time home buyers, this has pushed them out of the market.
According to the National Association of Realtors (NAR), 70% of the metro markets that they measure saw double digit annual price gains in the first quarter of 2022. During the same period, median prices for single family homes rose 15.7%, year-over-year.
"Prices throughout the country have surged for the better part of two years, including in the first quarter of 2022," said Lawrence Yun, NAR chief economist. "Given the extremely low inventory, we're unlikely to see price declines, but appreciation should slow in the coming months."
However, this may be impacted by federal changes to interest rates, said Yun.
"I expect more pullback in housing demand as mortgage rates take a heavier toll on affordability," he said.
In addition to increased pricing plus the possibility of higher mortgage rates, another relief for the housing market's supply woes may be on the horizon: an influx of new inventory. According to the Commerce Department, housing starts increased 0.3% and permits for future housing starts increased 0.4%, with some experts expecting to see housing starts increase by 5% at some point this year.
According to the Leading Indicator of Remodeling Activity (LIRA), a quarterly assessment from the Joint Center for Housing Studies of Harvard University, year-over-year expenditures for remodeling and renovations will continue to increase until the third quarter of this year before they begin to slow down.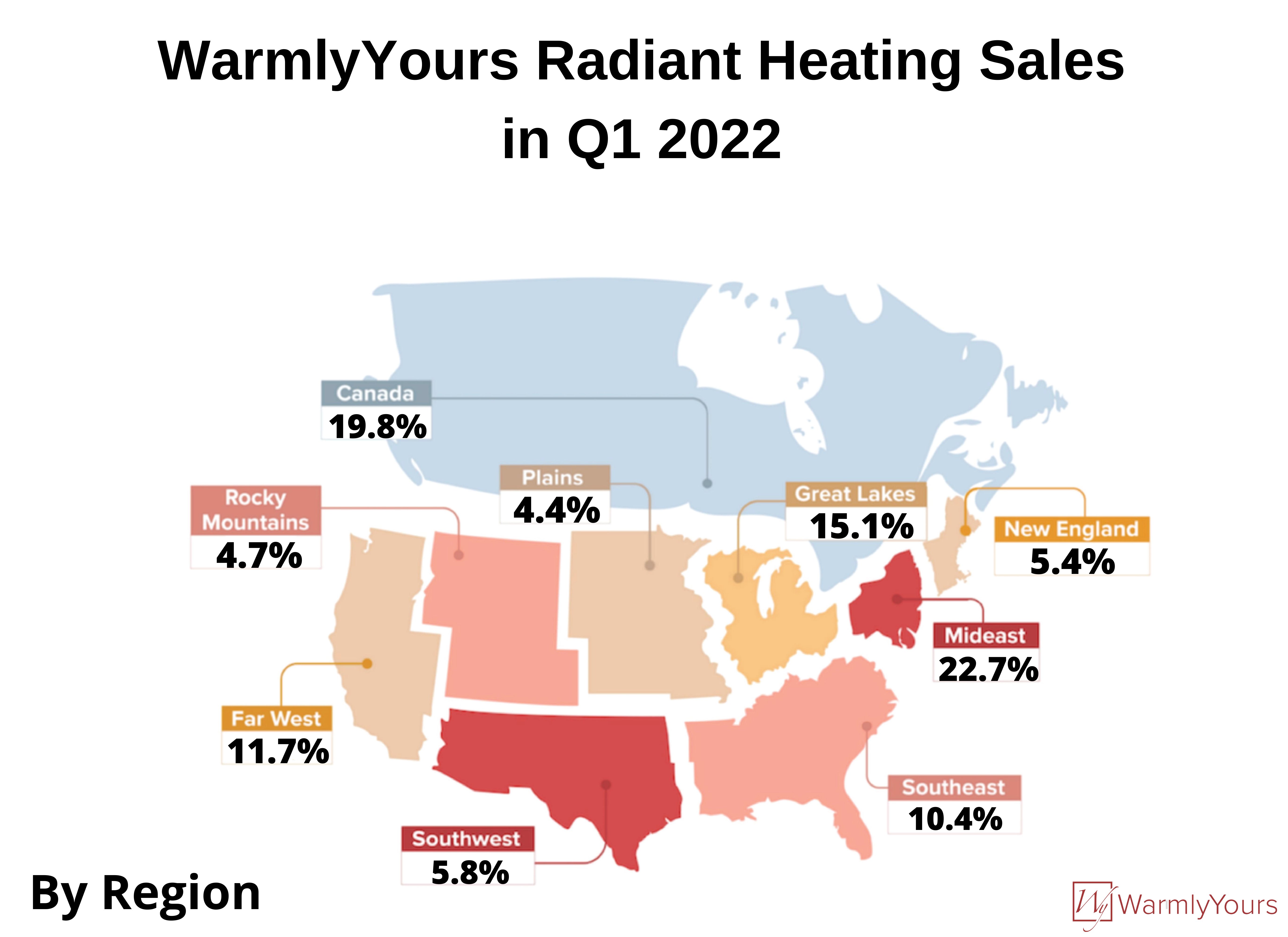 "Massive increases in house price appreciation and the resulting levels of tappable home equity will continue to support remodeling activity this year and into next," said Carlos Martín, Project Director of the Remodeling Futures Program at the Center. "Many other market indicators including existing home sales, renovation permitting, and retail sales of building materials also continue to grow at high, albeit slowing, rates."

Despite this optimistic assessment, there are some concerns that there are limiting factors which could result in a reduced rate of change for renovation spending.
"The level of annual expenditures for home improvements and repairs is set to expand to nearly $450 billion by the first quarter of 2023," said Abbe Will, Associate Project Director of the Remodeling Futures Program. "Yet, the rising costs of project financing, construction materials, and labor, as well as growing concerns about a broader economic slowdown or recession may further slow remodeling growth."
Julia Billen, owner and president of WarmlyYours, said that she expects radiant heating sales to follow a similar but less pronounced trend as total renovation spending. This is because historically strong snow melting sales are expected to continue well into the third quarter, which is generally the best quarter for that product line in terms of sales.
"Snow melting is a unique radiant heating product because they usually become aware of it when they see a spotless driveway in their neighborhood during the dead of winter so they have to wait until spring to install one," said Billen. "But the last couple of years have removed some of the seasonality surrounding snow melting. Word of mouth, viral videos, and trade professionals who have gained experience in snow melting installations have really helped to drive consumer awareness and desire to levels we have never seen."
Sources:
---
Tell us About your Project
Our team of Radiant Experts is ready to help! Just tell us a little about yourself and your project to get started.
---
Did you find this post helpful?
Let us know by giving it some applause.
---
---