Even though the first snowflakes of the season are still many weeks away, it's never too early to be thinking about snow melting. This summer, Robert Robillard, carpenter and remodeling expert, completed an installation using WarmlyYours snow melting system for a home in Concord, Mass. Videos documenting the installation are featured along with the article "Snow Melting For Residential Remodeling Projects" on Robillard's website, AConcordCarpenter.com.
Robillard is no stranger to WarmlyYours products, having installed multiple radiant heat systems and another snow melting system in 2010. His current project involved not only removing and reinstalling a bluestone walkway with a snow melting system,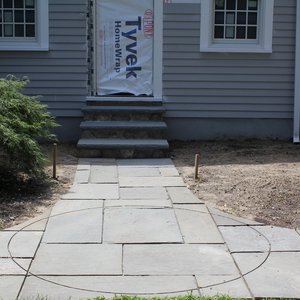 but also included converting the front porch into a mudroom complete with WarmlyYours in floor radiant heat. The series of four videos covers the preparation, installation, and helpful tips to make the project run smoothly.

Why install a snow melting system?
Robillard acknowledges that most people consider a snow melting system to be a luxury purchase and admits he used to think of it that way too. While time savings, convenience and comfort can't be dismissed, he has come to appreciate the safety and liability advantages as well. Using a snow melting system to keep walkways clear and dry not only reduces the risk of fall and injury for the homeowner, but it also enables visitors, from elderly family members to mail carriers, to safely approach the home. Snow melting systems also eliminate the need for salt or other harsh snow melting chemicals that can damage stone or concrete surfaces, surrounding grass and landscape features, and even the paws of the family pet. Robillard points out the cost savings benefit: homeowners no longer have to spend money on ice melting products or paying someone else to shovel snow.
Installation
Built around 1950, the colonial-style saltbox home, situated on the bands of the historic Concord River, features a natural a bluestone walkway with a routed circle design. After carefully removing the blue stone, pouring the footing, and building the cement block steps, Robillard was ready to get to work installing the snow melt system.
The walkway foundation was re-graded and tamped down and the wire mesh put in place. An electrician connected the cold lead wire, running it through the mudroom's joists, to the electric service panel in the basement. Robillard carefully laid out the snow melting cable on the steps,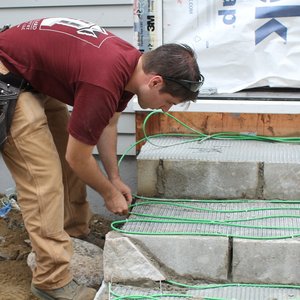 devising a creative way to run the cable between steps . Cable spacing varies with the type and depth of the surface material, so Robillard contacted WarmlyYours to get the correct specifications.

"These tech guys are just great, sending designs and providing support," says Robillard. He especially appreciates WarmlyYours 24/7 technical support. "There's always somebody at the other end of the phone."
Stumped by a challenging installation problem during a different project, he called the tech support line and they helped him tackle it. "They had a solution. They've forgotten more than I'll ever know."
For the 1 ½" to 2" thick bluestone used in this project, Robillard installed the snow melting cable in a serpentine pattern spaced at 3" intervals and secured it to the wire mesh with plastic ties. The snow melting system includes a moisture sensor that activates the system when outdoor temperature is in the freezing range and snow begins to fall. Though not included in this installation, a programmable thermostat can be added to make the system even more convenient to use.
Performance
While the homeowners eagerly await the first snowfall to test this system, Robillard says that the WarmlyYours snow melting system he installed in 2010 has performed beautifully. He reports that it easily handled a storm that dropped 18 inches of snow in Concord last winter. Four hours after the storm, while everyone in the area was still digging out, Robillard said that he drove past the home where he did the earlier installation and the walkways there were completely clean and dry.
"It's just an impressive system. I get a ton of inquiries on our website," he says. Robillard says that the electrician who worked with him on the installation was won over by the system after working with it: "Once you see the WarmlyYours system, you become a believer."
Check WarmlyYours Radiant blog next week to learn about Rob Robillard's top snow melting system installation tips.
---
Tell us About your Project
Our team of Radiant Experts is ready to help! Just tell us a little about yourself and your project to get started.
---
Did you find this post helpful?
Let us know by giving it some applause.
---
---