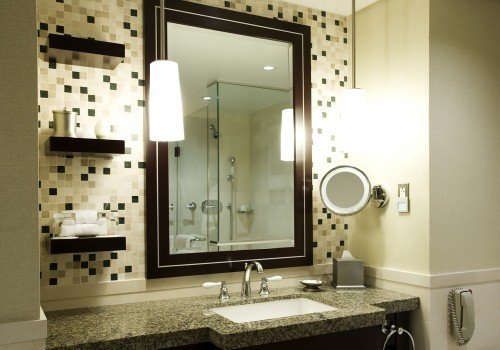 As the summer ends, it's a great time to get in a final few renovations done around the house. One of the most important rooms will be the guest bathroom. Starting with Labor Day and through Thanksgiving and Christmas, you can expect your guest bathroom to get a lot of traffic from friends and family coming to stay. For this reason, if one room in the house should be on the top of your refurbish and redecorate list, it's the bathroom.
Looking for a few tips or suggestions on where to start? Consider these ideas.
1. Start from the floor up. Radiant floor heating is a great way to solve that age-old problem of stepping out of a steamy shower onto an ice-cold tile floor. While a bathroom mat can help with this problem, radiant heat is a permanent solution. These electric heating systems fit comfortably under a variety of floor types and are energy-efficient to boot.
2. Invest in some stylish seasonal shower curtains. Shower curtains make as much of a statement as your vanity or wallpaper, except they're much easier to replace and rotate. Why not give your bathroom seasonal flair with stylish shower curtains to fit every other calendar month? From Halloween to Christmas or Hanukkah, there are plenty of holidays to give you a little extra inspiration.
3. Keep the bathroom smelling fresh. As everyone knows, scent is of primary importance in any bathroom. Keep yours smelling fresh with candles as opposed to air fresheners, which can overburden a room with scent. Try and stick to clean-burning soy candles instead of the usual paraffin variety for better air quality. And never discount the great effect of freshly cut flowers or a small dish of potpourri.
4. Make sure your guests are warm all over. A towel warmer is a great choice for any guest bathroom - a hotel amenity that's as eco-friendly as it is luxurious. As the weather gets colder, you may also want to put out robes for your guests. Nothing fights back a chill after a great warm shower like a plush robe.
5. Keep a drawer full of necessities. From spare toothbrushes to hand lotion, keep a drawer full of basic amenities in your guest bathroom. So long as they know it's there, your guests won't feel awkward asking to borrow toothpaste they've forgotten.
---
Tell us About your Project
Our team of Radiant Experts is ready to help! Just tell us a little about yourself and your project to get started.
---
Did you find this post helpful?
Let us know by giving it some applause.
---
---