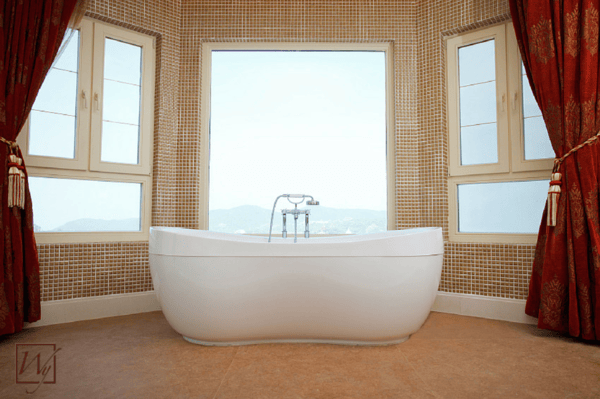 Although our nation's capital doesn't typically experience the frigid temperatures of the northern states or the upper Midwest, it still gets cool and snowy during the winter months. And due to its location near the Atlantic Ocean, it's a damp cold that penetrates. As a result, electric in-floor heating is an ideal solution for those cold mornings and a popular choice in the DC area.
With a median home value of $474,0001 and a healthy market for home sales, many homeowners are adding electric heated floors to improve their homes' resale value. Even if you have no plans to move, radiant heating offers you a way to upgrade your current home and improve your lifestyle with affordable luxury.
Fun fact: Did you know that there are old marble tubs in the basement of the Senate that Senators used to use back in the 19th century2? They were hand carved out of a single piece of marble by craftsmen in Italy and installed in 1859. They could have really benefited from in-floor heating to warm up those cold marble floors when stepping out of the tub!
Bathrooms themselves have come a long way in the 21st century. They are bigger and better with many amenities from walk-in showers, floating vanities, LED mood lighting, and towel warmers to in-floor radiant heating.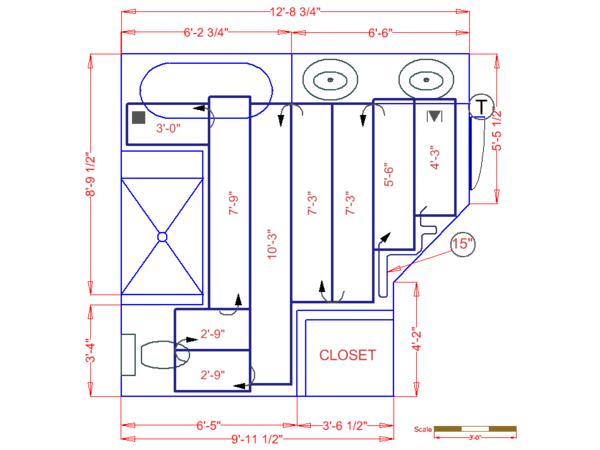 Take this modern bathroom, for instance (see floor plan). This room features a double vanity, a walk-in shower with a bench, and a soaking tub. This tub isn't made of marble, but it does include a different luxury that wasn't available in the Senate back in the day — heated floors! And these heated floors cost about the same as a pound of coffee did in 18753.
The cost of floor heating
According to WarmlyYours' Energy Use Calculator, it costs 26 cents a day to heat this 122-square-foot bathroom in Washington, D.C. For the full year, it only costs $116 to run the system. During the coldest month of the year, it costs $26.45 to operate the system, according to WarmlyYours' Heat Loss Calculator.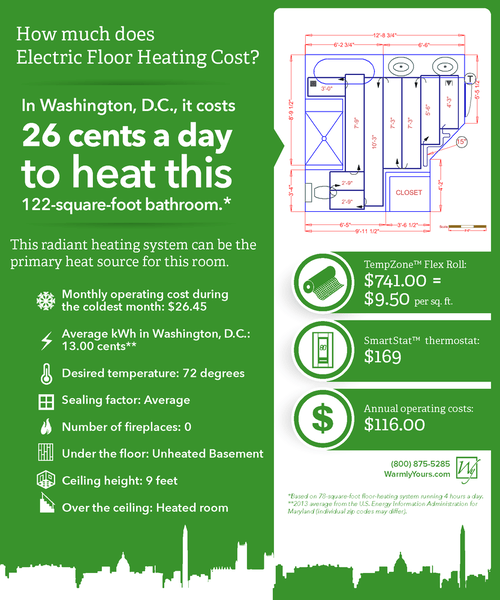 This bathroom uses one 120-volt, 1.5- by 52-foot TempZone™ Flex Roll, which is cut and turned to fill the 78 square feet of floor space in the room. The roll itself costs $741, which equates to only $9.50 per square foot. Once the SmartStat™ thermostat is added to the purchase, the total comes to $910.
Although this floor-heating system costs less than $1,000, experienced DIYers can lower the price even further by purchasing TempZone™ Cable. This option is more labor intensive, but it is also more affordable. However, it should be noted that TempZone™ Cables are different from TempZone™ Flex Rolls because they have a lower wattage: 12 watts per square foot when spaced 3 inches apart. By comparison, TempZone™ Flex Rolls offer 15 watts per square foot. To determine if TempZone™ Cables can act as a primary heat source for a room, homeowners should use the WarmlyYours Heat Loss Calculator.
Get a quote
You don't have to live in the most patriotic city in the nation in order to achieve the luxury of in-floor heating.
To get a quote for your own room, check out WarmlyYours' Instant Quote tool. Take a few seconds to submit some information about your project, and you'll instantly get a quote, detailing which products you need and how much it will cost.
To receive a detailed installation plan, just send us a floor plan. Our team will get back to you the next business day with a free quote and custom installation plan so that you can see exactly how your in-floor heating system should be installed.
Plus, if you're installing the system yourself, we have technical support experts available to you 24/7 to answer any questions. Just give them a call at 800-875-5285.
For more information, visit www.warmlyyours.com.
*Based on the 2013 average of 13 cents per kilowatt-hour in Maryland, according to the U.S. Energy Information Administration.
Sources:
Links:
Instant Quote: www.warmlyyours.com/my_projects/new
Energy Use Calculator: www.warmlyyours.com/tools/cost-calculators
Heat Loss Calculator: www.warmlyyours.com/tools/heatloss-calculator

Related Articles:
How In-Floor Heating Can Revolutionize Your Morning Routine
https://www.warmlyyours.com/en-US/posts/bedroom-remodeling--How-In-Floor-Heating-Can-Revolutionize-Your-Morning-Routine-1124
Radiant Floor Heating in the City of Angels
www.warmlyyours.com/posts/bathroom-remodeling--Radiant-Floor-Heating-in-the-City-of-Angels-1122
How to Reach Your Bathroom's Maximum Potential on a Budget
www.warmlyyours.com/posts/bathroom-remodelin...
Radiant Heating in the City That Never Sleeps
www.warmlyyours.com/posts/floor-heat..

'Easy' Floor Heating in a Small Bathroom
www.warmlyyours.com/posts/bathroom-remodelin...