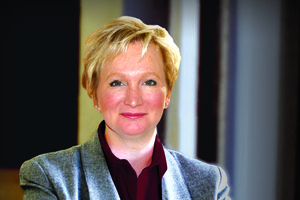 Did you know that women are starting businesses at twice the rate of men?
That's right, and October is the time to celebrate women who are small business owners and to honor those dedicated individuals who are passionate about their business.
It's National Women's Small Business Month. And right now, women-owned businesses are one of the fastest growing segments of the small business community. Today, about 30 percent of small businesses are owned by women, compared to about 5 percent back in 1970.
These independent women go above and beyond in the corporate world and portray their passion for their business through hard work and determination. They are willing to take risks and make sacrifices in order to create a successful and devoted company.
A great example of a dedicated businesswoman is our very own, Julia Billen.
Julia is the President & Owner of WarmlyYours who continually puts her heart and soul into this company. Not only does Julia radiate confidence and enthusiasm, her desire to better WarmlyYours and her customers has transformed WarmlyYours into the customer centric company it is today.
Here is a little bit of her story:
When I first started working in the radiant heating industry in 1995, I was able to bring into the industry a female viewpoint of how to market radiant heating. Almost all of the companies at the time were talking about BTUs, watts, volts and the discussions were very much engineering driven. However, I understood that what the customer wanted was comfort and warmth. Very few customers were interested in understanding the difference between BTUs and watts. What folks wanted was a solution that would warm their room.
I was the first person in the North American industry to market radiant heating as a luxury, comfort product. At WarmlyYours' first trade show in early 1996, I decorated our booth with an oriental rug, tiffany lamp, and a beautiful wall screen and then a heated tabletop display. I knew that folks had to actually see luxury and feel the warmth to truly experience our product, in order to generate a demand for radiant heating. This is a trend that was followed by every radiant heating company doing business today and is now the standard for how to market radiant heating.
Without Julia, who knows what the Radiant Heating Industry would be like today.

Women like our President & Owner are changing businesses one-step at a time and each successive step has a large impact on the industry as a whole. This month, we should all take the time and honor these visionary women who own small businesses and celebrate what they have accomplished.
Like this post? Subscribe for regular updates
Make sure you don't miss out on the latest news in radiant heating by subscribing to our blog. We'll send you an email with links to the newest posts from WarmlyYours.
We won't share your information and you can unsubscribe at any time with a single click.
---
Did you find this post helpful?
Let us know by giving it some applause.
---
---