Affluent consumers, who comprise 20 percent of households, but are responsible for more than 40 percent of consumer spending in the U.S., are showing increased confidence in the economy and purchasing more high-end goods and services, according to the latest Luxury Consumption Index (LCI).
Based on quarterly nationwide surveys by Unity Marketing, the LCI measures affluent consumers' attitudes about economic conditions and how it affects their spending habits. The LCI reports that affluent consumer confidence in the economy is up 32 percent, as compared to 27 percent in the second quarter.
That confidence is also reflected in an increase of 15.9 percent in upscale purchases, 3.8 percent higher than earlier this year. Unity predicts the latest results are expected to translate into higher spending for the holiday shopping season.
"These factors taken together, along with improved perspective on personal financial status, give a bright prospect for continued spending by these most important of the nation's consumers," said Pam Danziger, Unity's president and the lead researcher on the quarterly Luxury Tracking Survey.
Home Improvements Soar
These findings are reflected in the increased desire of homeowners to remodel their dwellings and include luxury features.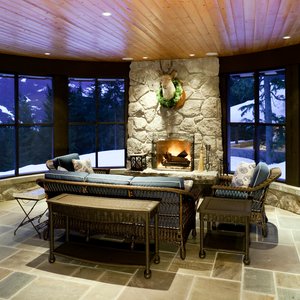 The most recent Leading Indicator of Remodeling Activity (LIRA) reported by Harvard University's Joint Center for Housing Studies estimates that homeowners' investment in remodeling projects could be as high as $150 billion by the end of this year, a 20.2 percent increase over 2012.
"[Upscale homeowners] don't necessarily need more square footage, but they are feeling they want to update and increase the finish of their homes," said Paul Boomsma, president of Chicago-based Luxury Portfolio International.
High-End Amenities
Customized wine cellars with tasting rooms for guests, fully equipped outdoor kitchens, and home automation and security systems are also on the wish lists of affluent consumers. Upscale media centers and home theaters go well beyond digital-age screening and sound systems. Wet bars, small kitchens for snacks, and rows of theater-style seating help create a full entertainment experience.
High-end textures are becoming more popular. Wall, floor and ceiling finishes now feature more glass, imported wood, and raw stone. Radiant heating and exotic wood cabinets and panels, add warmth and comfort to natural stone flooring.
Precise, well-crafted millwork is also important to discerning homeowners. Malcolm Morris, a Chicago architect and owner of MDM Development Architecture, said his wealthy clients expect the best: "[They] spend a lot of money on millwork—built-in cabinetry and paneling that can run $100,000 or more."
Large bathrooms are being transformed into in-home spas,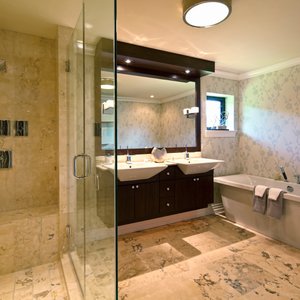 featuring "wet rooms" that include steam showers and multiple water jets, soaking bathers in stone tubs or slab benches warmed from beneath with heated shower mats. When they leave the tub or shower, they want the comfort of reaching for warm towels from a heated towel rack.
From entertaining to personal pampering, wealthy homeowners are searching for new options to enhance their homes with comfort and convenience. With increased confidence, they are stepping up their spending on luxury items and will need contractors with creative vision to help them turn their home improvement dreams into reality.
Sources: http://www.forresidentialpros.com/news/11116668/the-affluent-are-feeling-more-confident-in-the-financial-direction-of-the-country-according-to-the-results-of-unity-marketings-lci?utm_source=RDB+News+Wire+Newsletter&utm_medium=email&utm_campaign=RCL130812002 http://www.usatoday.com/story/money/personalfinance/2012/12/23/eight-amenities-high-end-homes/1779535/ http://www.unitymarketingonline.com/catalog/product_detail.php/pid=73~subid=90/index.html http://www.remodeling.hw.net/economic-conditions/big-ticket-remodeling-spending-to-speed-up-in-2013-lira-predicts.aspx
---
Tell us About your Project
Our team of Radiant Experts is ready to help! Just tell us a little about yourself and your project to get started.
---
Did you find this post helpful?
Let us know by giving it some applause.
---
---