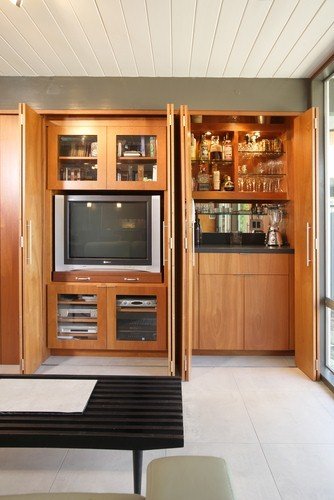 Every home needs a room devoted to relaxation and entertainment. In some houses it's a remodeled basement, in others a living room - some people call it a man cave, some people call it a den - but no matter where it is or what you call it, you want your comfort to be top notch.
Whether you're remodeling, moving in or just thinking of dedicating a room to family time and fun, consider some of these design and décor options.
1. Radiant floor heating. It may not be a year-round concern, but keeping a home heated is essential to comfort during chilly evenings and cold winters. Installing radiant heat in your floor is a cost effective and eco-friendly way to keep your house warm, and there are a variety of options for different floor types.
2. Really comfortable furniture. How many chairs and couches you purchase depends on your preference and the limitations of the space, but no matter the number, each has to be comfortable. Leather makes for a sophisticated and lounge-worthy man cave option, but if you're going for a more family-oriented style, look into microfiber, which won't scuff or scratch as easily.
3. Awesome entertainment. Here's where you'll want to think about the very best in HDTVs, surround sound systems, Blu-Ray players and video game consoles. New HDTVs come in a variety of styles, but you'll probably want 1080p with all the trimmings - just make sure and go with LED, LCD or Plasma, since rear-projection is on its way out and won't give you as crisp a picture. Make sure and get HDMI hookups for your Blu-Ray player and game consoles, many of which stream movie and premium services like Netflix and HBO.
4. Make sure you've got windows. Natural light tends to cast some pretty irritating glare on screens, but just because you've crafted your own private movie theater doesn't mean it won't need airing out. A little natural light and fresh air are good for everyone and can turn your entertainment space into a meditative room great for reading or a cat nap - just make sure you've got solid curtains for when it's time to get back to your favorite TV shows or a few rounds on the Wii.
---
Tell us About your Project
Our team of Radiant Experts is ready to help! Just tell us a little about yourself and your project to get started.
---
Did you find this post helpful?
Let us know by giving it some applause.
---
---