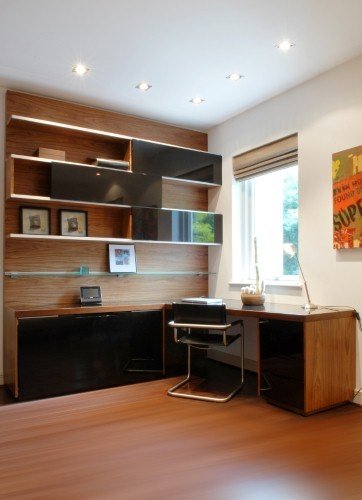 Work-life balance is a hard thing to juggle these days, with more and more working professionals bringing their jobs home with them on weeknights and weekends. As a result, the home office has become a common feature in American homes, and they can be a wonderful place for individuals to get a bit of work out of the way, pay bills or even spend downtime surfing the internet. If you're thinking of designing one of these spaces in your home, there are a few functional and decorative factors to keep in mind that will guide you throughout the process.
Place an emphasis on comfort 
Unlike your office at work, there are a variety of creature comforts that you can incorporate into your space that will make it a joy to come home to each day. HGTV believes that one of your first major investments should be a large chair. After all, you will spend countless hours working at your desk, so your chair should be one that provides ample back support and is supremely comfortable.
The climate of your home office is also important, as you will be far more productive when you're not reaching for a sweater or changing the thermostat. Radiant floor heating is a wonderful choice for your whole home, but if you'd like something a bit smaller, an under desk heater is a wonderful choice. This plug-in floor mat will provide extra radiant heating directly to your feet, legs and lower body to help you unwind after a long day at work.
Look for inspiration
Unlike the beige drab look of a typical modern office, your home workspace should be indicative of your tastes and can motivate you to do great work, according to TheHomeOfficeOrganizer.com. Start by painting the walls in a color that you love, typically one that gets you in the mood to get things accomplished. This may require a bit of trial and error, but it's not a feature to be taken lightly.
Next, you should align your desk near a window to give yourself a view to the outdoors. Staring at a blank wall is no way to find inspiration (even if it's the perfect color), so having a view to your yard could be a wise choice. If you don't have many windows in your space, an eye-catching piece of artwork or a selection of family photos could also work beautifully.
Can it function as a guest room?
While your primary need for a home office is to get extra work done, you may have an abundance of space that you don't know what to do with. Adding a sleeper sofa could be a wonderful place to add another guest room that will surely come in handy when you have plenty of visitors coming through.
When you've found the perfect sofa or futon for the room, add a few side tables, clear out some space in your closet for your guest's attire and add a few compact storage drawers near a far wall. This will allow your guests to have plenty of space to unpack and unwind without feeling cramped.
A home office could be a dynamic new addition to your home that has countless uses, so use these tips to your advantage to design a welcoming and functional space that may just boost your productivity.
---
Tell us About your Project
Our team of Radiant Experts is ready to help! Just tell us a little about yourself and your project to get started.
---
Did you find this post helpful?
Let us know by giving it some applause.
---
---