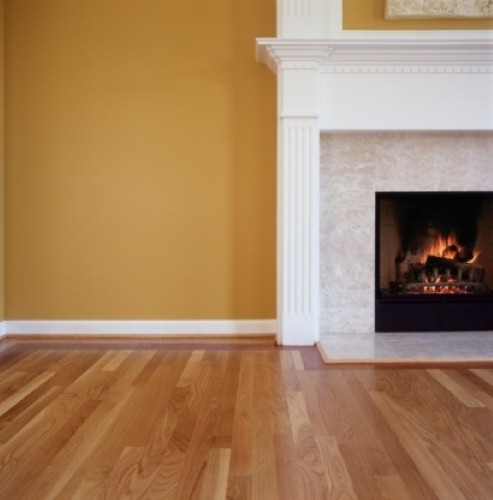 When it comes to living room focal points, homes with fireplaces are only left with one option. Whether it's an old fashioned wood-burning fireplace or a clean gas fire with a stylish raised hearth, these fixtures have a way of grabbing attention in a space. Their mix of old world elegance and rustic charm can meld with practically any décor style, from contemporary to European. So how do you design your living room around your fireplace? Consider a few of these suggestions.
Start with the fireplace itself
Remember that your fireplace itself is a malleable fixture. While the hearth, fire box and crown are probably already set in stone - literally - there's no reason you can't tweak the mantel a bit. For some fireplaces, adding a stylish mantle made of repurposed wood can bring new life to the overmantel and change the space's design scheme from vertical to horizontal. Dress up the mantel however you like. Some homeowners prefer to put a number of mementos, snapshots and trinkets along their fireplace mantels. Others prefer to keep things simple and clean with a single painting, photograph or print. Either will help define your space.
Consider coziness
While the fireplace is a legitimate source of warmth, when it comes to heating the room, the coziness is more psychological than physical. For this reason, you'll want to bring another source of heat into your living room, and preferably one that doesn't overwhelm the room. Radiant floor heating is perfect for this. Unobtrusive, energy-efficient and ideal for any space, radiant heat uses natural convection currents - not unlike the fire - to keep your warm from the ground up, wherever you happen to be in the room.
A few stylish throws and quilts can also amplify your coziness factor of course, and they don't make half-bad décor when it comes to complementing your fireplace!
Radiate outward
Just like the light and warmth from the hearth itself, let your design scheme radiate outward from your fireplace. As the central focal point of the room, let it determine your design scheme. But feel free to slowly introduce new motifs and styles the further your space gets from the fireplace itself. For instance, if your fireplace is built from local stone and has a particularly rustic and cabin-like vibe, you'll want to stick to that in its immediate area - emphasizing natural materials and the outdoors. But you may also want to begin slowly introducing modern or urban design elements along walls not immediately adjacent your fireplace. It's a surefire great look for any space!