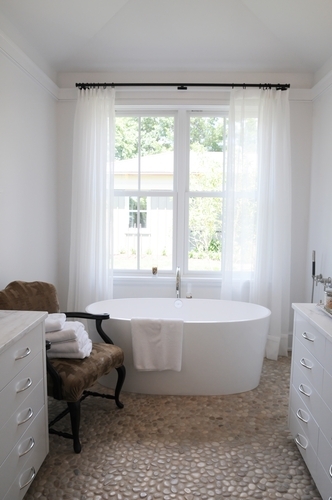 When homeowners are choosing window coverings, the selection of curtains or blinds is not nearly as important as the direction the windows face or their proximity to streets and other outdoor features. Beautiful custom drapery, for instance, is wasted on windows that draw in lots of dust from outside.
Privacy is another major concern, particularly for bedrooms and bathrooms. Just as radiant floor heating systems are unobtrusive, but provide uniformly warm floors in these private quarters, window coverings should be versatile enough to provide privacy when it's needed and allow an outside view at other times.
Using a window covering in a translucent fabric such as muslin, net, voile or lace can allow some light to show through, but must be accompanied by a shade or blinds. Another option is to install a cafe curtain, which is hung from a rod or pole halfway up the window. This style of curtain protects privacy while allowing light into the room from the top half of the window.
Fade or shade
Full sunlight on certain fabrics and woven wood shades may fade them while dirt will gather more easily in the folds of swags and intricate folds, warned IdeasforHomeDecorating.com. Windows with a northern or eastern exposure generate less light, but south- and west-facing windows will allow in the most natural light. In the southern hemisphere, the opposite is true.
If too much light enters a bedroom, blackout window shades will solve the problem. When windows face out on a busy street, homeowners may consider using a heavy fabric for drapes or noise reduction shades. They are particularly useful for bedroom windows that look out to an area that may get noisy when one is trying to fall asleep.
Special situations
Sometimes homeowners are faced with a specific design dilemma that will determine how they outfit their windows. A deeply recessed window, for instance, should be styled with draperies hung outside the recessed area to allow as much light as possible to enter. If the window is particularly large, the drapes can be hung inside the recessed area.
Often, homeowners find arched windows among the most interesting architectural details in home design. But when it comes time to add a window treatment, home decorators may be stumped. The Learning Channel recommends two choices: following the natural line of the window by adding an arched valance or leaving the arch bare and placing a curtain across the lower half of the window.