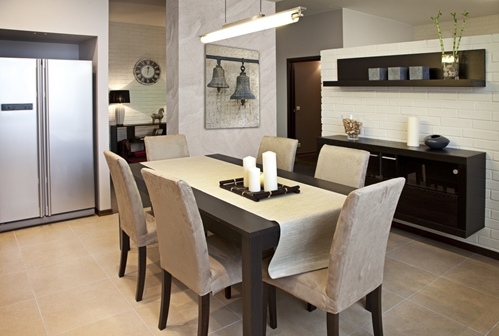 Some furnishings have what Philadelphia interior designer Donna Hoffman calls "staying power." Others can be changed easily according to seasons, the homeowners' whims or because they upgrade a look that's become tired.
Homeowners should use the features that are in their homes for the long haul as the basis for any room makeovers they undertake. Having hardwood floors or ceramic tiles over radiant floor heating, for instance, is an ideal merging of beauty and function and one that homeowners will enjoy for many years. Infloor heating eliminates the need for a duct system and makes furniture arrangement easier with no heating elements in the way.
Change the Palette
When Hoffman begins a room makeover, her first step is to "deconstruct" the existing color palette. For instance, if blue doesn't work any longer as the main wall color, it can become the accent hue instead. Flipping main and secondary colors in a room allows homeowners to retain major furnishings that go with them.
Once a new accent color is chosen, it's time to neutralize the room by taking out other strong colors that will compete with it.
Quick Change
Throw pillows offer an easy way to reinvigorate an existing room design, according to House Beautiful magazine. They are among the most inexpensive elements in a room, but they are highly visible and useful as well.
Older upholstered furniture, in particular, can get new life from neutral-colored accent pillows in different shapes and sizes.
Update Window Treatments
Nothing dates a room faster than a window treatment that's out of style. While intricate drapery may still have a place in formal settings, most rooms benefit from a lighter look that comes from shades used alone or simple, classic curtains that go with many furniture styles.
Making a window a focal point in a room is easy considering the number of treatments available. From the rich traditional look of wooden blinds - which can be matched to a room's wood furnishings - to stylish roman shades, homeowners have a wide range from which to choose.
Sofa Upgrades
The sofa is a major component in most living rooms, dens and family rooms. A bold-colored or patterned sofa can be toned down with neutral pillows. If the upholstery is worn or the sofa has an outdated couch silhouette, slipcovers may be needed to create a new presence.
When buying a new sofa, solid colors and classic design lines will stay in style longest.
Like this post? Subscribe for regular updates
Make sure you don't miss out on the latest news in radiant heating by subscribing to our blog. We'll send you an email with links to the newest posts from WarmlyYours.
We won't share your information and you can unsubscribe at any time with a single click.
---
Did you find this post helpful?
Let us know by giving it some applause.
---
---