In the U.S., heating and cooling a home accounts for the largest percentage of residential energy use. Although there has been a slight decline over recent years, these two areas still accounted for nearly half (47.7%) of the energy use in the home in 2009 (the most recent year for which data is available), according to the Residential Energy Consumption Survey (RECS) by the U.S. Energy Information Administration. The good news is that because heating and cooling systems are the biggest energy consumers in the home, they are the perfect areas to target for reductions in energy use and expenses.
The easiest way to conserve energy is by setting back the thermostat to lower temperatures, a few degrees during the day, and even more while you are sleeping or away from home.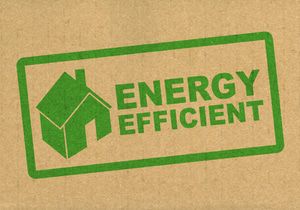 The U.S. Department of Energy points out that setting the thermostat back 10° to 15° for 8 hours can reduce annual heating bills by 5% to 15%, noting that homeowners can save as much as 1% for each degree for an 8-hour setback period. Surprisingly, the DOE reports that the savings gained from thermostat setbacks can be even greater for homes in mild weather climates, than in regions with more severe climates.
While this may sound like a good idea in theory, actually remembering to make these adjustments, perhaps multiple times per day, may seem to be too much of a hassle to be worth the effort—but it doesn't have to be.
Today, highly functional, energy-efficient technology can be found in a single, small appliance—the humble thermostat. The Adoption and Usage of Home Automation Technologies report by the Consumer Electronics Association (CEA), Arlington, Va., found that 47 percent of online U.S. households indicate they have a programmable (42 percent) and/or smart (12 percent) thermostat currently installed in their homes.
Programmable Thermostats
Programmable thermostats, such as the WarmlyYours SmartStat™ Programmable Thermostat , feature a digital display that indicates the exact temperature, auto and manual settings for adjusting the heating comfort level, and the ability to program multiple setting changes for each day of the week.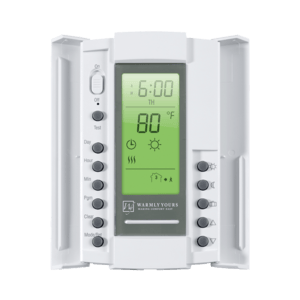 The SmartStat™ can be programmed to automatically set back the temperature when you are asleep or away from home, allowing for hands-off, hassle-free operation that can save money on heating and cooling bills.
Because radiant heating systems inherently have a slower response time — up to several hours — manually setting temperature setbacks during the day while the homeowner is away may not always be practical. This problem is easily overcome with features like the Early-Start mode of the SmartStat™, which allow the thermostat to "learn" when to activate the system to get the room temperature to the desired level at a specified time.
Technology Gets Smarter
Programmable thermostats go a long way toward managing energy use and expenses.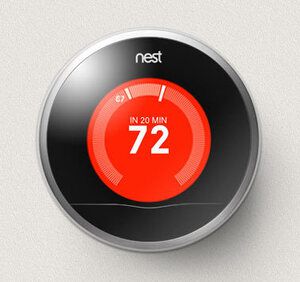 The next generation of "smart " thermostats goes even further. Smart thermostats, like the Nest Learning Thermostat , can adapt the heating requirements of the home and the schedule of its occupants based on energy use patterns and "learn" to operate more efficiently.
Daily or seasonal variations in temperature also impact a home's heating needs. Nest's Weather Aware feature uses a Wi-Fi connection to monitor current and forecast weather conditions, enabling the system to adapt to changes in weather and become even more efficient.
Nest's True Radiant feature can further optimize the use of radiant floor heating systems. Because heat generated by radiant floor heating systems is stored in the mass of flooring material, heat is retained and the room remains warm even after the system shuts off. Once the desired room temperature is attained, True Radiant uses information form the system's heating history, to determine when to turn off the heating system to avoid overheating the room or running the system longer than necessary. In doing so, Nest keeps the room comfortably warm while eliminating excess energy consumption.
Residential heat management moves to the next level as smart thermostats can now integrate multiple heating systems.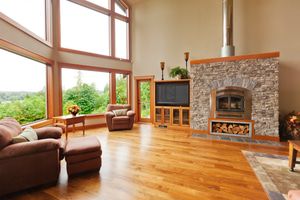 For situations that demand a supplemental heat source--such as extremely cold winter weather or rooms that, by design, have excessive heat loss—the Nest thermostat not only regulates the primary heat source (the electric floor heating system), but also automatically determines when a supplemental source (such as forced air) is needed. This takes the guesswork out of operating multi-stage heating systems and ensures that the secondary source operates only when necessary.
A Greener Bottom Line
Ultimately, homeowners must decide which type of thermostat and features that best meets their needs. Both programmable thermostats and smart thermostats offer convenient, hands-off operation and more efficient energy use. A modest investment in replacing a thermostat has the potential to yield big savings, making these appliances an attractive option for both homeowners and the professionals who sell them. " Products that can offer energy efficiency…with the ability to save money are serving as a key motivators for purchases," reminds Kevin Tillmann, senior research analyst, CEA.
A little green can go a long way.
Like this post? Subscribe for regular updates
Make sure you don't miss out on the latest news in radiant heating by subscribing to our blog. We'll send you an email with links to the newest posts from WarmlyYours.
We won't share your information and you can unsubscribe at any time with a single click.
---
Did you find this post helpful?
Let us know by giving it some applause.
---
---