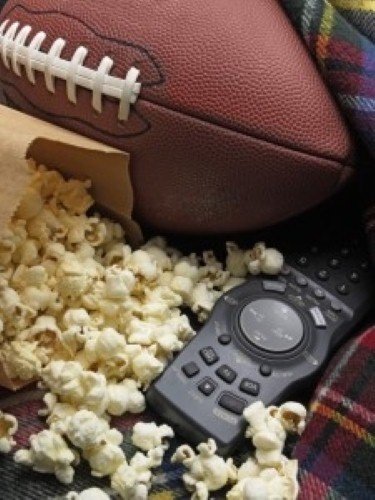 The highlights of fall include stunning foliage, gorgeous harvest moons, mild weather and - of course - football season. Gameday is coming up, and you'll want to be sure that your home theater is up for the task of entertaining not only you, but the legions of fans you'll be sure to invite over for the opening game of the season. Give your home theater the makeover its been wanting, while touching up the kitchen just a bit along the way.
1. Upgrade your TV. If you've been looking for an excuse to go top-of-the-line HD, this is the one you've been waiting for. Nothing beats a game day party with a giant television in stunning high definition. It won't hurt for family movie night either!
2. Go surround sound. Take in every tackle with your eyes AND your ears. Surround sound systems are an affordable luxury that will change the way you watch television. If you're not entirely certain, go with 5.1 surround sound speakers instead of the 7.1 - the first has five speakers and the second seven, but both feature an essential subwoofer.
3. Multiply the coziness of your seating. Don't settle for anything less than absolute comfort. Whether you're chilling out alone or with a group, football games can last a while and you don't want to jeopardize coziness. Edge of your seat is just a euphemism after all - at least most of the time.
4. Ensure warmth throughout the season. Football season will run right into February, where the temperatures are sure to drop well below freezing some nights. Be sure that you and your family - not to mention those Super Bowl party guests - stay warm through the months with radiant floor heating. These radiant heating systems fit snugly under your flooring and are an energy-efficient way to stay warm, even through the chillest winter.
5. Make sure your fridge is up to the task. Nothing goes better with a football game than a cold beer. Multiply that by all your guests and the individual six and twelve-packs they're bound to be toting, and you're going to need a mighty larger fridge. Coolers may need to be called in as reinforcements.
6. Plenty of counterspace. Don't forget the food either. Your opening game party is sure to have quite the spread. Without remodeling your whole kitchen, be sure to clear off plenty of counter space to accommodate the chips, dips, veggie platter, salad bowl, sandwiches and other assorted snacks.
---
Tell us About your Project
Our team of Radiant Experts is ready to help! Just tell us a little about yourself and your project to get started.
---
Did you find this post helpful?
Let us know by giving it some applause.
---
---