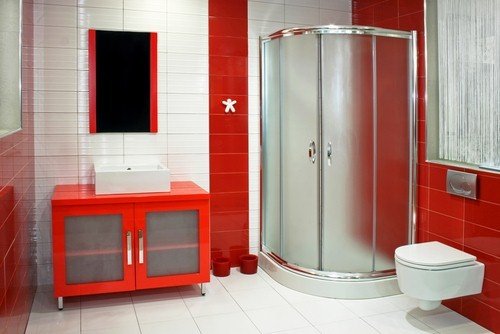 Face it, your bathroom is looking a little bland. Drab colors like white, gray and beige just won't cut it when it comes to getting your bathroom to look lively and warm, especially as the weather turns toward late autumn and winter. So you'll want to keep your space flush with welcoming character and cozy temperatures.
Start with the temperatures by installing radiant floor heating in your bathroom. With energy-efficient radiant heat underfoot, you'll never again step out of the shower to the cold shock of porcelain. And since radiant heat offers better air quality than old-fashioned forced hot air systems, your bathroom is sure to be a healthier and cleaner space than ever before.
But what about that warm and cozy aesthetic you so desperately need? How should you go about bringing a blush or red or pink to your bathroom decor? Consider these suggestions.
Color-coordinate your accessories
From the toothbrush to your trash can, there are a ton of tiny minutia throughout your space that are just waiting to be color-coordinated for a stylish effect. Equipped with a stylish fire-engine red trash bin, oxblood hairbrush, crimson towels or bright maroon shower curtain, your space is sure to come alive one accessory at a time.
Go with candy-striped walls
Looking for a stylish way to set your wallspace apart from the crowd. Candy-stripe yours in red or vibrant pink for an awesome look that's sure to wow guests. Best of all, you can choose between hunting down the ideal wall paper or going it alone with a can of paint! Using a little DIY ingenuity and the prime shade, you can be sure to bring your walls to bright and blushing life. Rather than mixing white and your personal favorite shade of red and pink, why not bring a brand new color into the mix? Everything from a sky blue to powder yellow could make for a great combo.
Rethink your window treatments
What's a great locale in your bathroom to add a little color to? How about your window treatments? From curtains to the actual window frame itself, the whole space is just begging for a little color therapy. If you've got multiple windows in your bath, this is a great way to add a little character. But even matching one window's curtains to the shower's could give your room some colorful solidarity.
 
---
Tell us About your Project
Our team of Radiant Experts is ready to help! Just tell us a little about yourself and your project to get started.
---
Did you find this post helpful?
Let us know by giving it some applause.
---
---