As the year draws to an end, remodelers can now breathe a sigh of relief to have this sluggish year over with. 2011 may have been a tough year for the remodeling industry but with 2012 just around the corner the forecast calls for growth of 1% to 2% quarter-over-quarter.
The remodeling industry took note of Americans spending $116 billion on improvements to owner-occupied units in 2010, down from a peak of $146 billion in 2006. National Association of Home Builders' (NAHB) remodeling forecast expects these expenditures to increase steadily as the general housing market recovers through 2011 and 2012, respectively reaching $119 billion and $131 billion.
The aging housing stock and increasing interest in improving home efficiency and green remodeling are key factors in the remodeling industry in order to increase business.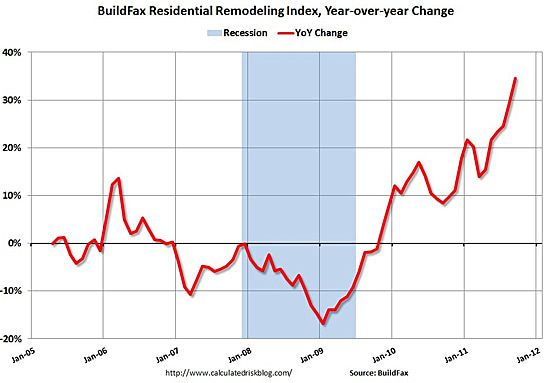 Joe Emison, vice president of R&D at BuildFax, said in a release "that homeowners are not only doing important 'maintenance' projects, such as fixing their roof, but also taking on projects that add to the 'livability' of their homes by adding decks, remodeling their bathrooms and updating their kitchens." These projects play an important role for remodelers because they enable future growth in the industry.
Over the past five years, roof replacements (21.4%), deck additions (7.9%), and bathroom remodels (6.9%) have been the most popular remodeling projects that keep the industry going.
A study has shown that of the 366 metropolitan areas in America, 20 markets should begin to see an increase in demand for home improvement, ultimately driving more activity. 9% additional growth is to be expected between now and the second quarter of 2012.
Although the 2012 remodeling industry forecast predicts future growth, the lackluster economy and the modest housing market that is present today will keep home improvement spending tepid through the first half of 2012, according to the Leading Indicator of Remodeling Activity (LIRA). LIRA predicts that remodeling activity could be down as much as 4% through the first quarter of 2012.
It is clear to remodelers that the ups and the downs in the economy are reflected in home improvement activity. Yet, the downturn in home remodeling is most likely nearing an end, as activity in home improvement spending slowly climbs to higher ground next year. But if another downturn does actually occur, it is expected to be significantly milder than the ferocious slump that preceded it.
Following a steep 20% slide in home improvement spending and growth, the remodeling industry is starting to get back on its feet.
Like this post? Subscribe for regular updates
Make sure you don't miss out on the latest news in radiant heating by subscribing to our blog. We'll send you an email with links to the newest posts from WarmlyYours.
We won't share your information and you can unsubscribe at any time with a single click.
---
Did you find this post helpful?
Let us know by giving it some applause.
---
---