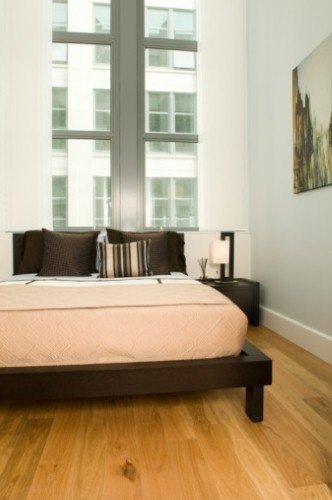 As if your kid didn't do enough growing up in middle school - once high school starts, it's time to get ready for the big leagues! With high school, expect your teen to go through one or two major makeovers. From hair dye fiascoes to terrible music, all you can do is roll with the punches. But why not give them an outlet for expression with interior design? After all, it can't hurt to give those old pastel walls a new coat of paint.
If you're looking for a great interior design project to pursue with your teen, there's nothing better than redesigning a childhood bedroom. Before starting, consider a few of these key steps.
1. Repaint for vibrancy. Teens are just as moody as ever, but that doesn't mean that black walls are having a renaissance. For fresh ideas, head out to the hardware store with your new high schooler and browse some paint swatches. You may be surprised at the trending hues - right now, bright and bold are definitely in. One step you'll want to be sure to make is choosing VOC-free paint. Volatile Organic Compounds - a potential health hazard - are found in a number of household products, but can be particularly virulent in old paints. Choosing VOC-free paint can even improve the room's air quality.
2. Go green. Choosing VOC-free paint is also a green and all-natural choice. Remember that it's not exactly uncool to be green. The young are the ones leading the green revolution - it's their Earth after all, and they're the ones who'll have to live with global warming. By going the green route with the room's interior design, you can ensure he or she is trendy and environmentally-conscious.
For this reason, you should consider installing radiant floor heating. Although radiant heat systems are great for any room in the home, your teen's room might be the perfect spot to begin your heating makeover. Radiant heat is energy-efficient, meaning it won't guzzle excess electricity or increase your carbon footprint. It also fits easily under a variety of flooring types, so your young interior co-designer will have his or her pick of a variety of floor coverings.
3. Give an art allowance. Now that the walls are repainted, encourage your teen to get even more creative with décor. Of course, if he or she has an artistic streak in them, freshly painted walls offer the perfect opportunity to display their most prized works. Better yet, they can display drawings, paintings or photos by friends, as well. While band and movie posters are great fun, why not give an art allowance in the form of a painting class over the summer or a stylish new camera and photo printer? You may just spur a lifelong passion in art.
4. Insist on two specific pieces of furniture. This is a bargain, after all - you help fund the renovation of their childhood bedroom, and in exchange they've got to install a bookshelf and desk - (if they don't have them already). Even with the advent of Kindle, a bookshelf is an important symbol in any home and is sure to encourage reading in your child. The desk is even more important, fostering the sort of collegiate study habits that will bring you kids far and ensure a bright future.
5. Ask to visit. Remember that your kid's room is his or her own space and - the precursor to a first apartment. While this grants them greater privacy, why not stop by every so often? If they've got their own TV, ask to watch a movie with them sometime. Bring up mugs of cocoa, talk about school and enjoy the room you designed together.
---
Tell us About your Project
Our team of Radiant Experts is ready to help! Just tell us a little about yourself and your project to get started.
---
Did you find this post helpful?
Let us know by giving it some applause.
---
---