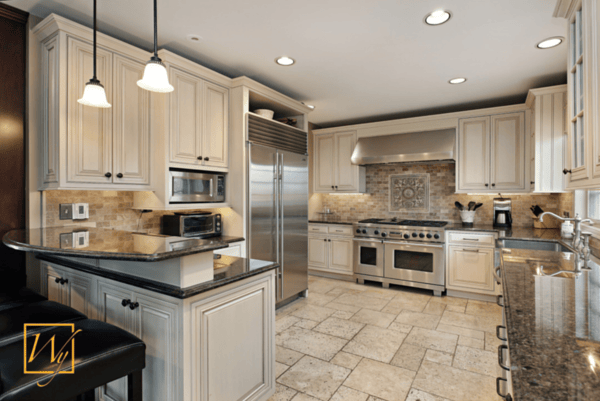 The name Philadelphia was chosen by William Penn from the Greek words "philos" (love) and "adelphos" (brother), because he was a Quaker and had been persecuted for his religious beliefs. He believed it would be the perfect combination of city and country.
Today, Philadelphia is best known as "the city of brotherly love," but it actually has multiple nicknames, one of which is "the city of neighborhoods." Implicit in this nickname is the intense pride that Philadelphians hold regarding the distinct residential areas that comprise this city. Together, these neighborhoods form the heart of the city — just as the kitchen is the heart of the home.
The kitchen is not just for cooking and dining. It serves as a central location for everything from entertaining guests to doing homework. Because it is such an integral part of the home, many homeowners opt to spend their renovation dollars there.
With a median home value of $116,500, according to Zillow, more Philadelphians are choosing to stay in place and remodel their kitchens to meet their changing needs. That's where radiant floor heating comes in, keeping your family and guests warm and cozy while they gather together to share some good food and conversation. Plus, with an average high of 48 degrees Fahrenheit during the winter, staying warm is more than a luxury in this area — it can add necessary supplemental warmth to a room or even act as the sole source of heat for a room.
Electric floor heating in a kitchen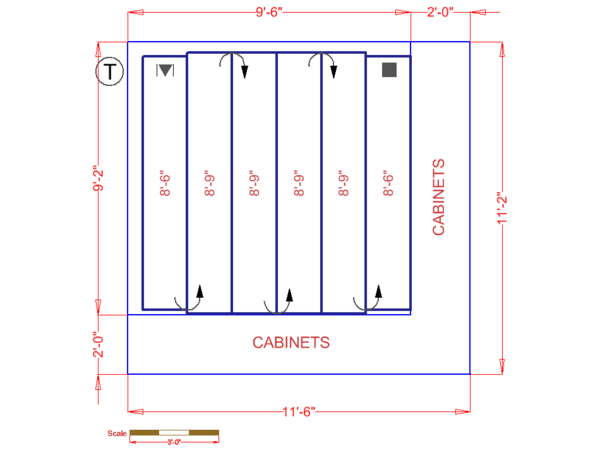 As can be seen in this floor plan, the "heart" of this kitchen is the heated floors.
This 128-square-foot kitchen features 78 square feet of flooring, which is covered by one TempZone™ Flex Roll. The 1.5- by 52-foot roll is cut and turned to fill the space, emanating warmth through tile, stone, vinyl or hardwood floors.
In Philadelphia, the average kWh cost is 12.79 cents, which just about matches the national average. As a result, it costs 49 cents a day to heat this Philadelphia kitchen for 8 hours a day, according to WarmlyYours' Energy Use Calculator. During the coldest month of the year, the operating costs are about $14, and for the full year, the operating costs are nearly $71, according to WarmlyYours' Heat Loss Calculator, which takes a detailed look at conditions surrounding the room as well as the homeowner's specific zip code.
The initial cost of the product is also affordable. For this room, it costs $9.50 per square foot of heating element. That comes out to $741 for 78 square feet of TempZone™ Flex Roll. A programmable thermostat can also be added to the order for $169, bringing the product total to $910 — still under $1,000!
Cable comparison
Although this floor-heating system offers an affordable price for heating a kitchen, experienced DIYers can lower the price even further by purchasing TempZone™ Cable. This option is more labor intensive, but it is the most economical floor heating system available. Instead of rolling out the mesh mat and making cuts and turns as needed, the cable is installed manually using plastic fixing strips.
It's also important to note that TempZone™ Cables have a lower wattage than TempZone™ Flex Rolls: 12 watts per square foot when spaced 3 inches apart. By comparison, TempZone™ Flex Rolls offer 15 watts per square foot with cable spaced 3 inches apart within a mesh mat. To determine if TempZone™ Cables can act as a primary heat source for a room, homeowners or trade professionals should consult the WarmlyYours Heat Loss Calculator.
Get a quote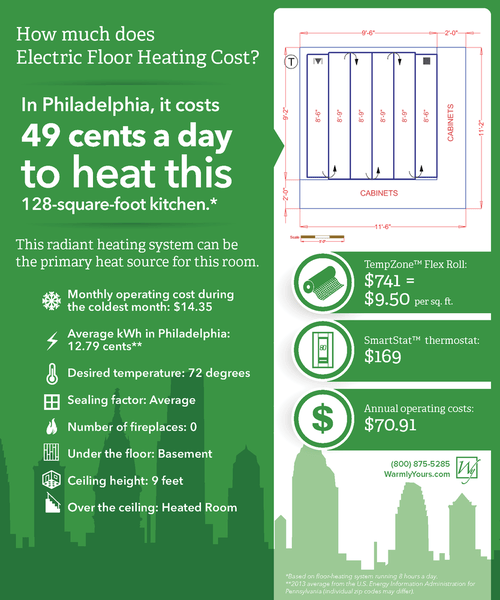 To get a quote for your own room, check out WarmlyYours' Instant Quote tool. Once you submit some simple information about your project, you'll receive a quote that tells you which products you need and how much they will cost.
The next step is getting an installation plan. To get a customized plan, send us a floor plan or contact your account manager. A WarmlyYours sales representative will get back to you the next business day — or earlier — with a free quote and custom installation plan so that you can see exactly how your in-floor heating system should be installed.
Plus, if you're doing the installation yourself, we have technical support experts available to you 24/7 to answer any questions. Call them day or night at 800-875-5285.
For more information, visit www.warmlyyours.com.
Sources:
www.zillow.com/philadelphia-pa/home-values/
Links:
Instant Quote: www.warmlyyours.com/my_projects/new
Energy Use Calculator: www.warmlyyours.com/tools/cost-calculators
Heat Loss Calculator: www.warmlyyours.com/tools/heatloss-calculator

Related Articles:
How to Transform a Cold Basement with Radiant Heat
www.warmlyyours.com/posts/basement-remodeling--How-to-Transform-a-Cold-Basement-with-Radiant-Heat-1138
Embracing Valuable Change in a San Francisco Bathroom
www.warmlyyours.com/posts/bathroom-remodelin...
Radiant Heat's Big Impact in a Small Kitchen
www.warmlyyours.com/posts/countertop-heating...
Budget-Friendly Radiant Heating in our Nation's Capital
www.warmlyyours.com/posts/bathroom-remodelin...

How In-Floor Heating Can Revolutionize Your Morning Routine
www.warmlyyours.com/posts/bedroom-remodeling...
---