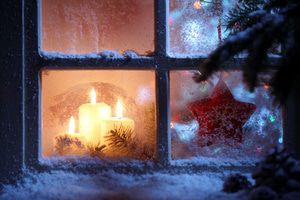 Winter is here. In fact, this year, it said "hello" even before Thanksgiving with a brutal winter storm that snarled traffic for the estimated 41.3 million people traveling for the Thanksgiving holiday in the Northeast, according to AAA estimates. In fact, early Thanksgiving morning, more than 430,000 people were without power in 12 states and Washington, D.C. That's cold!
It wasn't any better the year before. According to the Washington Post, 2013 was among the coldest Thanksgivings in Washington, D.C., history. In fact, the city average was 34 degrees, which is the coldest recorded Thanksgiving since 2002.
That's a trend of cold holidays! If you're dreading the continuing temperature drops, possible snow, and whatever Christmas may hold just around the corner, make these seven key design changes to turn your home into a warm, winter haven.
1. Replace the Color Scheme
The coldest rooms in your home might feel a little more "frigid" because of the wall colors you use. Design experts advise that if you paint with a warm palette to inspire thoughts of fire and heat, you'll naturally feel warmer!
"No matter if you prefer a monochromatic palette or prefer a more varied color design, focusing on the warmer portion of the paint chip can lend warmth to any room," says Porch.com's Anne Reagan.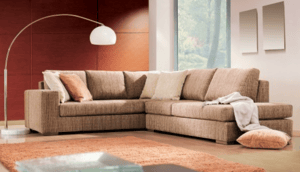 You can also add red blankets or dark brown throw pillows in your living room to add a rich and comfortable color atmosphere. Scrutinize your options when shopping for paint or fabric. Do you feel warmer looking at that paint chip versus the other one? Take home a sample paint jar if you aren't sure which colors will add visual heat to your home. This way you can paint a square of your wall in each color and see which works the best for you.
2. Add Lamps
Overhead lighting fills the whole room, but it often feels cold. Instead, place several lamps throughout the room to create pools of warm light. If this layout still isn't working, try using amber light bulbs. The tone these bulbs emit is deeper and gives the room a more intimate, cozy atmosphere.
3. Try Candles
Candles are another great light source that warm the area where you place them. While they don't have the power to illuminate the entire room, having a few burning flames in addition to your lamps helps banish any remaining chills and set a tone of warmth and cheer.
4. Add Happy Touches
When you fill the room with sentimental objects, they'll actually make you feel warmer and happier, according to some experts.
"Items that make you feel better, like pictures of family and friends or artwork, a warm couch, or even the fireplace are all things that should be highlighted in your home," Reagan advises. "Adding little touches of personal decor can increase visual appeal as well as drum up happy memories. Draw attention to these features [by] placing them in the center of a table or on-top the fireplace mantle to bring a natural, homey feeling to the room."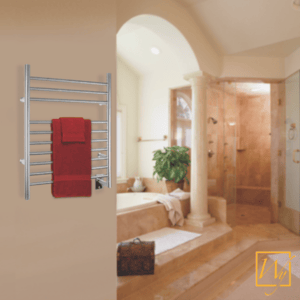 5. Heat the Towels
It's such a simple upgrade with such a major impact. After battling the cold (or enjoying it for a fun winter activity such as ice skating or sledding) there's nothing like stepping out of a hot shower and into a cold room. It can be quite shocking. Under-tile heating in your bathroom helps, but so does a nice, cozy towel. It will make the transition from cleaning up to dressing even smoother and happier. Towel warmers will ensure that you dry off in the most comfortable way possible, and they are an inexpensive and easy way to turn your home into a winter retreat. Read "5 Ways to Make Your Bathroom Comfortable All Season Long" for more ideas specifically for your bathroom.
6. Seal the House
Be sure your home is airtight so that warmth doesn't escape through leaks. You can have a test done, or you can place candles near closed windows and seams. If the flame flickers, there's an air leak. You can seal these spots easily with caulk. Weather stripping is another way to seal window and door frames so that winter weather doesn't sneak inside. Install door sweeps if you do not already have them. These can help plug that inch or two gap underneath each of your doors. That open space will otherwise let cold air in and warm air out. Read "Use These 11 Key Pre-Winter Fixes to Radiantly Heat & Shield Your Home" for 11 effective ways to seal your home from the chill of winter.
7. Toasty Feet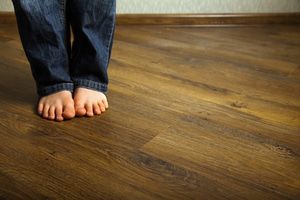 Stepping on cold bathroom tile or freezing hardwood in your living room is an unpleasant experience. By installing radiant heating throughout your home, you're ensuring that you'll never have to deal with that again. This easy-to-install system uses electric wires beneath the floor to generate warmth and can even be controlled remotely from your phone. Now when you get out of bed on a chilly winter morning, the first thing you'll feel is heat under your feet. As @SC2339 tweeted: "Having heated floors is like having your feet hugged... May sound weird but it's a good feeling #ilovefloorheating." We couldn't agree more.
All winter long, WarmlyYours is here to help warm up your home and add comfort and joy to your holidays! It can be done. Use these seven thoughtful touches, and you're well on your way.