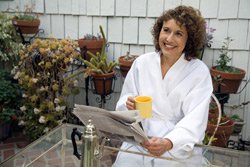 There is a new trend you may have heard about - the staycation. According to Wikipedia, a staycation is a vacation, but rather than travel to some exotic destination, you stay at home to enjoy your house or to take advantage of local parks, festivals, or tourist attractions. With the economic downturn forcing people to be more economically minded, there are fewer folks willing to spend money to take long destination vacations. More and more, people are taking off work just to hang around at home with their families and friends.

Not only is this trend catching on, but the lawn and garden industry is benefiting from it. Recently Scotts Miracle-Gro, a goliath in the industry, posted their 3rd quarter results. Their numbers showed a huge increase in revenue, $147.8 million up from $22.6 million in the same quarter last year. Scotts has been quoted as saying that the reason behind the increase is due to a "high level of consumer engagement in nearly all aspects of the lawn and garden category."

Scotts' numbers seem to demonstrate just how much homeowners are focusing on improving their yards. And, if you think about it, it makes a lot of sense to invest time and money in your home. Not only will you personally enjoy it, but you'll benefit from the added resale value. Going to Hawaii for a week is nice, but does it make as much sense in these tough economic times? So, why stop at just the lawn and garden? Why not consider a nice outdoor patio and maybe even an outdoor kitchen. Add some snow melting and you can enjoy your outdoor living space almost all year around Maybe build a rock wall with a grill and fridge in it? Now, that's what I am talking about. Sticking around for the summer and enjoying your home…

Snow melting, you say? Why would I need that for my patio? Well, its pretty amazing stuff, really. It will keep your patio warm on those cool spring and fall evenings. And, melt the snow off your patio in the winter. So, now you'll be able to enjoy your patio year around, not just for your staycation. You won't have to trudge through the snow to get to your Weber or run in the house after you take those burgers or steaks off the grill – you can enjoy them right there, on your patio.

For me, this is a great option as I'm quite the homebody, so the whole staycation is perfect for me. But, no matter what type of vacation you decide to "take" this year, make sure you enjoy it and get as much relaxation and enjoyment from it as you can! With our crazy lifestyles nowadays, we all need down time to rejuvenate.
---
Tell us About your Project
Our team of Radiant Experts is ready to help! Just tell us a little about yourself and your project to get started.
---
Did you find this post helpful?
Let us know by giving it some applause.
---
---