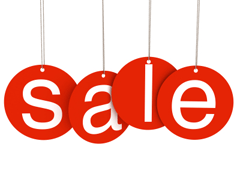 The WarmlyYours Annual Summer Sale is about to start! You have an entire summer of savings to cash in on. Memorial Day until September 5, 2011, you get the chance to save your hard-earned money by investing in some well-deserved luxury at an unbeatable price.
Let's face it. The heat is rising and you're looking for ways to cool off, not warm up. But as we all know, summer days and nights go by incredibly fast, and all too soon, we're at the mercy of changing seasons and plummeting temperatures…again. If you have ever been interested in WarmlyYours floor heating systems, now is the time to take advantage of this great offer.
Save on our TempZone™, Environ II™, and ValueMat™ radiant floor heating systems. And, for qualifying order amounts, you'll SAVE 25% OFF our NEW lightweight synthetic cork underlayment, CeraZorb®, great under virtually any floor heating system and an ideal choice for our TempZone™ roll. Or, you can SAVE 50% OFF our standard Cork system, an excellent choice for our Environ II™ mat system, along with many other systems we offer!

This sale is just getting started, and if you're in the early stages of a remodeling project or new construction job, consider upgrading your project by increasing the interest and value a floor heating system can add to any room of the house. And there's no need to waste that money you'll save by hiring someone to install your TempZone™, Environ II™, or ValueMat™ floor heating system. All of WarmlyYours electric floor heating products are designed to install easily and, should you need it, WarmlyYours promises we'll be there to answer whatever question you may have, day, night, or in the wee hours of the morning when you can't sleep until the job is done. Whatever the hour, we are here to assist you. What's stopping you?
To get a quote and an idea of the savings your project will benefit from, design your room online by creating and pricing it out on our website using our very own MyProjects™ Room Designer. Or have the work done for you by submitting the dimensions and a sketch of the areas you wish to heat and we'll provide you with a custom installation plan and quote within 24 hours. Order before 4:00 p.m. Central and we'll ship that day!
To learn more about WarmlyYours Annual Summer Sale visit us at www.WarmlyYours.com/sales/summer-sale or call (800) 875-5285 to speak with an Account Manager today! Mention Coupon Codes FH15/FH25, CZ25, or CORK50 to take advantage of this offer.