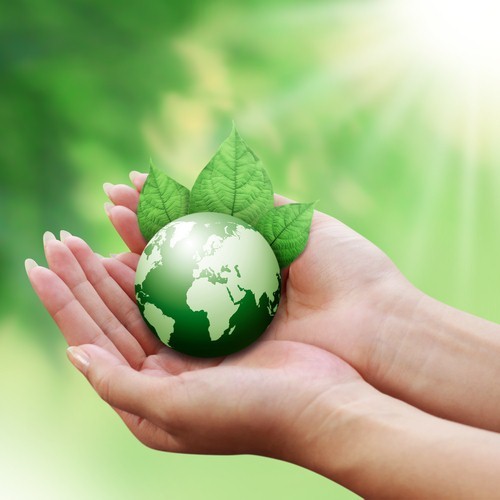 There may be no more environmentally-conscious place on earth than a college campus. Across the United States and the rest of the world, more and more schools are making the leap to green energy or taking radical steps to reduce their collective carbon footprints. While the scholarly and scientific minds at work on these campuses are clearly an influence, the real movement is coming from the students.
While your soon-to-be college freshman might not be the most political of 18-year-olds, he or she probably knows the importance of green technology and an eco-friendly lifestyle. Children are the future, and are willing to help ensure that the planet's in good shape for it.
When you send your student off to school later this summer, whether she's a budding ecologist or he's looking into an art history major, set him or her up with some energy-efficient and earth-friendly necessities. Searching for inspiration? Look no further than this list.
1. Recycled paper notebooks. There's no way around it. Even in this high-tech age where laptops and tablets are as ubiquitous as a ballpoint pen, students still go through massive amounts of paper. At the very least make sure they're not consuming new trees as they do so and invest in a bulk load of notebooks made from recycled paper.
2. Energy-efficient computer. The government's Energy Star initiative certifies a variety of computers, but that's only half the battle. Be certain that both you and your student remember to turn off computers and laptops when they're not in use. While it can be tempting to let them idle away, it's also consuming electricity.
3. Under desk heater. For the inevitably chilly months, get your brand new freshman an under desk heater like the ones made by WarmlyYours. These energy-efficient heats will keep more than just toes toasty, rather than over-saturating the room with heat from an old gas or electric heater.
4. Organic toiletries. Get them soaps, toothpastes and shampoos made from sustainable materials and without chemical byproducts, your students will be sure to remain clean as well as green.
5. A bicycle. What more eco-friendly and fuel-efficient way could there be to make your way around campus? Send them off in style with a sleek new bike and feel assured that you won't be fielding any requests for gas money.
---