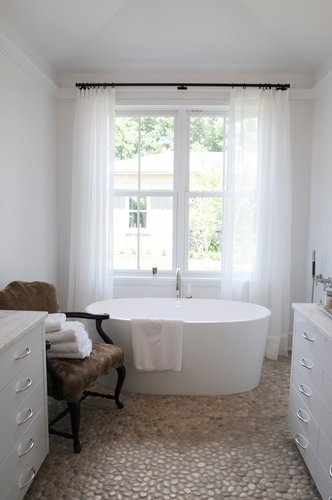 Whether you want to install radiant heat in your bathroom or completely renovate another room, home improvements are a sound investment for most homeowners. After all, in addition to increasing the value of your home, making changes can often make your house more comfortable for the entire family.
The good news for anyone considering a home improvement is that there are various federal tax credits available to help fund your project. For instance, in the U.S., homeowners who want to make their homes more energy efficient can take advantage of the American Taxpayer Relief Act, which offers them a tax credit of 10 percent of the cost of their upgrade, up to $500, for various upgrades completed before the end of the year.
What's included?
While there are many types of projects that will help improve the efficiency of your home, not all of them are covered by the ATRA. Some that are eligible include insulation upgrades, a new roof, windows, doors or water heater, as well as new furnaces, heat pumps and central air conditioning units.
Floor heating systems may also be eligible for the tax credit, as they increase efficiency and lower heating costs.
Home improvement tax credit in Canada
Seniors living in Ontario, Canada, can get a tax credit for renovations and updates that make their homes safer and more accessible for them.
The Healthy Homes Renovation Tax Credit allows individuals over the age of 65 to claim up to $10,000 worth of eligible home improvements on their tax return. The amount of money refunded is calculated as 15 percent of the eligible expenses claimed.
Examples of projects that qualify for the credit include installing wheelchair ramps, lowering countertops, adding additional light fixtures inside and outside as well as installing automatic garage door openers.
Additionally, many of the projects that qualify for the credit are common for individuals creating a safer bathroom, known as universal design. They include installing comfort height toilets, non-slip flooring, hand-held showers and walk-in bathtubs and showers.
While these projects can certainly make the bathroom a safer room for all members of the family, they are especially important to seniors. However, many people embarking on a bathroom renovation, especially an extensive one, often incorporate other changes that make their rooms more comfortable as well.
Individuals who are taking advantage of Ontario's Healthy Homes Renovation Tax Credit with a bathroom remodel may also consider projects such as installing electric radiant heating and towel warmers, which will help make their spaces more comfortable and spa-like. Warm floors also help increase energy efficiency and lower heating costs - an added advantage.
---
Tell us About your Project
Our team of Radiant Experts is ready to help! Just tell us a little about yourself and your project to get started.
---
Did you find this post helpful?
Let us know by giving it some applause.
---
---