We recently visited a customer's home in Chicago in response to a customer call expressing concern over the fact that his floor was experiencing varying temperatures. One spot felt much warmer than the rest of the floor.
We know that 99.9% of the time, a floor heating system will either work or it won't - there's no in between. The reason why a certain area may feel colder or hotter than the rest of the floor is due to its watts per square foot. The National Electric Code requires that the watt density per square foot not exceed 15 watts per square foot. The more wires placed in one square foot, the hotter that square foot will be. Conversely, the fewer wires placed in a specific square foot, the cooler it will be. If there are no wires placed in one square foot of space, there will be no heat coming from it.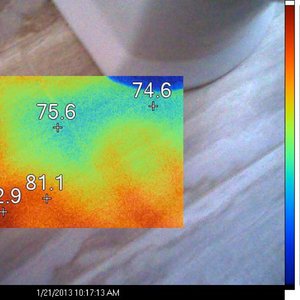 Our mats use 2" or 3" spacing between the cables because they are attached to the fiberglass mesh. If the wires are placed closer together, that area will be warmer than other evenly spaced areas in the floor. Conversely, if the wires are spaced 5" apart, that spot will be much cooler than areas with correct wire spacing.
Some people don't realize that heat only travels 1-1.5 inches laterally from a wire. This phenomenon is shown in the picture at left. This is why a small heating mat placed in the middle of a floor will not heat the entire floor surface in that room - it will only heat the area directly above it. Areas without cable are shown in blue in the pictures. The bluer the area, the cooler one can expect it to be.
We found this system working just fine; the only problem was that there were slight temperature differences between different areas of the floor. Using an infrared camera, we discovered that it was 7-8 degrees warmer in one area where the installer used free-form wires, and the distance in between wires was less than 2". Once the customer could see where the wires were in the floor, they understood the slight temperature differences.
WarmlyYours offers industry leading signature services including 24/7 technical and installation support for all our products and services. You can access that by calling us toll free (800) 875-5285. For the latest product and service information, just visit our website WarmlyYours.
---
Tell us About your Project
Our team of Radiant Experts is ready to help! Just tell us a little about yourself and your project to get started.
---
Did you find this post helpful?
Let us know by giving it some applause.
---
---