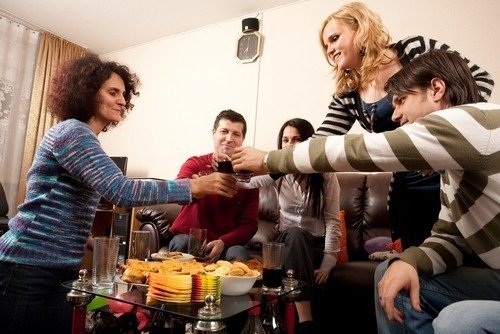 Parties during the summer are pretty simple. If you've got a yard, deck, patio, pool or any kind of outdoor space, everyone congregates there and enjoys some good food and drinks. Winter parties can be a bit more difficult. While everyone's happy to hang out indoors, if conversation stalls there's certainly not much to do - no wiffle ball, bocce or swimming in December or January! If you're looking for a few great indoor party ideas, you've come to the right place - but first you might want to consider how you're keeping your guests warm.
If you haven't yet heard of radiant floor heating, now's the time to familiarize yourself. This green and energy-efficient method of keeping a home toasty warm is a vast improvement over the forced hot air methods of yesterday. Rather than using dusty ducts to push warm air around, radiant heat uses all-natural convection currents to keep your home cozy from the ground up. It provides better air quality and excellent temperature control, making it a perfect pre-party addition, guaranteed to improve on any of these ideas.
Nintendo Wii party
It may shock you to find out that a video game can be just as much fun for the over 25 crowd as it was back when you were kids at the coin-op arcade. With a plethora of fun Wii games ranging between bowling, Jeopardy or a classic Mario Bros. title, you and your friends will have a blast playing competitively and cooperatively all evening long.
NFL gameday party
For many, the winter's built-in party excuse is three letters long, N-F-L. These make for great brunch opportunities as many weekend games are mid-day, so get busy in the kitchen mixing up batches of your very best comfort food. Then grab a bunch of beers for the fridge and settle in with your favorite jersey on.
Board games party
While Monopoly, LIFE and the many other games of your childhood stand up well, there are a multitude of options out there. Wordy friends might enjoy Scattergories or Cranium, while the more strategically minded will never turn down rounds of Risk or Settlers of Catan. Of course, if you really want to get nerdy, there's always that trusty old standby - Dungeons and Dragons.
---
Tell us About your Project
Our team of Radiant Experts is ready to help! Just tell us a little about yourself and your project to get started.
---
Did you find this post helpful?
Let us know by giving it some applause.
---
---