You won't be surprised to learn that sales of floor heating systems often follow a seasonal pattern with a busy season that peaks in late winter.
Makes sense, right? Who's thinking about warm floors when it's July and it's hot enough outside to make eggs Florentine on the sidewalk. What you might not know is that floor heating sales can often follow regional patterns. And this makes sense too—when you look at when floor heating is installed.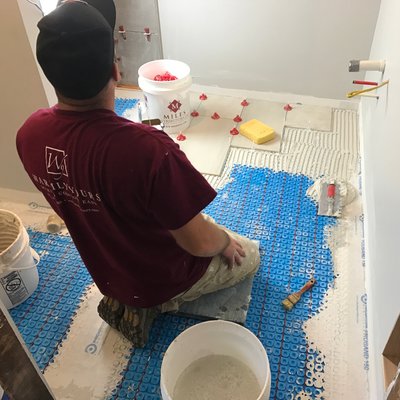 Radiant heating systems, particularly floor heating ones, are often installed as a part of a larger remodeling or new construction project. This is because the floor typically needs to be replaced in order to facilitate the new heating system. While a homeowner can choose to remodel at any point, the majority of that activity occurs when a home is being sold or purchased. The great thing about this is that this data is already being tracked by groups like the National Association of Realtors, the Joint Center for Housing Studies of Harvard University, and plenty of other sources.
Another useful resource is the recently published WarmlyYours "2017 Third Quarter Industry Report" which analyzes the performance of radiant heating products within the wider context of the remodeling and housing markets. You can watch a video summary of the reports major findings here.
As we enter the 2017-2018 busy season for floor heating, let's take a look at where underfloor heating is growing in popularity and where we expect it to increase.
Nationally: The Midwest and East/West Coasts Love Warm Floors
I don't think that anyone would be surprised that WarmlyYours year-to-date sales have been largely located in places that are infamous for their winters like New York, Boston, and Chicago. The Great Lakes (18%) and the U.S. Mideast (24%) continue to dominate in-floor heating sales.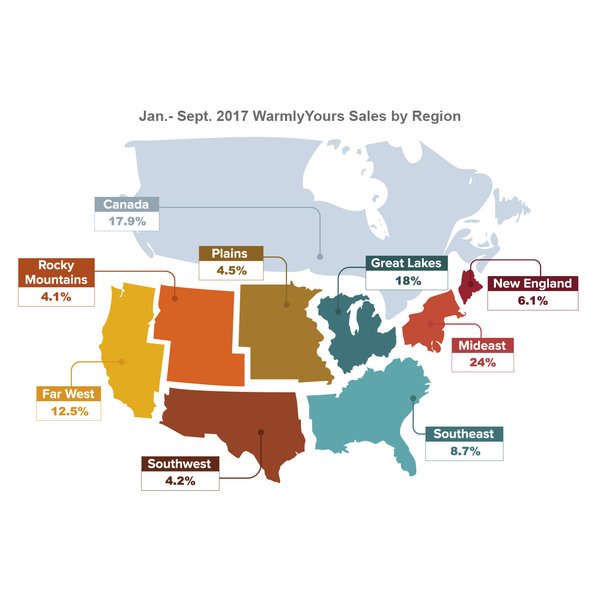 But people may not realize how much radiant heating is sold on the West Coast. In fact, in Q3, radiant heating sales grew 32.9% in Los Angeles alone. Oregon and Washington also contributed to constituting 12.5% of our total sales.
One region we definitely recommend you keep an eye on is the Rocky Mountain region. With new construction activity in Colorado and growth projected in Utah, we're expecting that area to grow quite a bit in the near future.
Metro Markets Poised to Contribute Sales Growth
Along with the previously mentioned L.A., several other major metro markets performed very well in the third quarter of 2017. These included Seattle (up nearly 50%), Chicago (up 15%), and Detroit (up 14%). Most of this growth is the result of significant job growth drawing new residents to these urban centers.
In the third quarter report from WarmlyYours, we have also identified several new markets that we expect to see fourth quarter growth in. This growth is due to a number of factors. 
Buffalo, NY: Projected Q4 Sales Growth of 5%
-       WarmlyYours saw quarter-to-quarter growth of 117.05% in Q3.
-       This market has seen a 3.3% bump in high paying jobs in August between 2016 and 2017.
-       A hot housing market, coupled with relatively low home values, could mean a short term boost in sales activity.
-       High annual snowfall (94 inches) may lend itself to snow melting sales.
Salt Lake City, UT: Projected Q4 Sales Growth of 5%
-       48.47% increase in Q3 WarmlyYours sales.
-       High percentage of homeowners (63% of residents).
-       Saw a 2.4% increase in total number of jobs between August 2016 and August 2017.
-       Home values haven't increased as rapidly as other markets, so sales activity will be less hindered.
Houston, TX: Project Q4 Sales Growth of 15%
-       Q3 ended with a 55.34% increase in WarmlyYours sales.
-       Kilowatt per hour pricing is significantly lower than national average, making electric heating an attractive option.
-       In Q3, new building permits and new construction starts were up 4.2% and 7.2% respectively from prior-year-period.
-       Over 100,000 homes were damaged or destroyed by Hurricane Harvey, and recovery efforts are in full swing.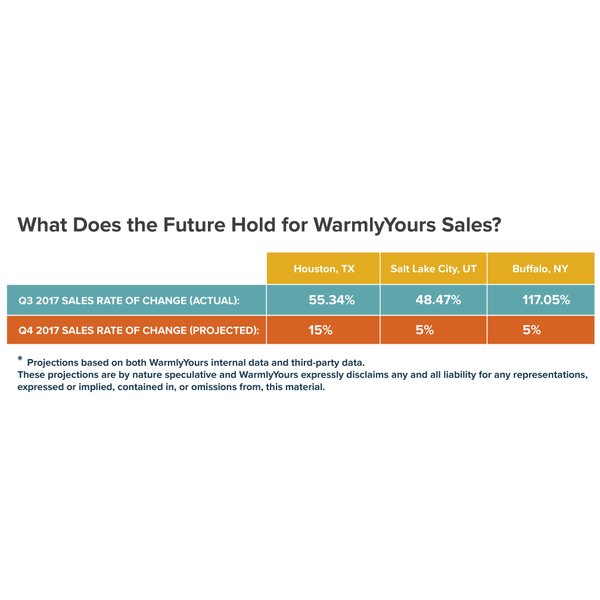 Have you noticed an uptick in floor heating activity in your area? Let us know in the comments below. 
---
Tell us About your Project
Our team of Radiant Experts is ready to help! Just tell us a little about yourself and your project to get started.
---
Did you find this post helpful?
Let us know by giving it some applause.
---
---