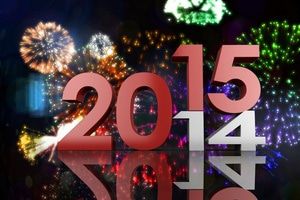 Now that 2014 has officially come to a close, we at WarmlyYours Radiant Heating hope you had a successful year. It was a privilege to play a role in any of your home improvement or new construction jobs.
As we look forward to 2015 and all of the new projects it holds, we'd like to take a moment to look back on our most popular blog posts from this past year that struck "home" (pun intended) with you all. Unsurprisingly, many of our most popular blogs were tech tips, reflecting your "can-do" attitude, along with several blogs that spotlight the unique, wide applications for electric radiant heating.
Below, you'll find our Top 10 most-read blogs and a summary of what they are about. As you think about what's to come in 2015, we hope that you'll remember or revisit these blogs. After all, learning from the past can help you prepare for the future.

Before the installation process begins, it's important to understand exactly what latex-modified thinset and self-leveling compound is, as well as the pros and cons of each. It is something this blog explains quite nicely.

There are two different kinds of electric heating cables – self-regulating and constant wattage – and both can serve the same purpose, although the application will typically determine the best solution for the job. Clear up any questions you may have about the two in this blog.
When it comes to installing floor heating with Schluter®-DITRA, this blog shows how the process works: think "installation sandwich."

When planning a remodel of your bathroom, small changes can have a major impact on the feel and function of the room. The 11 suggestions in this blog are often overlooked yet clever ways to make a statement in the bathroom. Think of them as tiny renovations or mini-makeovers.

The decision to install radiant heating splits between installing hydronic or electric radiant heating, and the question on the homeowner's mind is always: Which type will be more efficient, cost-effective, and the easiest to maintain? This blog makes the case for electric radiant heating.

Transforming a seasonal porch into an all-year room is an excellent time to install a floor-warming system (link to: www.warmlyyours.com/floor-heating) that generates radiant heat. It's an energy-efficient heating source that creates a uniformly heated room that's regulated by a simple electric switch.

If you call a basement or garden-level apartment home, you'll be particularly interested in this blog. While lower-level spaces are naturally cooler in the summer, you need special strategies found in this blog, including heated floors, to keep your low-level domicile warm in the winter .

We understand if you're skeptical that radiant heating would make snow blowers obsolete. It's a big claim, but when you see the image in this blog, you just might change your mind.

WarmlyYours is all about finding new and unique ways to enhance our customers' and their families' lives with our radiant heating products. Read this blog to learn how radiant heating improves the health and happiness of dogs. You'll be inspired to see just how many applications WarmlyYours' products can be used in.

Many homeowners ask this question: Can you install electric radiant heat under wood floors? This blog explains — in detail — why the answer is both "yes" and "no." Read on to find out what will work in your home.
Did you have a favorite blog that didn't make the cut? Let us know on the  WarmlyYours Facebook page, or tweet it to us at @WarmlyYours.
Like this post? Subscribe for regular updates
Make sure you don't miss out on the latest news in radiant heating by subscribing to our blog. We'll send you an email with links to the newest posts from WarmlyYours.
We won't share your information and you can unsubscribe at any time with a single click.
---
Did you find this post helpful?
Let us know by giving it some applause.
---
---