Second quarter sales growth of radiant heating products was driven in large part by growth in both homeowner and trade customer segments as many people, stuck at home due to COVID-19 related lockdown measures, appear to have turned toward remodeling projects. Interestingly, this trend applied to both floor heating and snow melting sales.
This second quarter growth was set against the uncertainty surrounding the long and short term impacts of COVID-19. And while the future still contains a multitude of variables, we're confident that these growth channels will continue to show improvement in Q3 2020 due to a number of new service related advancements for WarmlyYours. Additionally, several key additions to the WarmlyYours product portfolio also played an important role in increased radiant heating sales.
In this report, we'll take a closer look at the causes of these developments along with analyzing the performance of radiant heating product sales within the larger context of the remodeling and housing markets.
Second Quarter Growth During Coronavirus Lockdowns
While much of the world had already instituted some form of COVID-19 related lockdown measures by the end of Q1, it was the second quarter where the impacts of the global outbreak began to be compounded.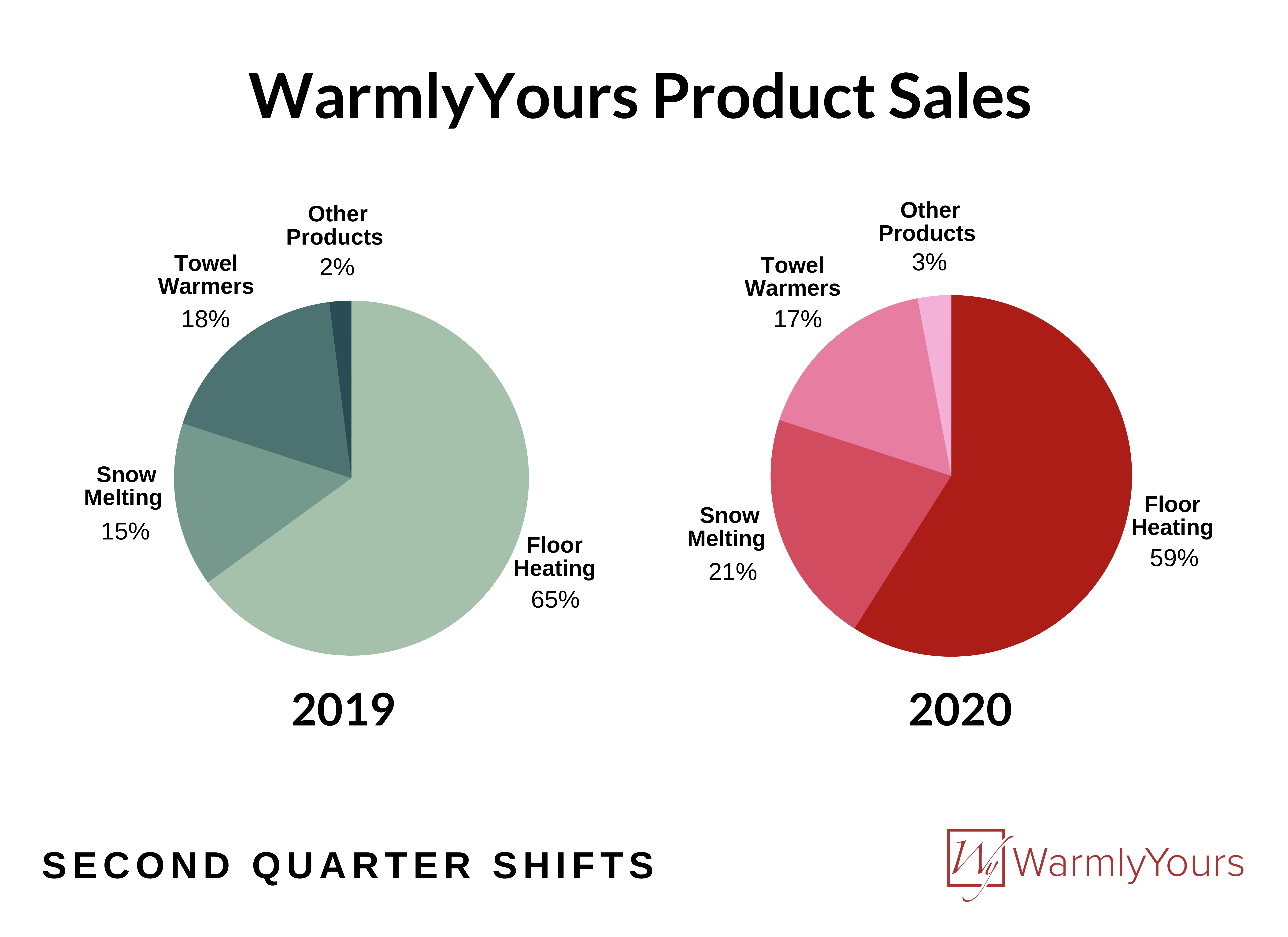 Beyond the incalculable costs in human life, the negative repercussions of the virus can't be overstated as the GDP dropped a record setting 32.9%. According to NPR, "The economic shock in April, May and June was more than three times as sharp as the previous record — 10% in 1958 — and nearly four times the worst quarter during the Great Recession."
Obviously the abrupt nature of a viral outbreak and corresponding lockdown measures helps to explain some of the immediacy and severity of the drop. Similarly, WarmlyYours did see a pretty significant drop in sales during April (down 9.4% from the previous year) but that was largely due to Amazon shifting to prioritizing essential products in March. However, May saw an incredible uptick in sales of 18.3% with growth in nearly every customer segment. By June, radiant heating sales were essentially flat when compared to the previous year. All of this led to a cumulative growth rate of 2.1% in Q2 2020 when compared to the prior year period.
This growth came from both floor heating and snow melting product lines. However, snow melting had the more accelerated growth rate as it increased from 15% of total WarmlyYours sales in Q2 2019 to 21% in Q2 2020. While floor heating as a whole decreased from 65% (in Q2 2019) to 59% (in Q2 2020) of all sales, there were still several specific heating elements which had substantial sales growth.
Second Quarter Product Growth Vectors
In the second quarter of 2020, WarmlyYours saw several floor heating product lines show significant growth. Chief among them was the TempZone Easy Mat which was up 31.2% compared to the same time last year. A large, driving factor has been the increasing popularity of spot heating in small bathrooms. Spot heating is the practice of only installing heating elements beneath the most high traffic areas in a room to help cut down on both material and operational costs.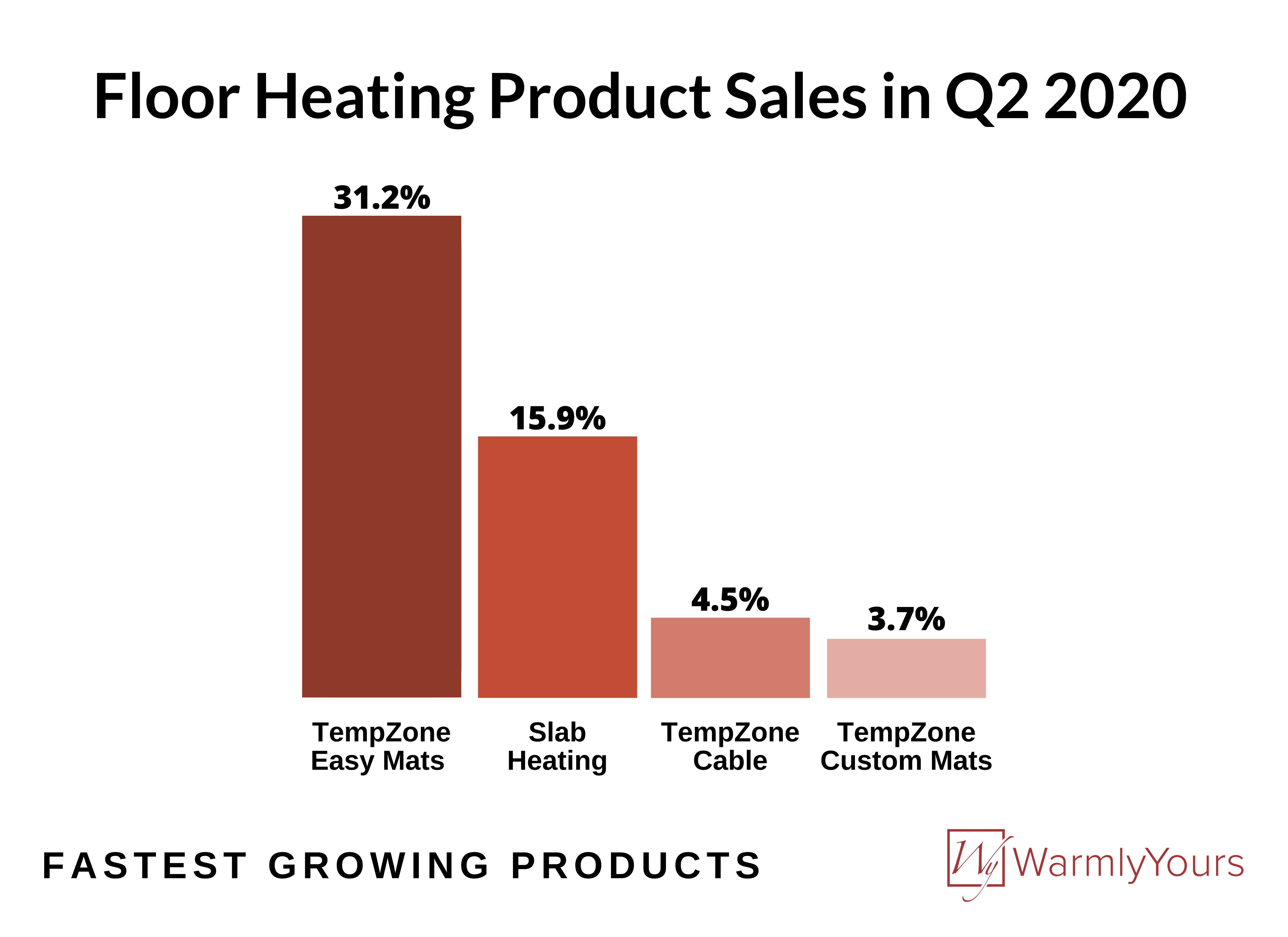 Other floor heating elements that were growing in popularity were Slab Heating (up 15.9%), TempZone Cables (up 4.5%), and TempZone Custom Mats (up 3.7%).
Snow melting had the largest volume increase for sales and grew 37.8% compared to last year. This is despite a relatively mild winter in late 2019 and early 2020, as harsh winters are typically a strong driver of snow melting sales. The fastest growing products were 208V cables at 379.7% growth, followed by 120V cables and 240V cables with 161.9% and 32% growth respectively. 120V mats also showed a sizable uptick at 23%.
The interesting trend in snow melting has definitely been the increase in cable sales vs. mats as mats are typically easier to install (though are also more costly) than cables. The increase in cables does come down to a couple of dynamic factors: variety of available voltages and project types.
Snow melting cables are available in 120V, 208V, 240V, and 277V variants. 208V and 277V are popular with commercial projects and that can help explain some of the popularity of cables as a whole. Also, the type of project that is being heated plays a role in the heating element that is used. Typically, cables are a good choice for irregular project shapes (for example, a circle driveway) as it can be difficult to make mats fit these shapes. Also, cables are the only heating system that we recommend for heating stairs.
Perhaps one of the most significant driving factors for snow melting cable sales growth was a concerted effort by the WarmlyYours sales and engineering departments to geo-target snow melting quotes with different spacing intervals between the heating elements based on historical weather patterns in the area being quoted. The default setting for snow melting heating element spacing is 3" between runs of the cable. However, if an area has lower snowfall levels than average, this default spacing might be overkill resulting in more cable than necessary being used for the installation and higher operation costs than needed. Instead, WarmlyYours has been quoting heating systems with more space between the heating elements in areas with less typical snowfall. The homeowners can of course choose the default spacing option but the modified, geo-targeted option will result in lower product costs and lower operational costs. This effort has proven to be a pretty successful driver of snow melting cables so far.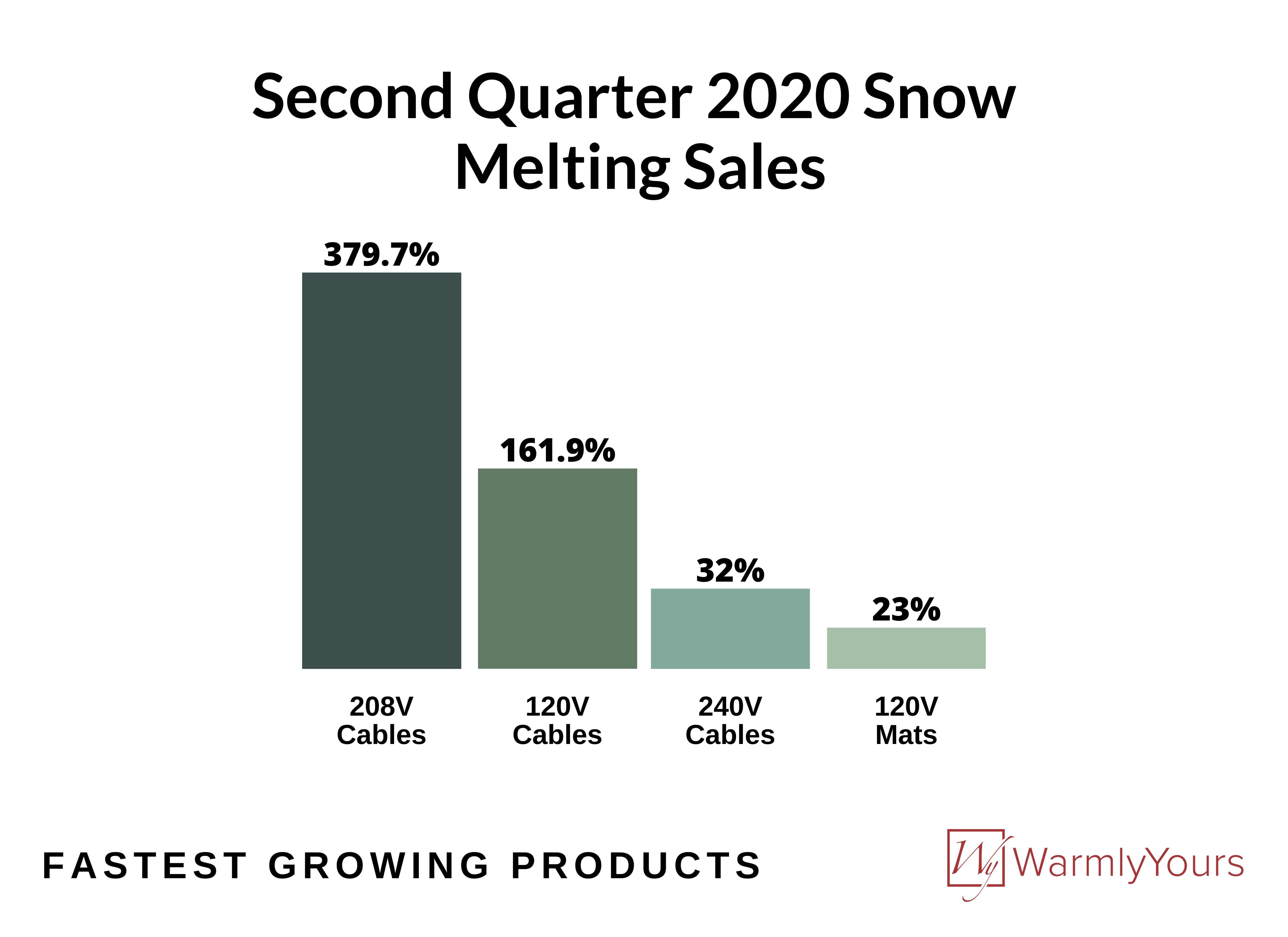 We do expect to see a continued improvement for these product lines as we move closer to the end of the year.
Customer Segment Growth in Q2 2020
One of the most encouraging elements from Q2 2020 has been that our homeowner and trade professional customer channels were responsible for the largest increases in sales of radiant heating products. Presumably the increased amount of time that homeowners have spent in their domiciles during lockdowns has resulted in a desire for improved comfort and an updated look, which has in turn resulted in more trade professionals purchasing radiant heating products on behalf of their clients as well as many homeowners purchasing direct.
When comparing the second quarter of 2020 to the previous period in 2019, WarmlyYours saw significant upticks in sales for the homeowner and trade professional customer segments (two of the largest customer segments for WarmlyYours by sales volume). Homeowner sales were up 57.3% and trade professional sales were up 4.6% in consolidated sales. While the trade professional channels growth was slower than homeowners, the total sales volume increase was very comparable. To illustrate how truly significant the impact of these particular channels was for WarmlyYours, they helped generate over 50% of all second quarter sales for the company.
Homeowner and trade professional channels typically share a causal relationship when it comes to sales growth as they both rise as a result of an increase in consumer demand. This extends even to Home Depot (up 57.1%) and Costco (up 24.6%) sales of WarmlyYours products as well as they essentially represent a combination of DIY homeowners and some trade professionals. In fact, both retailers posted significant second quarter gains with Costco (up 10.5%) and Home Depot (up 23.4%) when compared to the prior year period.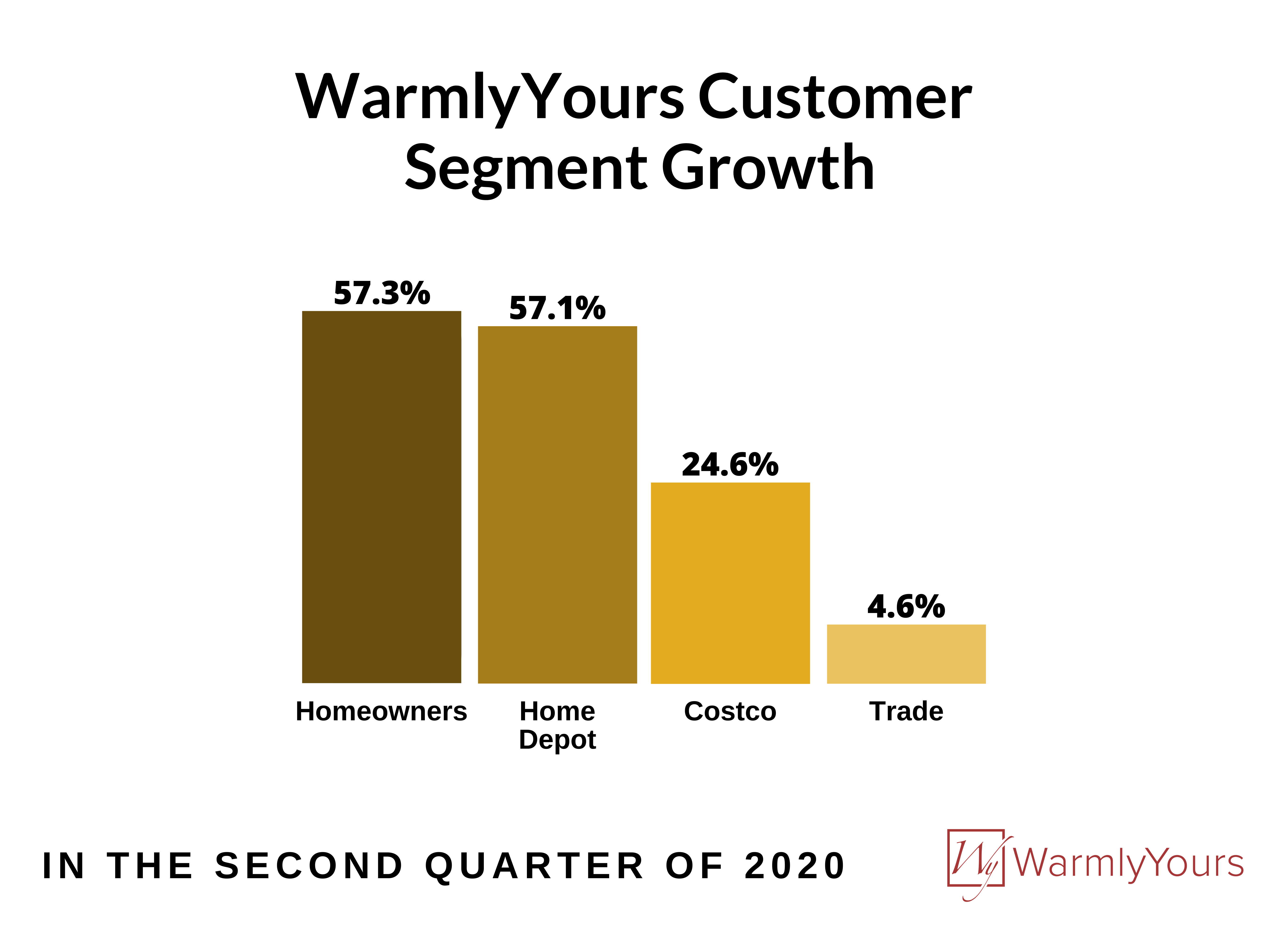 This increase in consumer demand is in sharp contrast to the projections put forward for remodeling expenditures for this time period. The reasoning for the expected shortfalls in remodeling activity were largely tied to concerns about trade professionals not receiving as many project requests during lockdowns. And while we can't really speak to comprehensive shifts in remodeling activity as a whole, it is clear that both floor heating and snow melting sales have experienced significant growth.
Additionally, we saw some sizable increases in radiant heating applications that have proven to be popular with homeowners (and by extension, the trade professionals that they hire for installation). For floor heating, this includes family rooms (up 366.4%), basements (270.5%), and garages (up 106.9%) and for snow melting it was entryways (up 889.1%), landings (up 371.1%), and driveways (108.1%).
Julia Billen, the owner and president of WarmlyYours, believes that these customer channels will continue to grow well into Q3 and Q4 of 2020 due to the recent launch of a new line of radiant heating services offered by the company called SmartServices. The services range from a remote installation supervision option (called SmartGuide) to actual onsite installation of the radiant heating system (SmartInstall) and even a troubleshooting service (called SmartFix) for all electric floor heating systems, even competitors. Billen said that these services were developed to help improve the radiant heating installation experience for both homeowners and trade professionals.
"For homeowners, we're making sure that they have the confidence that their heating system will be installed correctly and that it will function properly for many years to come. For our professional customers, these SmartServices help train them and their teams onsite and in the field with our Radiant Experts," said Billen.
Billen also said that in the very near future, WarmlyYours plans on launching a new certification program for professionals. Once certified, these professional installers will be connected to homeowners in their area that have quoted WarmlyYours products.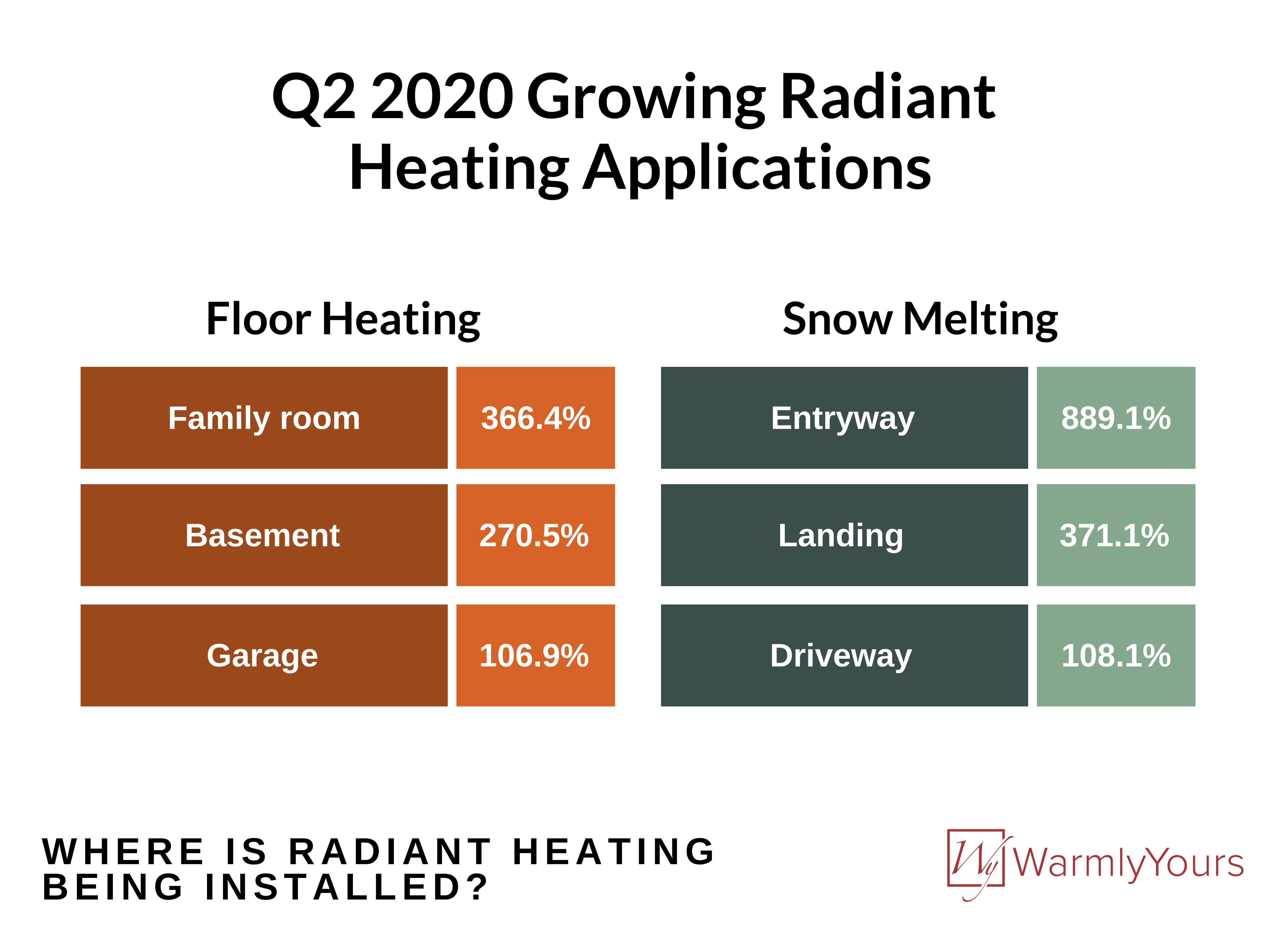 "For us, it's a win-win because we're ultimately training an army of new, professional experts all across the country and we're able to connect them with our homeowner customers for the installation because we're as confident in the installation as if we did it ourselves," said Billen.
Looking Forward for WarmlyYours
Moving forward, projections for remodeling activity appear to be muted by expectations of continued uncertainty surrounding the coronavirus outbreak. According to the Leading Indicator of Remodeling Activity (LIRA), a quarterly assessment from the Joint Center for Housing Studies of Harvard University, spending on remodeling will continue to be dampened into 2021 with current estimates placing the decline at 0.4% by Q2 next year.
"The remodeling market was buoyed through the early months of the pandemic as owners spent a considerable amount of time at home and realized the need to update or reconfigure indoor and outdoor spaces for work, school, play, exercise, and more," said Chris Herbert, Managing Director of the Joint Center for Housing Studies. "However, sharp declines in home sales and project permitting activity this spring, as well as record unemployment, suggest many homeowners will likely scale back plans for major renovations this year and next."
However, despite these projections, home sale activity in the U.S. appears to be on the upswing. According to the National Association of Realtors (NAR), home sales have greatly accelerated in the first month of Q3 2020. July sales of existing homes were up 8.7% from the previous year and 24.7% from June 2020. Lawrence Yun, the chief economist for NAR, said this trend could extend into next year.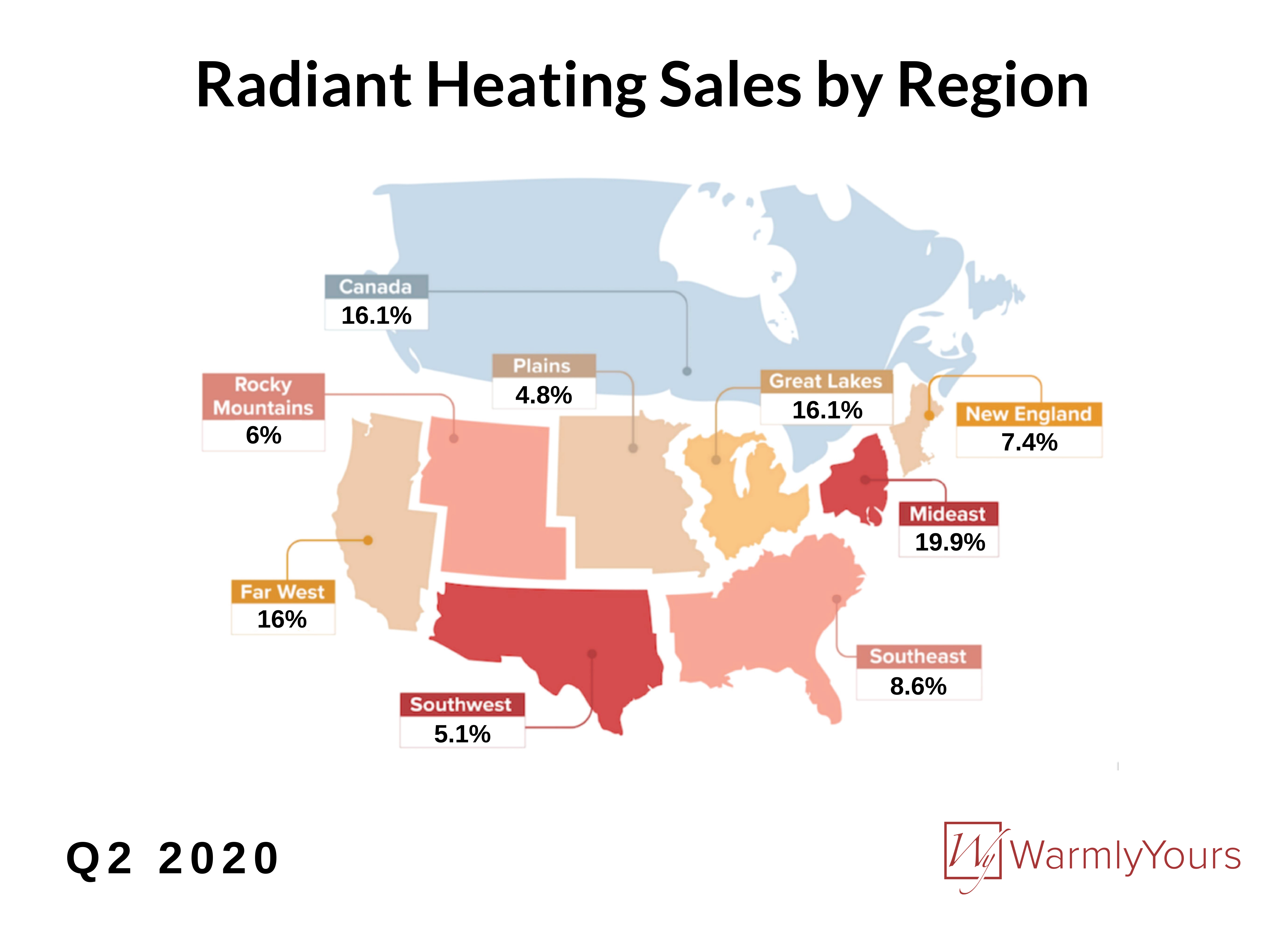 "The housing market is well past the recovery phase and is now booming with higher home sales compared to the pre-pandemic days," said Yun. "With the sizable shift in remote work, current homeowners are looking for larger homes and this will lead to a secondary level of demand even into 2021."
Clearly there are some mixed expectations in the market and the virus's spread/containment will play a massive role in how things play out. However, given the sales activity that maintained itself during the period of highest uncertainty for the virus so far this year, WarmlyYours is confident that radiant heating sales will continue to remain strong well into the future.


Sources:
---
Tell us About your Project
Our team of Radiant Experts is ready to help! Just tell us a little about yourself and your project to get started.
---
Did you find this post helpful?
Let us know by giving it some applause.
---
---