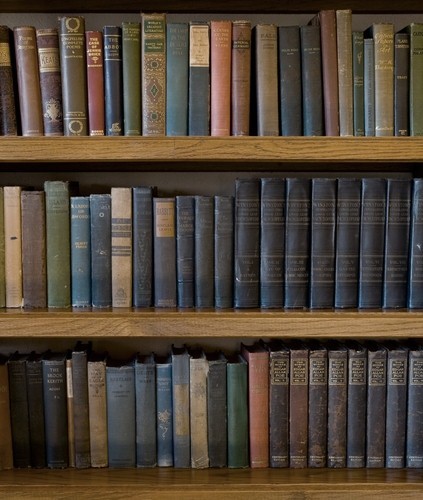 Some people dream of entertainment centers carefully calibrated to give you the very best in surround sound and high definition. Other people want nothing more than a walk-in closet. Families make plans to finish basements, other folks construct greenhouses in their backyards. But one of the most universally yearned-after rooms is a home library.
School and public libraries are quiet and peaceful places, as devoted to contemplative solitude as they are to books. A home library should be no different. It should be the one room in the house where tranquility reigns. Whether you use it to double as a home office, take advantage of the pleasant seclusion for a midday nap or just want a space to keep your collection of books tucked comfortably into floor to ceiling bookcases, renovating a room into a home library isn't a dream you should stifle.
If you're looking for some tips along the way, keep these ideas in mind.
1. The right lighting. Whether you're reading or taking a moment to rest your eyes and your mind, lighting is key to your home library. Let in lots of natural light during the day, and for nighttime consider utilizing lamps and wall lights rather than overhead fixtures that might flood a room too brightly. While everyone knows that reading in poor light is particularly bad for the eyes, oversaturating a room can lead to the opposite of the intended effect - a quiet and relaxing place to escape to sit and think.
2. Radiant heat. Comfort is key. While you're delving into a novel or enthralled by a non-fiction tale, it's always comfy to be curled up in a quilt against the winter cold. But from the chilly fall air to the bitter freeze of February, you'll want a little more control over your warmth than that. Having radiant floor heating installed might be the answer. Not only is radiant heat an eco-friendly and energy efficient option (good for your electric bill and the planet), it's prime for seasonal adjustment. If you want to keep your feet comfortable on a cold late-summer night, radiant heating systems can do that just as well as keeping a room toasty during a winter blizzard. Even better, it fits under most flooring and is a cinch to put in.
3. Caring for books. A room packed with that many books and that much paper also needs protection against mold and mildew. The easiest way to make sure that your air quality remains great is some mild climate control. Invest in a dehumidifier during summer, and don't forget that the best way to air out a book is to take it off the shelf and give it a read!
---