What is the easiest task you can accomplish? Is it doing a push up? Letting your dog out?
How about counting to five?
For most of us, counting to five is a simple, effortless task. And as long as we're counting to five, we'd like to share five easy radiant heating solutions for any and every area in your life!
1. Floor Heating Systems
Electric floor heating can be used indoors or out and installed under a variety of flooring. It comes in different product types designed to accommodate the various sizes and shapes of an area as well as the floor covering choice. Bathrooms are the most popular room for radiant floor heating, accounting for 70 percent of our floor heating orders!
For tile, stone and hardwood floors we recommend our TempZone™ product. For carpet, laminate and floating wood floors, Environ II™ is the perfect selection! And for those large concrete rooms such as garages and basements, our indoor slab heating systems will make those rooms habitable and cozy.
2. Radiant Heating Panels
Winner of 2011 KBIS 'Best of Show' Award, WarmlyYours Radiant Heating Panels are a state-of-the-art glass radiant with ECO-LAVA® principle heating system that will provide you with unparalleled heating performance. Installation is as easy as mounting it on the wall and does not require any building or remodeling.
The LAVA® Glass - Mirror, provides 3 in 1 technology functioning as a Towel Warmer, Mirror Defogger, and Radiant Heating panel. The LAVA® Glass comes in 4 different sizes and is available in Pure-White, White-Green, Red or Black with an optional satin finish. And then the LAVA® Crystal, which is an eye-catching creation of glass with SWAROVSKI elements.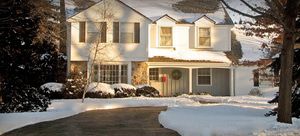 3. Snow Melting Systems
Our Snow Melting products heat driveways, patios, stairways and walkways. In addition we offer roof and gutter deicing because we know that costly water damage can occur with the accumulation of snow and ice on your roof. These systems are equipped with a thermostat, sensor and deicing cable to ensure that as ice and snow melt, there is a free pathway for water to drain properly. For for spot heating for spaces such as entryways, stairs, and walkways, we offer the HeatTrak portable systems.
Our Heated Cable and Mat Snow Melting Systems are designed to install directly in concrete, asphalt, or in mortar beneath pavers, to ensure that your driveway, patio, walkway or stairs are free of snow and ice and safe to walk on! Our Snow Melting products quickly melt the ice and snow eliminating the need for back breaking shoveling and costly plowing.
4. Towel Warmers
Our professionally crafted electric Towel Warmers can fit any budget or decorative style. With several price points, styles, and finishes, our towel warmers are manufactured with superior quality metals and hand-finished for beauty, durability, and comfort.
The Infinity, Riviera, and Portofino Towel Warmers along with our Elements Towel Warmer Collection are designed to be the perfect addition to your bathroom while providing optimal comfort.
5. Mirror Defoggers
Previously available only in spas or luxury hotels, our electric Mirror Defogger allows you to enjoy the clarity of a fog free mirror in your master bathroom. It prevents moisture from forming during bathing or showering by transmitting gentle warmth across the mirror's surface.
1, 2, 3, 4, 5… it was that was easy!
---