Floor Heating Growth Fueled by Cable and Uncoupling Membrane Sales
In spite of an American housing market that was largely stifled by supply concerns, 2017 was a year marked by continued growth led by sustained, quarter-to-quarter increases in sales of electric floor heating cables paired with uncoupling membranes. There were other vectors of growth, particularly in the fourth quarter of the year, including the towel warmer product line, which continues to be a popular option in ecommerce.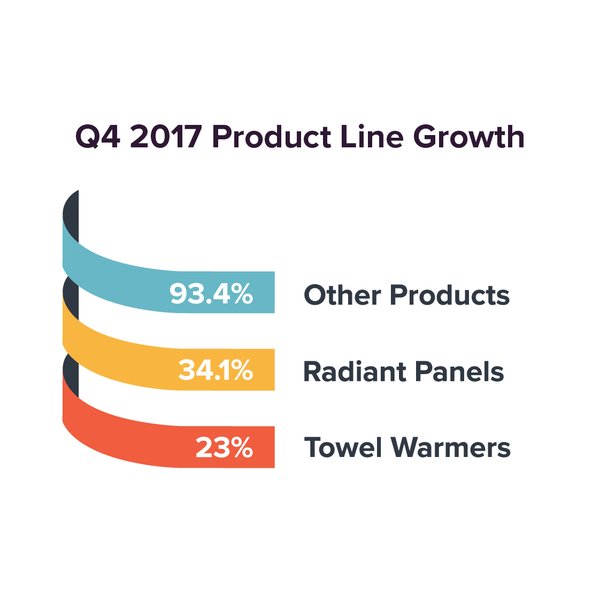 In addition to product growth, this year also marked exciting developments for WarmlyYours in the digital sphere, with a viral YouTube video for snow melting along with significant upgrades to the website, including new product pages. These developments have gone a long way toward both increasing public awareness of radiant heating and improving the customer experience.
In this report, we'll take a look at the performance of radiant heating product sales within the larger context of the housing and remodeling markets, along with offering some of our market projections.
Ecommerce Trend: Sales of radiant heating products with e-tailers increased by 16% in 2017 when compared with 2016.
Floor heating Growth in 2017: Heating Cable/Uncoupling Membrane Combo is a Major Driver
One of the clearest trends to emerge this year was the growing popularity of electric floor heating cable, particularly when combined with an uncoupling membrane. Sales of our TempZone 3.7-watt Floor Heating Cable grew in 2017 by a whopping 45.7%. Between 2016 and 2017, this product grew from 11% to 17% of all floor heating sales. While our TempZone Flex Roll, a cut-and-turn system composed of a heating element attached to a fiberglass mesh, is still our flagship product line in terms of sales volume, it does appear that the cable product has not only expanded total sales, but also supplanted about 3% of TempZone Flex Roll's market share.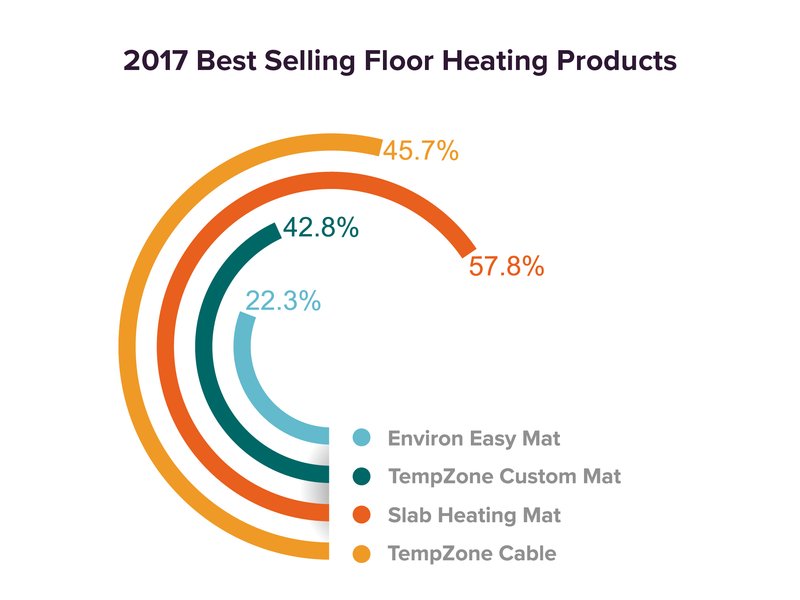 The TempZone Floor Heating Cable can be installed with fixing strips, thermoplastic strips which are attached to the subfloor and hold the cable in properly spaced intervals via tension; however, it is growing more popular to pair it with an uncoupling membrane like the Prodeso Cable Installation Membrane. This product not only provides the framework for properly spacing the heating element, it also significantly decreases the amount of time a professional needs to spend installing embedded radiant heating. In addition to these benefits, the decoupling membrane also provides the ability to waterproof the subfloor (with accessories), prevent subfloor cracks from telegraphing upward, and protect the floor from foundational movement.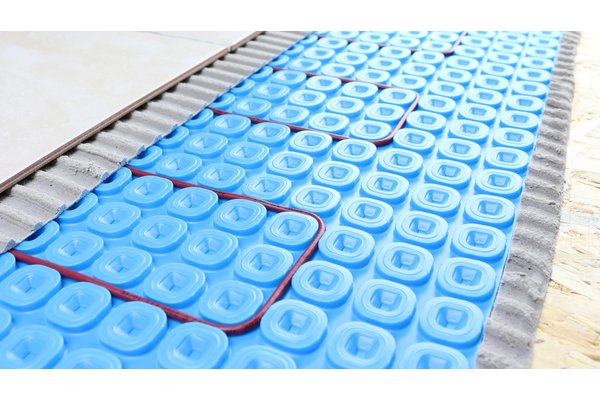 The Prodeso Membrane finished 2017 up 53.4% from 2016. This marked an impressive shift from 31% of all underlayment sales in 2016 to 43% in 2017. While the membrane did experience its first quarter of a decrease in sales (down 1.3% in Q4 2017 vs Q4 2016), we fully expect it to continue to grow in total sales volume to keep pace with consumer interest.
Here's some of the other important developments in 2017:
-   Environ Easy Mats grew 22.3%, TempZone Custom Mats grew 42.8%, and Slab Heating Mats grew 57.8%.
-    208 V Snow Melting Cables grew 32%.
-       The Roof and Gutter Deicing product line grew 1472%.
-       The Sierra towel warmer moved from 8% to 13% of towel warmer sales, the Barcelona grew from 7% to 12%.
-       The Studio towel warmer was discontinued in late 2017.
-       Sales in the "Far West" region of the United States grew 11.2%.
Regional Trend: 2017 radiant heating sales grew the most in California and Illinois, at 14.1% and 10.1% respectively.
Fourth Quarter Growth Driven by E-tailer Sales of Towel Warmers and LED Mirrors
The fastest growing product line for WarmlyYours in the last quarter of the year was "Other Products" which is composed of LED mirrors, mirror defoggers, and countertop heaters, all of which showed growth this quarter. Countertop heaters grew 350.8% in Q4 and mirror defoggers grew 33.4%. The largest volume addition for this product line was actually LED mirrors, which was due to the 2017 launch of the Marquee Series of LED mirrors. This product line is receiving an update in Q1 2018 that we expect to further drive consumer interest.
Radiant panels also experienced a sales bump in this quarter, with a 34.1% increase. This was almost entirely led by sales of LAVA models, which were up 123.2% while Ember model sales were flat. Towel warmer sales were the most compelling vectors of growth for non-floor heating products. They grew 23% in Q4 2017 to constitute 20% of all WarmlyYours sales, which was up from 13% in the prior year.
In terms of sales volume, the Infinity still led the pack and grew 23% in Q4. However, in 2017, the Infinity fell from 37% to 33% of all WarmlyYours towel warmer sales. The fourth quarter showed significant increases for the Barcelona, which grew 97.5%. This model is free-standing and comes with a simple plug-in electrical connection, which has made it very popular with e-tailers.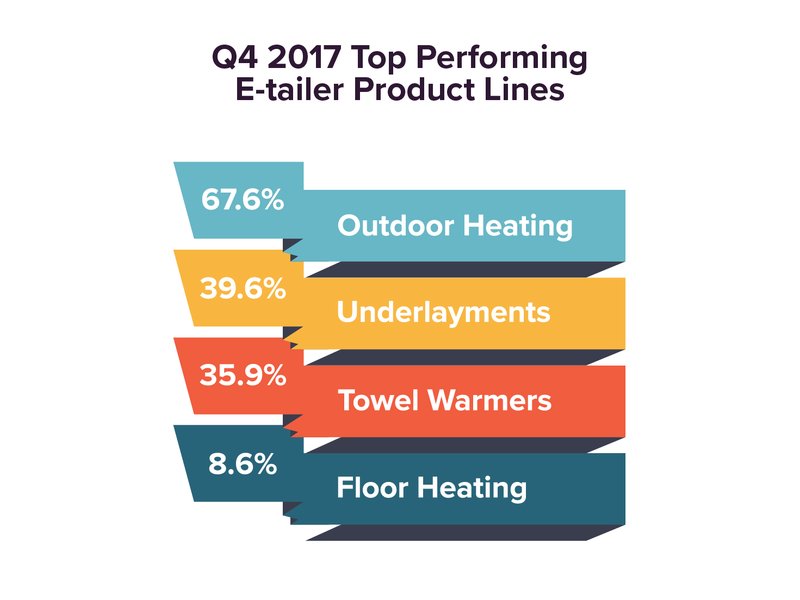 Most of the Q4 growth in e-tailer sales, which grew 30.1% overall, was driven by an 8.6% increase in sales of electric floor heating and a 35.9% increase in towel warmer sales. The fastest growing product line in this category was "Outdoor Heating" with an impressive 67.6% increase, which was as a result of our 2017 launch of DIY friendly roof and gutter deicing kits in partnership with Costco.ca.
Snow Melting Trend: Driveway projects increased from 19.6% of all snow melting applications in 2016 to 31% in 2017.
National Remodeling and Housing Markets: 2017 Faced Severe Shortages of Inventory
2017 was a year marked by consumer desires that were stifled by the limitations of supply. With an extremely low unemployment rate and wages steadily increasing, more and more Americans sought to purchase homes for the first time, but a shortage of available stock has left many potential buyers out in the cold, so to speak. However, not all indicators and metrics are dire.
The Leading Indicator of Remodeling Activity (LIRA), a quarterly publication released by the Joint Center for Housing Studies of Harvard University, projects some growth in remodeling activity in the first quarter of 2018 and then a relative flattening of activity until Q4, when consumer expenditures on remodeling activity will accelerate to 7.5%, a level that hasn't been seen since before the Great Recession.
"Despite continuing challenges of low for-sale housing inventories and contractor labor availability, 2018 could post the strongest gains for home remodeling in more than a decade," said Abbe Will, research associate in the Remodeling Futures Program at the Joint Center. "Annual growth rates have not exceeded 6.8 percent since early 2007, before the Great Recession hit."
Part of this growth will unfortunately be driven by recovery efforts relating to various national disasters from 2017, including hurricanes and wildfires.
"Steady gains in the broader economy, and in home sales and prices, are supporting growing demand for home improvements," said Chris Herbert, managing director of the Joint Center for Housing Studies. "We expect the remodeling market will also get a boost this year from ongoing restoration efforts in many areas of the country impacted by last year's record-setting natural disasters."
Hurricane Harvey alone damaged 203,000 residences, many of which were destroyed. However, many of these disasters occurred in areas with strong economies and in some cases, like Houston, these markets were one of the few in the nation with an over-supply of housing units, which helped absorb the brunt of the economic impact.
Houston experienced an initial supply crunch as longer-term aid workers and displaced residents sought lodging. But in the fourth quarter of 2017, sales of single family homes in the city grew 7.4%. This growth, plus December 2017 sales being up 4.1% higher than prior year, helped push Houston sales of single family homes up 3.5% for the year.
This lines up closely with the sales activity that WarmlyYours saw in the Houston market from the same time period. In Q3 2017, we projected a conservative estimate of 15% growth in radiant heating sales—the actual growth rate was a whopping 72.1%.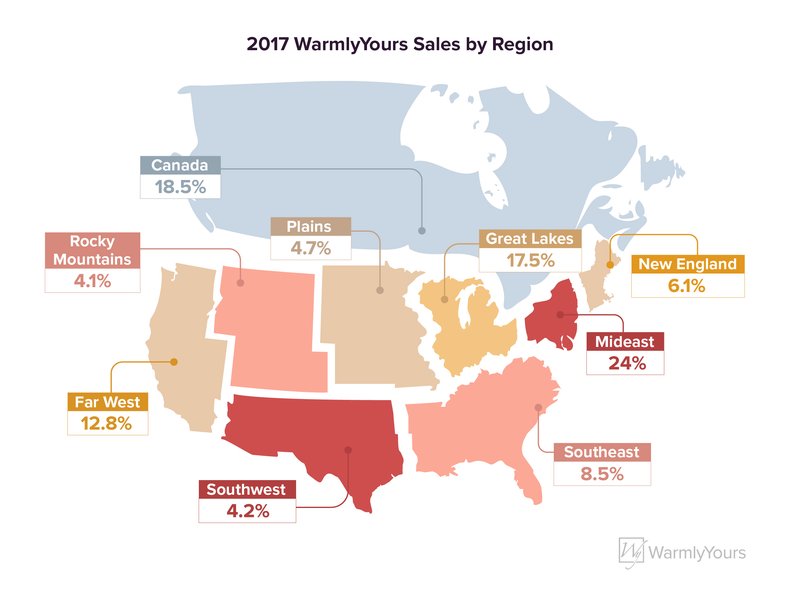 Floor Heating Trend: It's not just for bathrooms and kitchens anymore. In 2017, we heated 19.7% more living rooms than the prior year.
In the last quarter of 2017, there was a noticeable ebb and flow of home sale activity nationally. In November, sales rates for existing homes soared to 5.6%, which was 3.8% higher than the year before and the highest level in more than a decade (December 2006).
Lawrence Yun, chief economist for the National Association of Realtors (NAR) attributed this surge to a variety of factors in November, including a relative flexibility of supply in the higher priced brackets of the housing market.
"Faster economic growth in recent quarters, the booming stock market and continuous job gains are fueling substantial demand for buying a home as 2017 comes to an end," said Yun. "As evidenced by a subdued level of first-time buyers and increased share of cash buyers, move-up buyers with considerable down payments and those with cash made up a bulk of the sales activity last month. The odds of closing on a home are much better at the upper end of the market, where inventory conditions continue to be markedly better."
This upswing in home sales did not continue in December 2017, when the sales rate dropped 3.8% from the previous month. However, total sales of single family units were 1.1% higher in 2017 than the previous year. Yun identified that the overall growth in home sales was in spite of a low level of inventory that plagued the housing market throughout the year.
"Existing sales concluded the year on a softer note, but they were guided higher these last 12 months by a multi-year streak of exceptional job growth, which ignited buyer demand," said Yun. "At the same time, market conditions were far from perfect. New listings struggled to keep up with what was sold very quickly, and buying became less affordable in a large swath of the country. These two factors ultimately muted what should have been a stronger sales pace."
There are essentially only two possible sources of alleviation for the issue of low inventory in the housing market—a decrease in demand or an increase in supply. With 148,000 jobs added in the U.S. in December (and a cumulative net gain of 2 million jobs in 2017) and wages growing 2.5% over the year, it seems unlikely that demand will abate. However, things do look more positive regarding the supply. For November 2017, the U.S. Commerce Dept. reported that the building of single family homes was up 5.3%, the highest level since September 2007. According to the U.S. Census Bureau and the U.S. Dept. of Housing and Urban Development, the December 2017 number of single family home building permits were up 2.8% from the previous year.
As jobs and wages continue to increase, we can expect that the market will incentivize even more builders to increase production. It's worth acknowledging that after that point is reached, there will be a period of some latency until supply and demand reach equilibrium.
Flooring Trend: For floors heated by WarmlyYours, Luxury Vinyl Tile floors grew 47% in popularity between 2016 and 2017.
Electric Radiant Heating Market Projections for 2018
Moving forward into 2018, WarmlyYours expects to see growth in several areas. One such vector is growth in sales of snow melting products due to both higher national levels of snowfall in the 2017 – 2018 winter (compared to prior year period) and the continued popularity of a WarmlyYours viral YouTube video about installing snow melting in an asphalt driveway.
We also expect to see major growth in 3 major metro markets: New York; Washington, D.C.; and Los Angeles. While Zillow predicts that home prices will trend upward in 2018, the pace is much more mild than other metro markets which should allow some homebuyers to purchase homes or trade up. These are historically high-performing markets for us and already the January 2018 sales are on track for growth. Los Angeles is our frontrunner with a projected rate of change between Q4 2017 and Q1 2018 of 25%.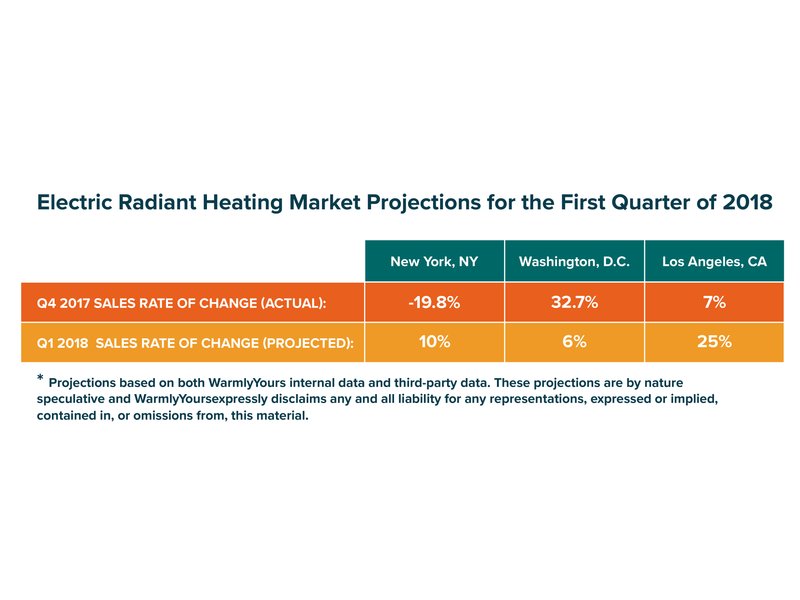 Julia Billen, president and owner of WarmlyYours, said that rising national wages (up 2.9% in January 2018 vs. January 2017) will play a key role in the growth of radiant heating sales.
"When it comes down to it, radiant heating is a tangible, attainable way to put extra earnings to good use in your home," said Billen. "Not only do you get to enjoy the comfort—you get to enjoy the added equity if you decide to sell in this bullish housing market."
Sources:
http://www.jchs.harvard.edu/remodeling-market-march-higher-2018

https://www.nytimes.com/2017/09/12/business/economy/hurricane-houston-housing.html
https://www.houstonchronicle.com/business/real-estate/article/Investors-propel-post-Harvey-housing-rally-12428886.php
https://www.har.com/content/mls
https://www.nar.realtor/newsroom/existing-home-sales-soar-56-percent-in-november-to-strongest-pace-in-over-a-decade
https://www.nar.realtor/newsroom/existing-home-sales-fade-in-december-2017-sales-up-11-percent
https://www.nar.realtor/newsroom/pending-home-sales-tick-up-05-percent-in-december
https://www.cnbc.com/2017/12/19/us-housing-starts-nov-2017.html
http://money.cnn.com/2018/01/05/news/economy/december-2017-jobs-report/index.html
https://www.census.gov/construction/nrc/pdf/newresconst.pdf
https://www.zillow.com/new-york-metro-ny_r394913/home-values/
https://www.zillow.com/los-angeles-ca/home-values/
https://www.zillow.com/washington-dc/home-values/
---
Tell us About your Project
Our team of Radiant Experts is ready to help! Just tell us a little about yourself and your project to get started.
---
Did you find this post helpful?
Let us know by giving it some applause.
---
---