The second quarter of 2021 has continued to see increased sales for radiant heating products as WarmlyYours saw its third successive quarter of double digit sales growth.
However, this is set against continued uncertainty relating to both COVID-19 and the national housing market, which continues to suffer from dampened sales activity.
In this report, we'll take a closer look at the performance of radiant heating product sales and analyze the impact that the national housing and remodeling markets are expected to have on future sales.
Radiant Heating Sales Growth in Q2 2021
Consolidated sales for WarmlyYours were up 16.1% in the second quarter when compared to the prior year period. This represented the third successive quarter of double digit sales growth and is largely attributable to the same trends (i.e. increased consumer awareness of radiant heating products and an upward trend in home renovation spending) that helped drive the growth in the previous two quarters. In the US (the sales volume leader), the sales growth rate was 14.5% while in Canada the rate was 24.6%.
The fastest growing product line in Q2 2021 was radiant panel heaters, which were up 152.9%. This product line has been bolstered by the addition of several economical models from the Ember Flex sub-category. Ember Flex radiant panel heaters are lighter than traditional glass models and can be installed on your ceiling (with accessories).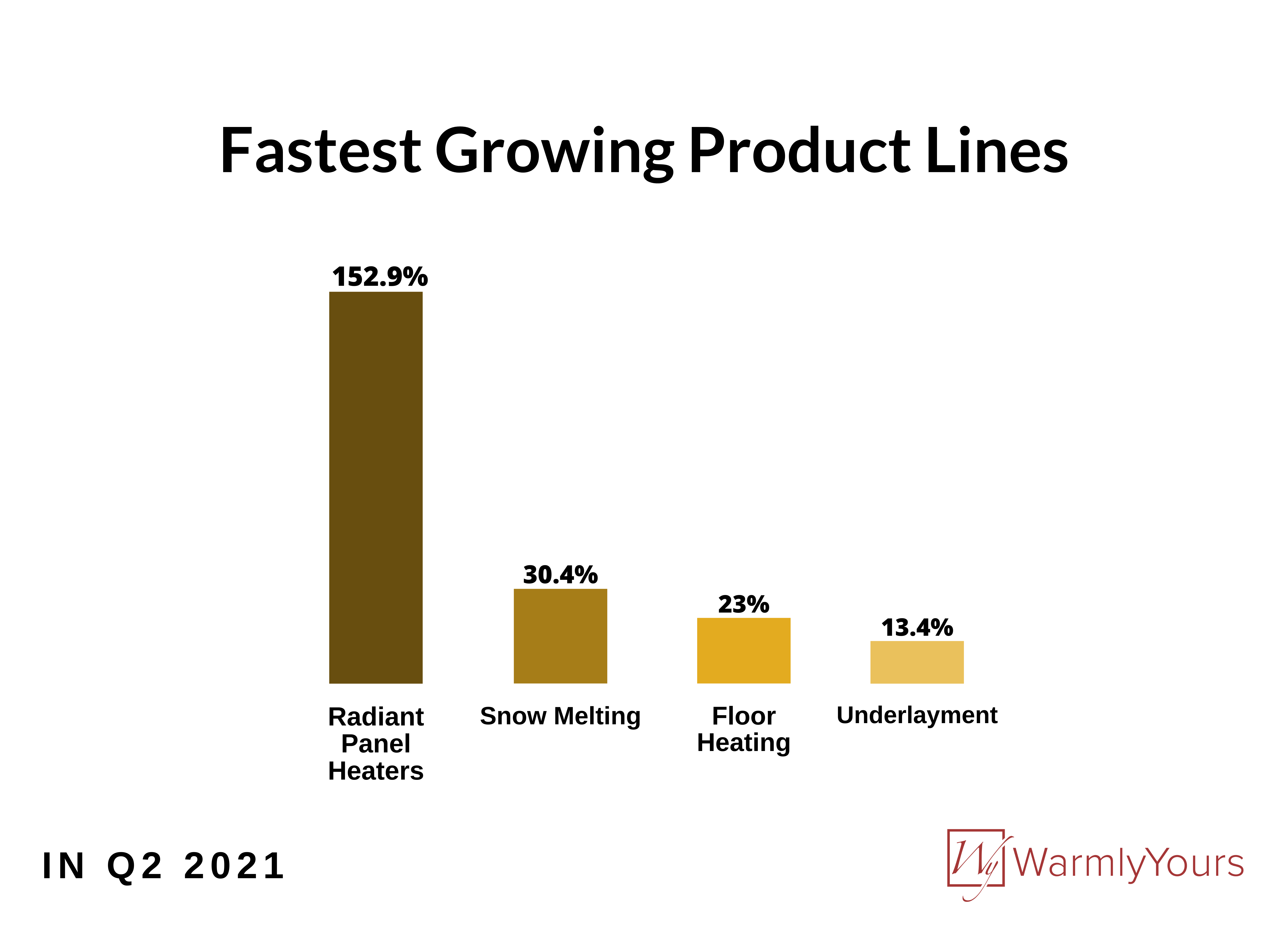 The second fastest growing product line was snow melting, which was up 30.4%. This product designation also covers pipe freeze protection and roof and gutter deicing cables, but snow melting cables and mats were the primary drivers of this growth (up 34.2%).
However, by far, the largest driver of sales growth by volume was in floor heating (and floor heating underlayments) up 23% and and 13.4%, respectively. In underlayment sales, the volume sales leader has been the Prodeso Cable Installation Membrane, an uncoupling membrane, which is up 4.6% in sales. This uncoupling membrane has proven to be extremely popular with both homeowners and trade professionals and has played a large part in the growth of floor heating cable sales, which will be analyzed in greater detail in this report. Cork and CeraZorb, insulating underlayments that help prevent heat loss to concrete subfloors or subfloors located above uninsulated spaces, both had positive quarters with 26.8% and 26% growth respectively.
For floor heating, there was substantial growth among nearly every floor heating product type, which speaks to the sheer demand for floor heating solutions amongst both homeowner and trade professional customers. The Environ Flex Roll led the pack with a sales growth rate of 67.2% which was followed closely by the TempZone Easy Mat at 59.7%. Slab heating cables and mats, used for heating finished concrete slabs, were up 47.6%.
However, the biggest increase in sales volume was definitely from the TempZone Cable (up 22.5%) and the TempZone Flex Roll (up 18.9%). So far this year, the TempZone Cable has made up 27% of all floor heating sales and the TempZone Flex Roll has made up 41%. These two product types have always been the most popular from WarmlyYours but their sales growth rate of change has been particularly impressive over the last couple of quarters.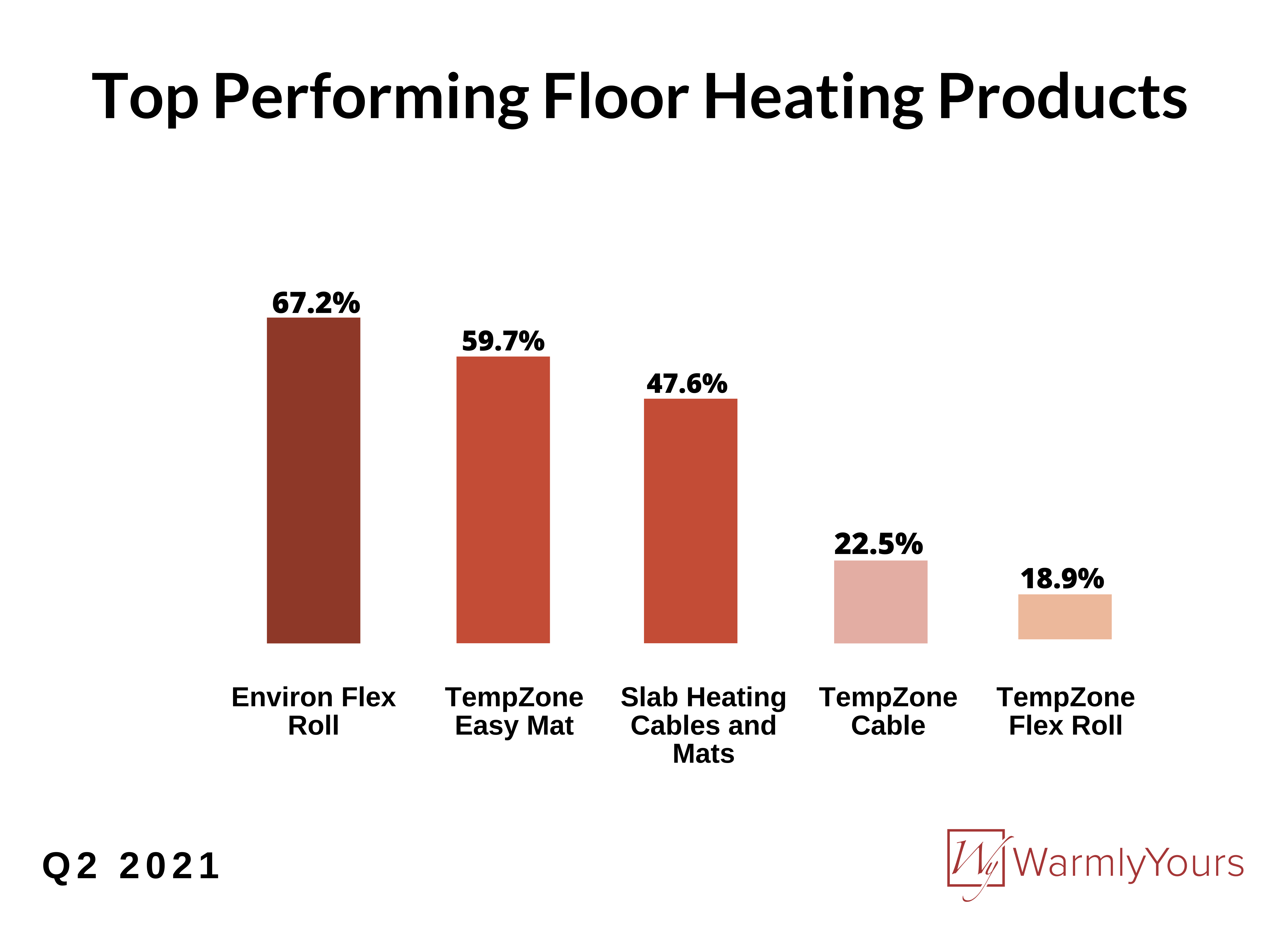 Julia Billen, owner and president of WarmlyYours, said that she believes that cable and roll related heating elements have been enjoying a resurgence in popularity due to word of mouth amongst professional installers.

"Many professional installers will trade tips and tricks with one another in person and online," said Billen. "And once they find a system that they like—one that is easy to install, simple to understand, and most importantly, reliable—then they're going to not only continue to purchase that system but to also advocate for it to their colleagues and clients. And the trusted word of a professional is the best kind of advertising in the world!"
Billen also said that an often overlooked aspect of pairing professionals with a successful floor heating system installation is the design process.
"Making sure that your design team is asking the right questions during the entire process and then using that information to design the system is the secret of our success," said Billen. "And I don't mind sharing that information with the industry because it's not easy to do. We put a lot of time and resources into training our teams to do this effectively and it's clearly paying off."
In Q2 2021, WarmlyYours did see a sizable increase in sales growth for a number of professional customer segments with e-tailers up 33.1%, dealers up 15.7%, and trade professionals up 11.7%. Billen attributed a large portion of this growth to an emphasis on professional development opportunities that WarmlyYours has created such as a new Installer Certification Program that was launched earlier this year. Already the program has seen dozens of professionals in North America complete training programs in both floor heating and snow melting installations. In addition to being provided with a certification, successful completion of the program also includes a referral program that connects WarmlyYours certified installers with homeowners in their area.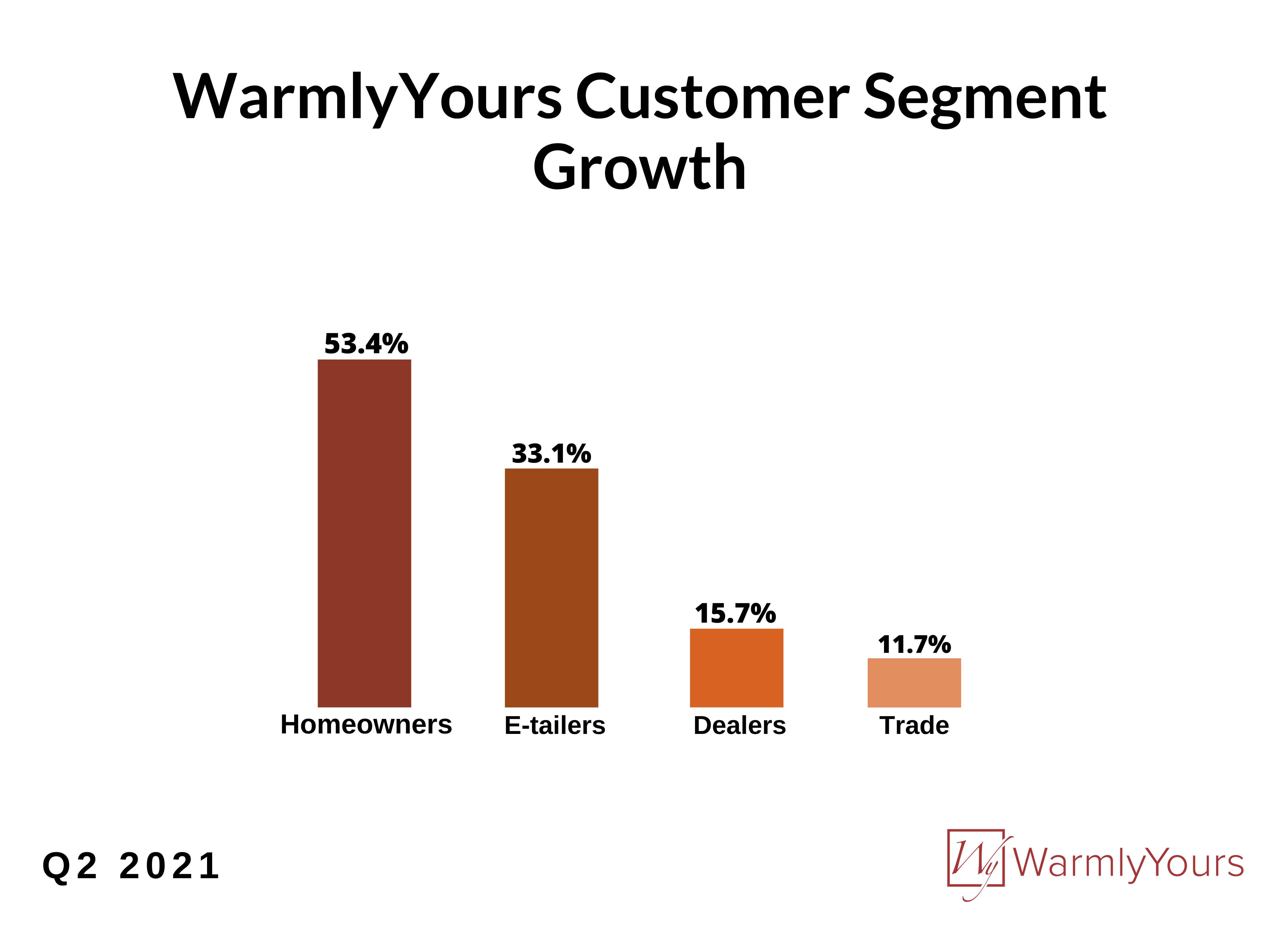 "It's extremely important that every radiant heating system is installed properly," said Billen. "The last thing that we as the manufacturer, or the trade professional for that matter, wants is for the homeowner to turn on their system for the first time that season and for there to be a problem. This certification program helps eliminate that possibility by matching up our superior products with some of the most talented installers in the industry, who are in turn connected with qualified homeowners who often become their customers for life."
In addition to growth in professional customer segments, WarmlyYours also saw a huge increase in direct homeowner sales which were up 53.4%. And while direct homeowner sales are up significantly, it's worth noting that homeowner sales and trade professional sales are closely intertwined because the vast majority of electric floor heating systems are being installed in residential projects.
In many of those residential projects we're seeing some interesting shifts in terms of the flooring types being heated. While tile, marble, and stone floors still reign supreme in terms of sales volume (making up 82.2% of all floor heating projects so far this year), the growth rate for tile was 13.1% this quarter. This is significantly lower than the growth rate for engineered wood (up 118.2%), laminate (up 107%), and vinyl flooring products like luxury vinyl tile/plank (up 88.2%). A big part of the explanation for growth in these flooring types are changes to the types of rooms that are being heated. For example, we saw upticks in basements (up 51.6%), bedrooms (up 24.3%), and home offices (up 2.3%). These room types rarely employ tile flooring but instead utilize other floor coverings like laminate, vinyl, and engineered wood. Despite these room type shifts, bathrooms (and master bathrooms) still make up nearly 60% of all floor heating projects).
We do expect to see the trend of non-bathroom room types increasing for floor heating projects as more and more homeowners turn to having multiple rooms in their home with floor heating.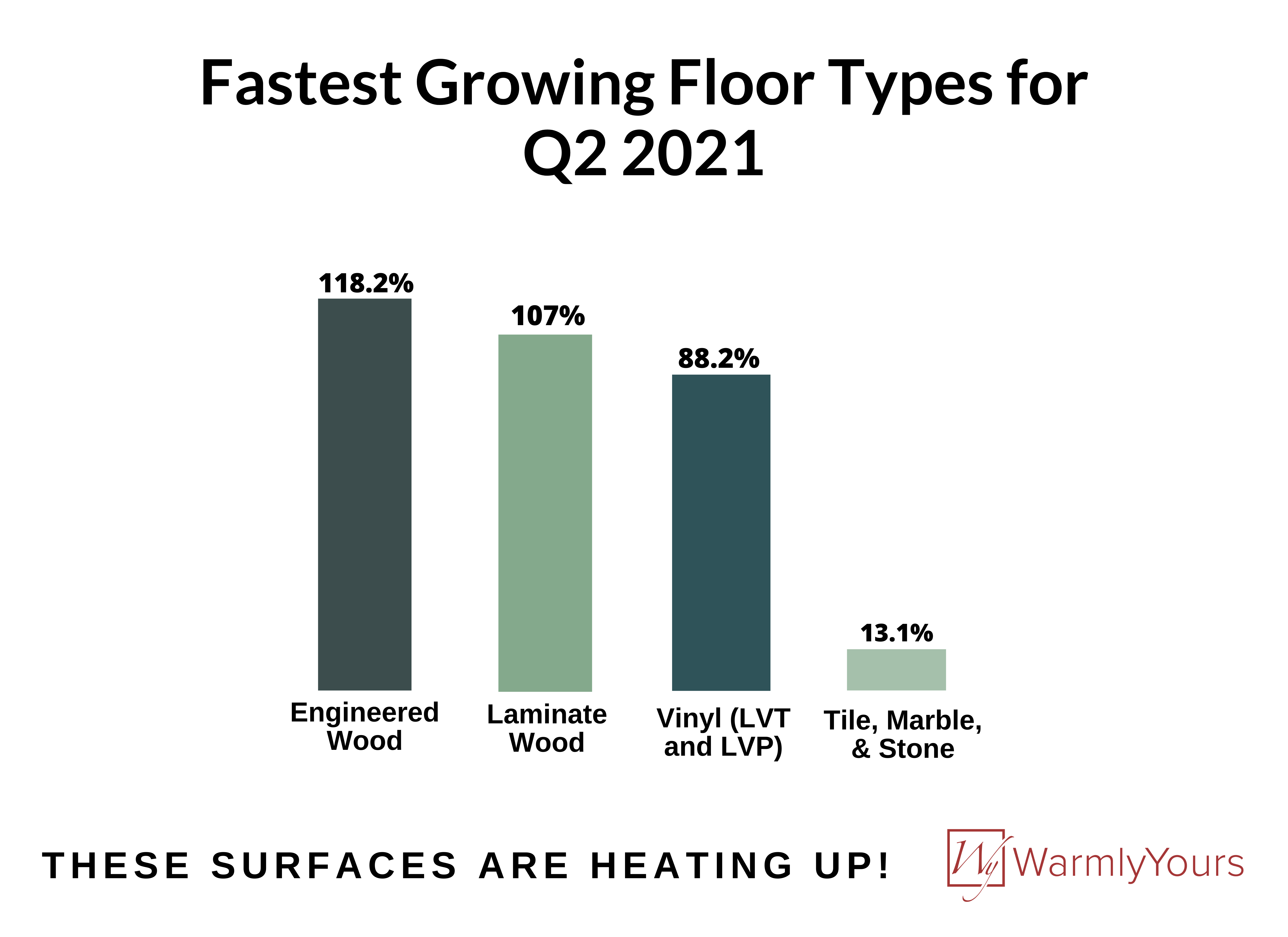 National Housing and Remodeling Markets in Q2 2021
The national housing market has been suffering for a long time from a lack of affordable available inventory, particularly for first time homebuyers who have been largely pushed out of the market by rapidly increasing prices. However, over the last two years, low mortgage rates have seemed to largely mitigate the high pricing.
According to the National Association of Realtors (NAR), the national median home price for single family units has increased 22.9% year-over-year. This extremely rapid increase in price is dwarfed by the increase in home prices in metropolitan areas which are up 94%.
"Home price gains and the accompanying housing wealth accumulation have been spectacular over the past year, but are unlikely to be repeated in 2022," said Lawrence Yun, NAR chief economist. "There are signs of more supply reaching the market and some tapering of demand," he continued. "The housing market looks to move from 'super-hot' to 'warm' with markedly slower price gains."
It does look like, however, that the gains in home prices have outpaced the savings possible from lower mortgage rates. According to NAR, the average mortgage payment for first time homebuyers has jumped to 25% of their income (compared to 21.2% last year), which is definitely scaring off some potential first-time buyers.
"Housing affordability for first-time buyers is weakening," Yun explained. "Unfortunately, the benefits of historically-low interest rates are overwhelmed by home prices rising too fast, thereby requiring a higher income in order to become a homeowner."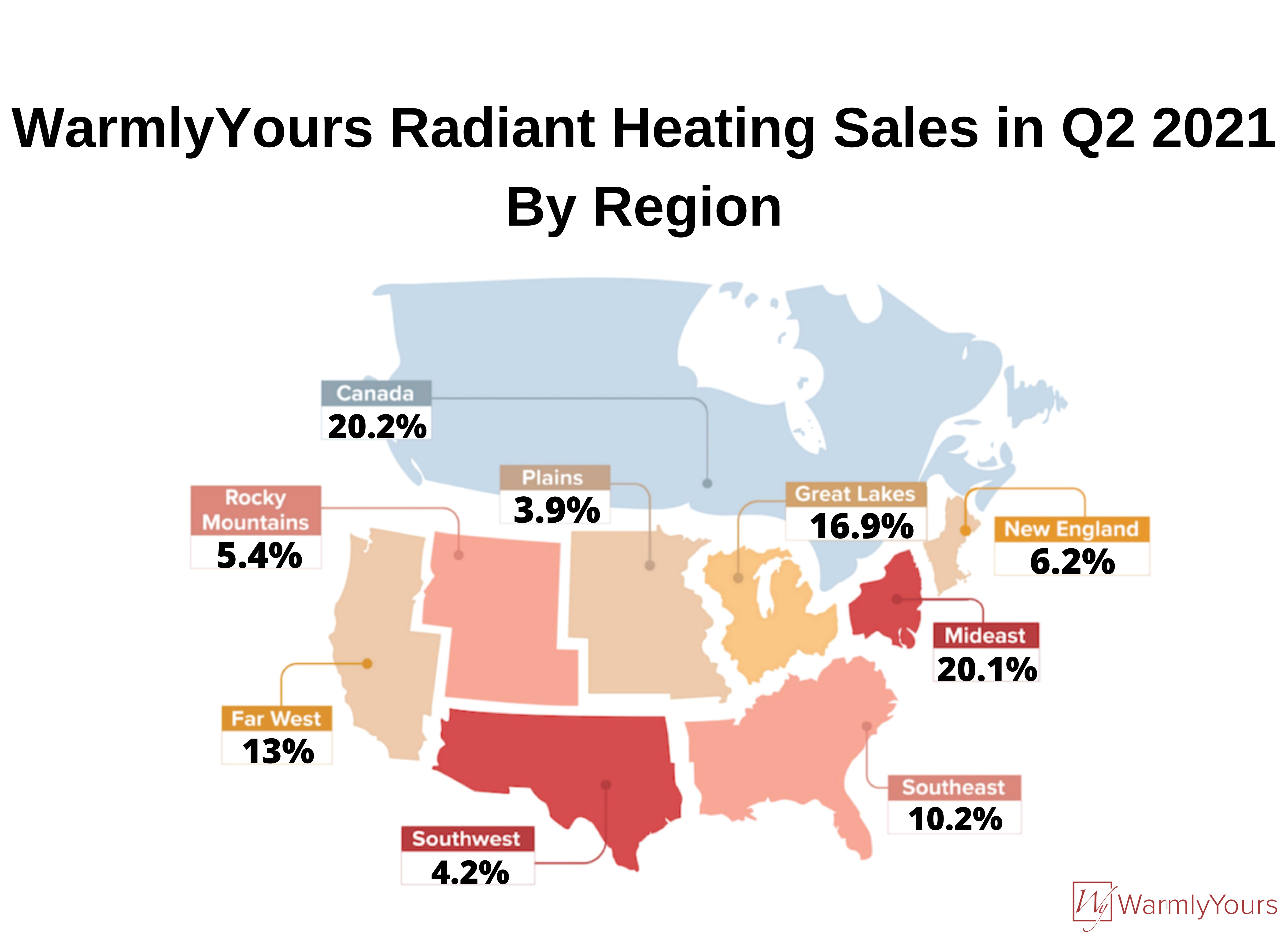 Until the price of available homes drops to more affordable levels, there's a strong chance that home sales activity will remain depressed for the foreseeable future.
Perhaps because of depressed home sales, home remodeling expenditures are actually enjoying a rosey forecast for the near future. According to the Leading Indicator of Remodeling Activity (LIRA), a quarterly assessment from the Joint Center for Housing Studies of Harvard University, annual growth in homeowner renovation and repair spending will accelerate throughout the rest of the year before reaching 8.6% by Q2 of next year.
"Home remodeling will likely grow at a faster pace given the ongoing strength of home sales, house price appreciation, and new residential construction activity," said Chris Herbert, Managing Director of the Joint Center for Housing Studies. "A significant rise in permits for home improvements also indicates that owners are continuing to invest in bigger discretionary and replacement projects."
Interestingly, it also appears that DIY homeowners are helping to drive the increase in remodeling expenditures.
"Larger gains in retail sales of building materials suggest the remodeling market continues to be lifted by DIY activity as well," said Abbe Will, Associate Project Director in the Remodeling Futures Program at the Center. "By the middle of next year, annual remodeling expenditures to owner-occupied homes are expected to surpass $380 billion."
At WarmlyYours, we fully expect to see continued growth in the homeowner segment in Q3 2021 while also seeing a corresponding increase in trade professional sales as well, since often these two customer segments are intrinsically tied together by consumer demand.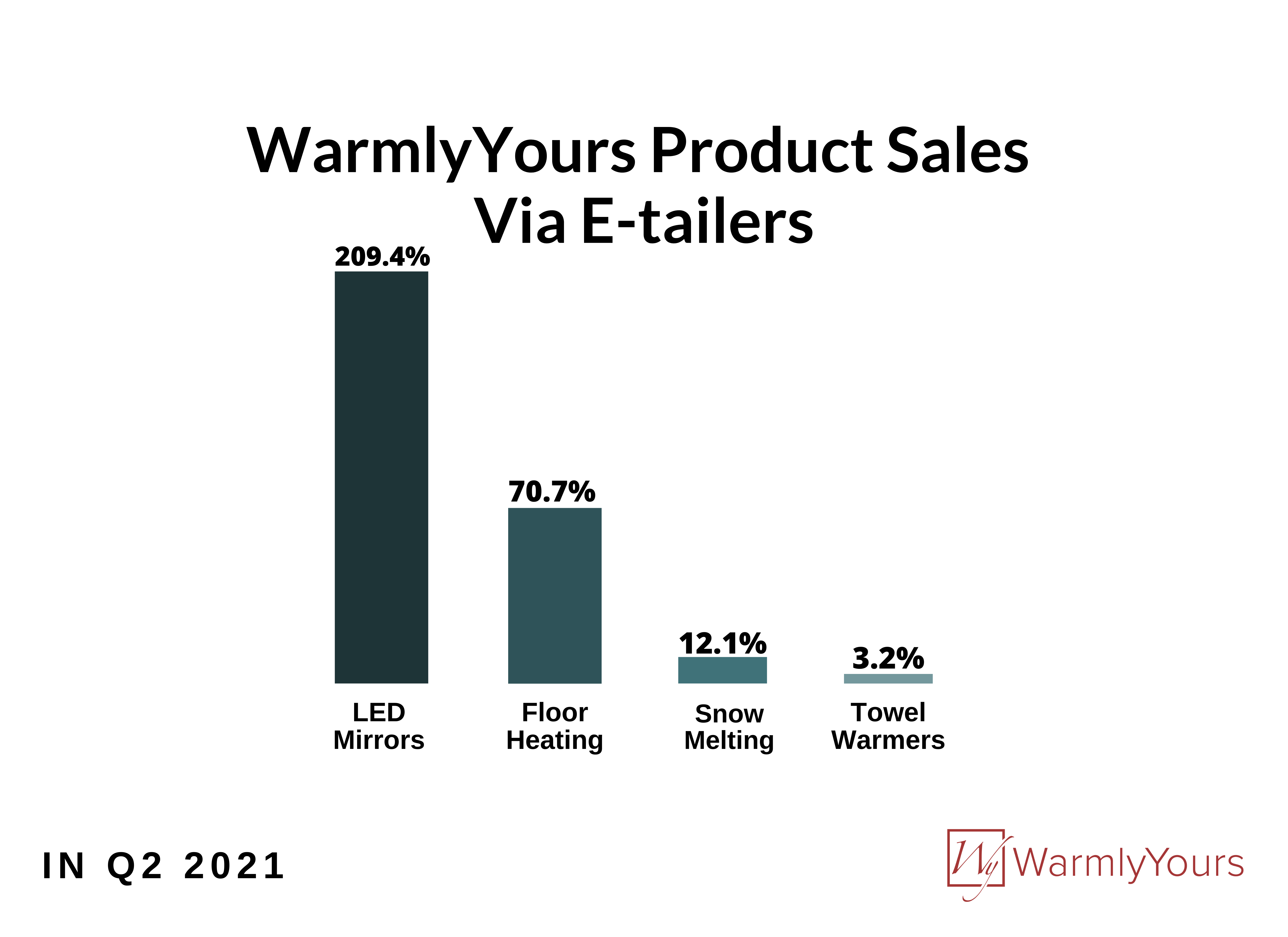 Sources:
---
Tell us About your Project
Our team of Radiant Experts is ready to help! Just tell us a little about yourself and your project to get started.
---
Did you find this post helpful?
Let us know by giving it some applause.
---
---