Most everyone knows Detroit's reputation as the Motor City and probably that it's also the birthplace of Motown Records. But did you know that Detroit is home to 8 professional theaters? It has the distinction of being the second largest theater district in America next to New York according to Radio Detroit. And it's no wonder, because during Detroit's cold, snowy winters theater attendance is probably at an all time high for those seeking not only entertainment but also refuge from the cold weather.
But what do you do to stay warm and comfortable on those nights when you're home? WarmlyYours has the answer; by adding the soothing comfort of radiant floor heating to your home sweet home.
Share the Warmth of your Radiant Heated Kitchen with Family and Friends
Since so much time is spent in their kitchen entertaining, these Detroit homeowners chose to update their kitchen with beautiful tile flooring. It made sense to add in-floor heating to the remodeling project to enhance their experience. After carefully reviewing their options, they purchased a WarmlyYours TempZone™ Flex Roll to keep their kitchen warm and cozy during those frigid winter months. The 1.5- by 33-foot Flex Roll covers 49.5 square feet of floor space and cost $544.50, which amounts to just $11.00 per square foot. In addition, the TempZone™ Flex Roll allowed the installer the flexibility to cut and turn the roll to effectively fill the floor space with warm radiant heat. (see floor plan)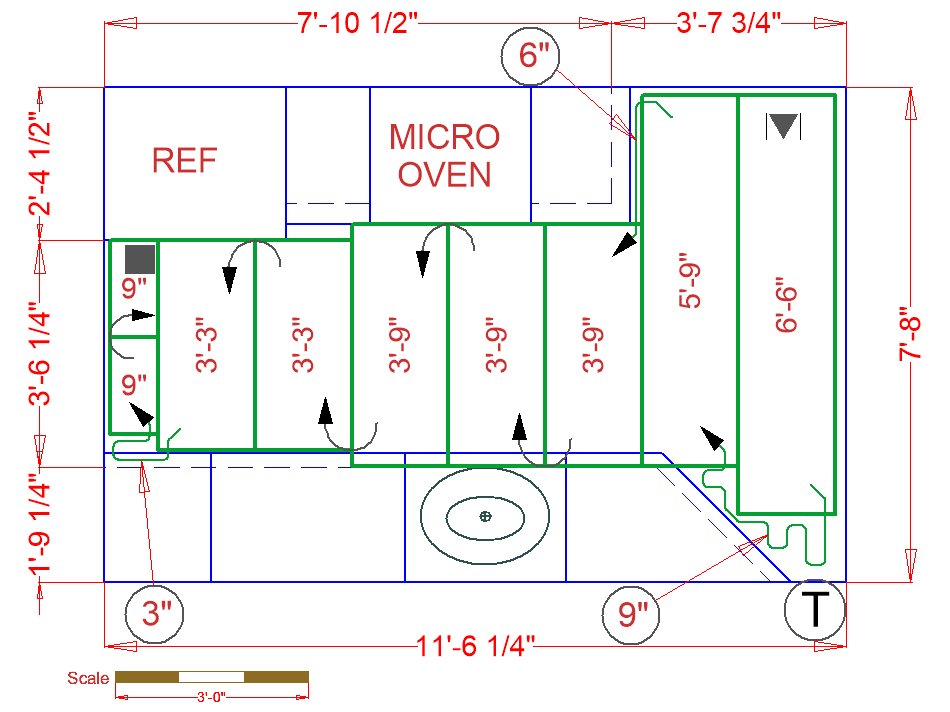 The radiant heating system is also very economical to operate. According to WarmlyYours' Energy Use Calculator, which factors in the average kWh cost in Detroit, it only costs 39 cents a day to heat this kitchen for eight hours every day. Using WarmlyYours' Heat Loss Calculator, heating this room during the coldest month of the year would only cost $23.79. Annually, that comes out to only $121.19, a small price to pay for the additional comfort it's brought to one of the most used rooms in the home. This system can be a primary heat source for the room without incurring an additional heating bill so that's an added benefit.
It's Fast and Easy to Get Started on Your Project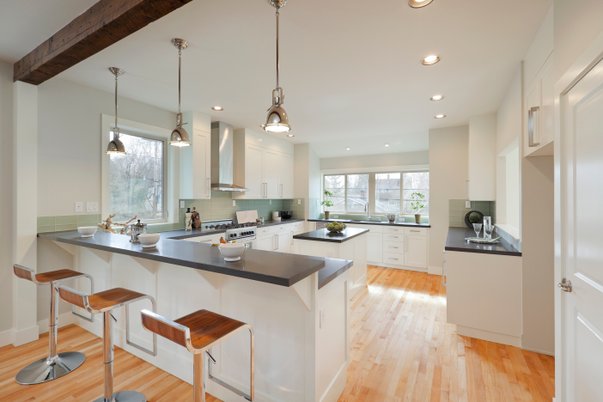 The best place to get started with your project is to check out WarmlyYours' Instant Quote tool. It will figure out precisely how much it would cost to add radiant in-floor heating to your kitchen. Just type in your project information and the tool will show you the recommended products for your room along with exactly how much they will cost.
The tool also gives you the added option of a custom installation plan by simply uploading a floor plan of your room. This plan offers more detail than the Instant Quote, indicating exactly how the floor-heating system should be laid out for optimal performance including the electrical plan. This detailed information makes installation even easier, allowing our technical experts to better guide you through the installation process.
Plus, the tool can give you quotes on more than just in-floor heating projects. With an average annual snowfall of 42.7 inches, Detroit homeowners may want to consider installing a snow-melting system to save them the backbreaking labor of shoveling or plowing snow from their driveways, walkways and patios. Just as it does with floor heating, the Instant Quote tool will provide product recommendations and their costs for snow-melting applications.
There's no need to wonder exactly how much it would cost to add heated floors or a heated driveway to your home. Find out on www.warmlyyours.com!
Last but not least, you can reach our knowledgeable technical support team at your convenience 24 hours a day, 7 days a week at 800-875-5285 if you have any questions during installation.
Articles You May be Interested In:
Low Radiant Heating Costs for Cold Office Floors in Denver
3 Ways Outdoor Radiant Heating Makes Life Easier In Winter
Radiant Heat What Were the Costs in This Vancouver Bathroom
Sources:
---
Tell us About your Project
Our team of Radiant Experts is ready to help! Just tell us a little about yourself and your project to get started.
---
Did you find this post helpful?
Let us know by giving it some applause.
---
---